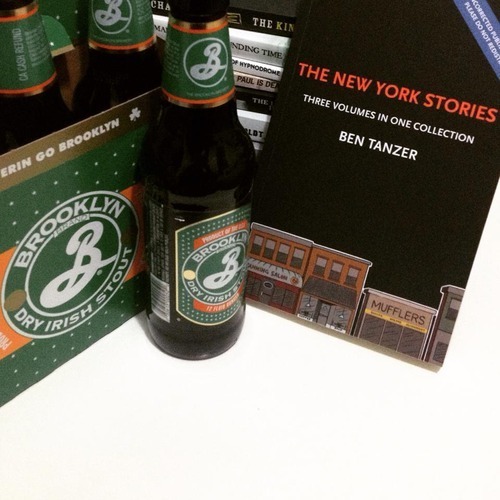 In 2006, celebrated author Ben Tanzer began working on a series of short stories all set in the fictional upstate New York town of Two Rivers, most of them published in various literary journals over the years and eventually collected into the three small volumes Repetition Patterns (2008), So Different Now (2011), and After the Flood (2014). Now for the first time, all 33 of these stories have been gathered in The New York Stories, for what is already being recognized as career defining collection.
"With great humor and the natural voice of your closest confidant, Ben Tanzer brings us stories set in our shared fictional hometown of Two Rivers, NY. With tenderness and heart, Ben brings us real people and their poignant, messy struggles, reminding us of the folly of our youth and the beauty in even our most mundane histories. Though my family left when I was small for the big city, Tanzer has given this reader the gift of a sliding door here, and I think you'll feel the same way, wherever you're from." – Elizabeth Crane, author of We Only Know So Much
Winner of the 2013 Cobalt Poetry Prize for his poem "Trucker," Jonathan Travelstead has compiled an astounding collection of adrenalized poetry. How We Bury Our Dead is a narrative work which follows a single speaker as he jumps from one intense situation to the next in order to avoid his mother's struggle with cancer. An Air Force firefighter, he volunteers to accompany his unit to Kuwait, and, after returning and still unable to cope, he hitchhikes his way across Alaska before finally going home.
"Jonathan Travelstead maps the quest for his elemental "end points and beginnings." Doing so, he spans topography as various as Southern Illinois strip mines, automobile accident scenes, and Iraqi battle zones. What results are narratives that bare-knuckle gut-punch easy redemption. These poems honor the dead and the dying, refusing to avert the eye from certain explosion. It's no wonder the keenest offer "prayers" for hand tools that do something palpably useful, say, prying open the wrecked heart's flaming chariot of half-spoken desires."   —Kevin Stein, author of Wrestling Li Po for the Remote
Tanzer and Travelstead will be joined Zoe Zolbrod, author of the acclaimed novel Currency (Other Voices Books, 2010) and poet Seth Berg, co-author of The Aviary, the recent Twin Antlers Prize for poetry from Artistically Declined Press.
For more info: Ben Tanzer:   tanzerben(at)gmail(dot)com
Tuesday, July 7th, 7pm – Free Event