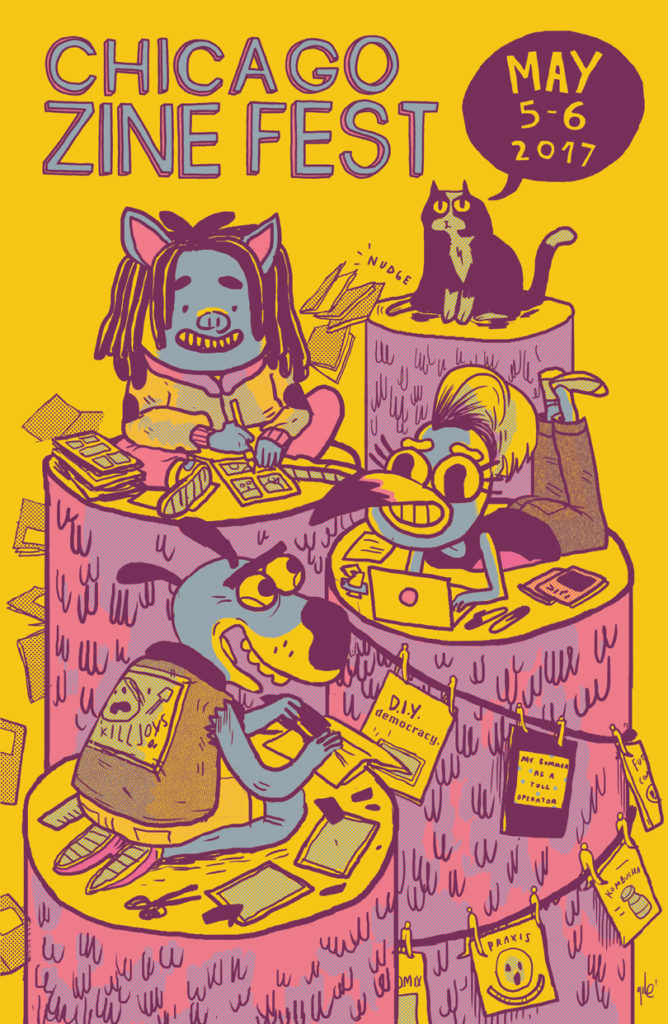 Quimby's is proud to be a co-sponsor of the Chicago Zine Fest, a celebration of small press and independent publishers, with free workshops, events, and an annual festival. The next CZF will be held May 5th-6th, 2017.
Fri, May 5th at Co-Prosperity Sphere (3219 S Morgan St in Bridgeport) – NOT AT QUIMBY'S
6:30pm: "Tools of Survival: Using Zines for Self-Care Panel" moderated by School of Life Design co-founder Kelly Cree. With JC, Rinko Endo, and Kevin Budnik. Panel sponsored by The University of Chicago Library.
8pm: Exhibitor Readings, featuring zinesters & comics artists Natasha Hernandez, Bianca Xunise, Aus & Lauren, Eryca Sender, Sage Coffey, Javier Suarez + Cameron Del Rosario, Fiona Avocado, and Jim Joyce.
Sat, May 6th at Plumbers Union Hall (1340 W Washington Blvd) – NOT AT QUIMBY'S
11am-6pm: Zine Exhibition – Quimby's will have a table, yes! Here's the list of other exhibitors, sponsors, and guests!
noon-1pm "Ever Evolving Bastion of Freakdom: A Quimby's Panel." Chicago Zine Fest offers the community a way to engage and learn through a selection of workshops held during the expo. CZF is pleased to celebrate the 25th Anniversary of Chicago's Quimby's bookstore with the panel "Ever Evolving Bastion of Freakdom: A Retrospective of Quimby's" featuring a discussion (moderated by CZF co-organizer Alex Nall) with store founder Steven Svymbersky (and owner of Quimby's Bookstore NYC), Quimby's Bookstore Chicago store manager and zinester Liz Mason, with special guests, Neil Brideau (former employee and founder of Radiator Comics) and artist/photographer/Quimby's regular customer Oscar Arriola. Come for a rousing discussion of how Quimby's Bookstore got started, how it has evolved over the years, and how each panelist played a vital role in where it is today! Here's the Facebook event invite for this panel! (And here's the post on our blog about the panel.)
Here's a list of other workshops etc during the fest!
Be on top of all things CZF:
chicagozinefest.org
twitter.com/chicagozinefest
facebook.com/chicagozinefest
chicagozinefest.tumblr.com
instagram.com/chicagozinefest
You can support the Chicago Zine Fest by donating through Paypal, contacting them about an in-kind donation, or volunteering!
Art by Quimby's employee Mike Centeno!