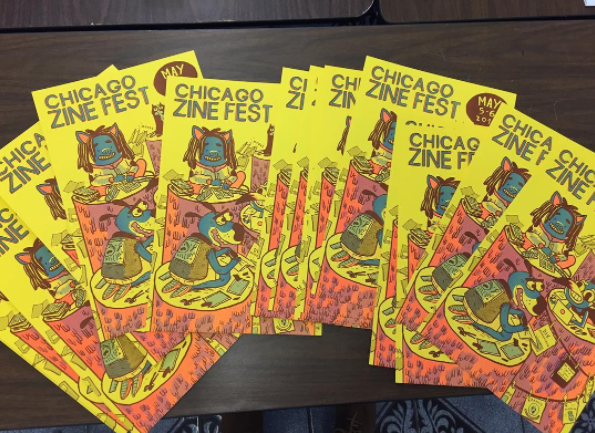 Yeah! We're really milkin' that Quimby's 25th anniversary thing.  Chicago Zine Fest offers the community a way to engage and learn through a selection of workshops held during the expo, and they asked us to do a panel that celebrates the way Quimby's has contributed to the zine community. How could we resist? So during the tabling exhibition of CZF we'll be doing a Quimby's panel (from noon-1pm) called "Ever Evolving Bastion of Freakdom: A Retrospective of Quimby's," taking it's name from the oral history of the same title we published last year. The panel will feature a discussion (moderated by CZF co-organizer Alex Nall) with store founder Steven Svymbersky (and owner of Quimby's Bookstore NYC), Quimby's Bookstore Chicago store manager and zinester Liz Mason, with special guests, Neil Brideau (former employee and founder of Radiator Comics) and artist/photographer/Quimby's regular customer Oscar Arriola. Come for a rousing discussion of how Quimby's Bookstore got started, how it has evolved over the years, and how each panelist played a vital role in where it is today! Here's the Facebook event invite for this panel to share it with all your peoples.
CZF's tabling exhibition is Sat, May 6th at Plumbers Union Hall (1340 W Washington Blvd) – NOT AT QUIMBY'S. Quimby's will have a table, yes! Here's the list of other exhibitors, sponsors, and guests!
Note: this is NOT at Quimby's. It is at the Plumbers Union Hall (1340 W Washington Blvd).