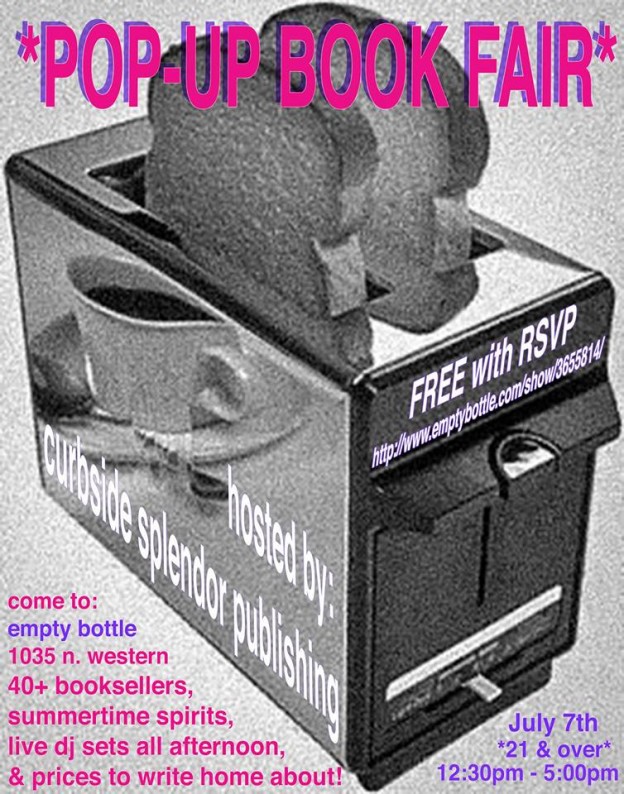 Sunday (July 7th) at The Empty Bottle is POP-UP BOOK FAIR! Beginning at 12:30pm and going until 5pm, join Curbside Splendor Publishing as they play host to 40+ small indie presses and publishers. The event is FREE with RSVP if you click here, and it's $5 at the door. It is a 21+ event, so all minors must be accompanied. There will be live music provided by  Nagasaki, DJ Goldie Bear, DJ "2nd Cousin, Twice Removed", DJ Kale Party, DJ Heavy Inspinuation, KRUBREDNUF, and DJ DG.
Featured purveyors include:
2nd Story
7 Vientos
826chi
Another Chicago Magazine
Artifice Mag
Black Ocean
Burial Day Books
Chicago Center for Literature and Photography (CCLaP)
Chicago Zine Fest
chicagopoetry.com
co•im•press
Convulsive Editions
Criminal Class Press
Curbside Splendor Publishing
Dream of Things
Fifth Star Press
Haymarket Books
Kenning Editions
Knee Jerk Magazine
Labletter
Love Symbol Press
Mid American Review
Miss Nyet
Monsters & Dust
Moon City Review
New American Press
Orange Alert
Quimby's
READ/WRITE
Rhino Poetry
Richochet Review
Rose Metal Press
Soberscove
Solace in So Many Words
South Loop Review
Switchback Books
THE 2ND HAND
Tortoise Books
& MORE
Please note this event IS NOT at Quimby's. It is at The Empty Bottle which is at 1035 N. Western Ave.  Chicago, IL 60647.