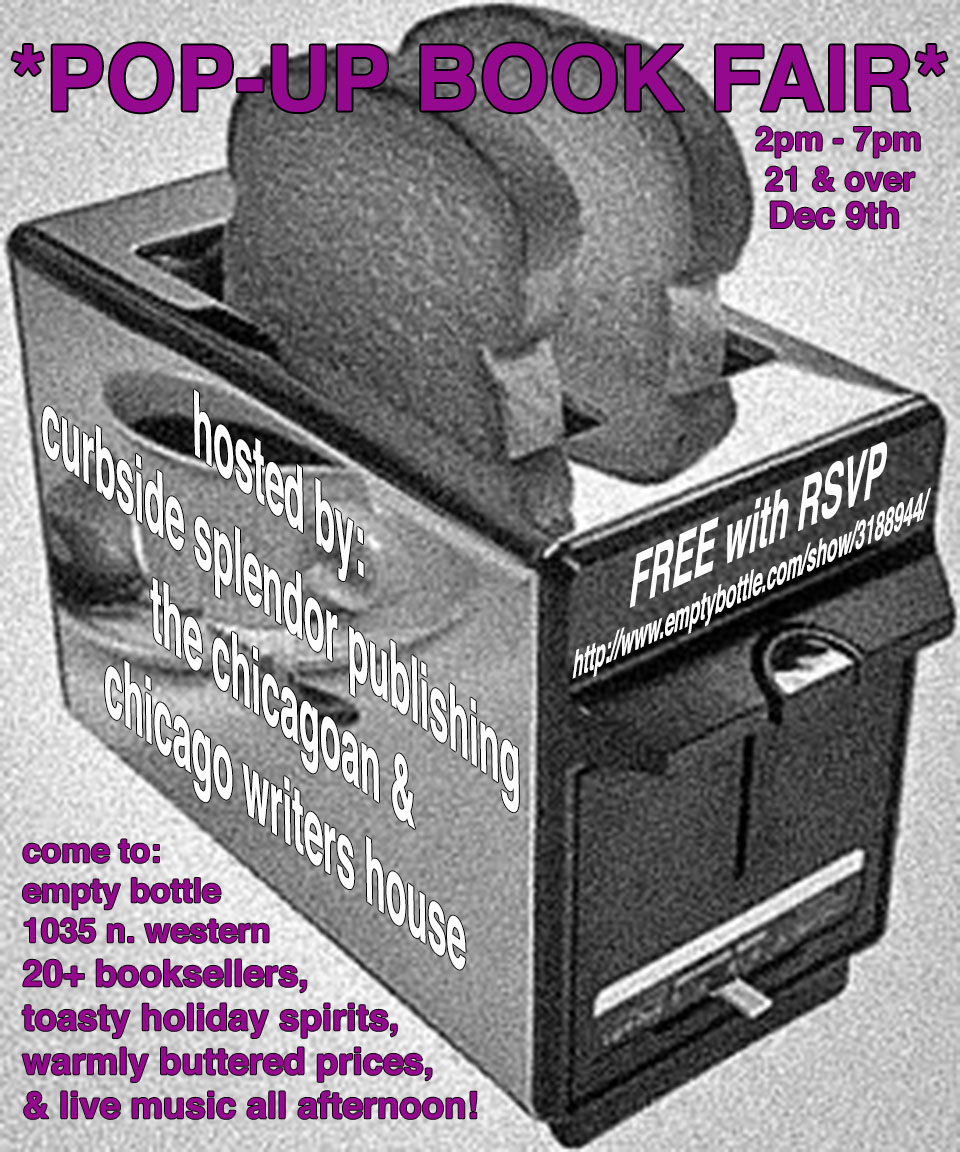 In conjunction with Chicago Writers House and The Chicagoan, Curbside Splendor Publishing presents:
A POP-UP BOOK FAIR!
Chicago's finest independent publishers will be on hand hocking their goods. Quimby's Bookstore will also stock a table with a selection of books/zines penned by Chicagoans. The bar will be open so grab a cocktail and listen to live music all afternoon as you ogle some books and satiate your bibliophiliac needs!
FREE with an RSVP at:
http://www.emptybottle.com/show/3188944/
Otherwise $5 at the door.
This tasty event is 21+ unless minors are accompanied by a parent or legal guardian.
Current list of participating Chicago literary folks (check the Facebook Event Page for constant updates) :
&Now Books
7 Vientos
826chi
Allium Press
Anobium Literary Magazine
Another Chicago Magazine
ANTIBOOKCLUB
Anything Goes Publishing
Artifice
Burial Day Books
Chicago Center for Literature and Photography (CCLaP)
Chicago Zine Fest
contratiempo
Convulsive Editions
Curbside Splendor Publishing
Dancing Girl Press
Dream of Things
Graze Magazine
The Handshake
Kenning Editions
MAKE Magazine
Other Voices (OV) Books
Quimby's Books
Solace in So Many Words
Switchback Books
Two With Water
Sweet Tunes provided by:
Good Evening
Mr. Mayor and the Highballers
Wooden Wing
& more!
Please note: This event is NOT at Quimby's. It is at the Empty Bottle at 1035 N. Western Ave., Chicago, Illinois 60622.