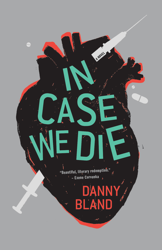 This debut novel by veteran Seattle musician Danny Bland follows a pair of outsiders who find themselves locked in the palpable, dizzy grunge-rock scene of early '90s Seattle. Drenched in cloud of second hand smoke, Bland's prose is funny and heart-breaking as he explores falling in and out of love, redemption and what you will and won't do for one more cheap thrill all backed by the swelling sound of electric guitars, booze and petulant misbehavior.
"Our anti-hero is floating in a tiny lifeboat made of heroin, graveyard shifts & rock music. His companions are two fabulous women: a bombshell who robs banks & a beautifully pale rock violinist who can barely dodge suicide. ICWD is much funnier & more satisfying than any other junkie rock'n'roll tragedy." – John Doe (X)
Danny Bland has been a musician (The Dwarves, Cat Butt, Best Kissers in the World) and road manager (Dave Alvin, The Knitters, The Gutter Twins, The Supersuckers) for over 25 years. Born in South Carolina, the longtime Seattle resident is most likely in a Ford Econoline van on a long stretch of highway, driving a rock band to its next engagement.
Also available: A star-studded AudioBook featuring Duff McKagan, Marc Maron, Donal Logue, John Doe, Mark Lanegan, Mark Arm (Mudhoney), Norman Reedus and Lew Temple (The Walking Dead), Aimee Mann, and more! Visit InCaseWeDie.com to hear a sample.
"A great piece of work — full of filth and heart."  –Steve Earle
For more info: www.fantagraphics.com/incasewedie
Contact: Jen Vaughn, Marketing and Outreach Manager vaughn(at)fantagraphics(dot)com
Wednesday, October 2nd, 7pm – Free Event