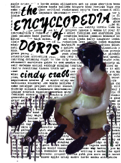 Cindy Crabb has been writing the influential, internationally distributed, autobiographical-feminist zine Doris since the early '90's. Her new book, The Encyclopedia of Doris, brings together the last 10 years of zines and a ton of new writing as well. In it, she explores subjects like consent, feminism, abortion, death, self-image, creativity, shyness, queer identity, addiction, punk and anarchism. Crabb is the editor of the zines Support and Learning Good Consent. She lives in South-East Ohio with her miniature horses, plays in the punk band Snarlas, and is a sexual abuse survivor advocate.
"…zines are a space where third wave feminist theory is emerging, and many scholars don't recognize this because they don't read zines.  They should read Doris."     –Alison Piepmeier, Author of Girl Zines: Making Media, Doing Feminism
Cindy Crabb's work has been featured in such places as: The Utne Reader, Maximum Rock and Roll, and Cometbus. Her work has also been in such anthologies as We Don't Need Another Wave: Dispatches from the Next Generation of Feminists; Experiencing Abortion: A Weaving of Women's Word; and A Girls Guide to Taking Over the World: Writing From the Girl Zine Revolution. Her diaries and papers are housed at the Schlesinger Library at Radcliffe. She has spoken at colleges, libraries and community centers across the country.
For more info: dorisdorisdoris.com/
Sat, Sep 3rd, 7pm