Monthly Archive for September, 2007
Page 2 of 5
Ken Foster author of The Dogs Who Found Me
Saturday, October 20th, 7:00 PM
FREE
Join Ken Foster, author of The Dogs Who Found Me and special guest Elizabeth Crane, author of When the Messenger is Hot. For an evening or readings and dog hijinx.
Ken Foster will read a Chicago-based essay from his forth-coming collection DOGS I HAVE MET: And the People They Found.  As he reads, he will be interrupted by the people and dogs he has written about, as they attempt to correct his memory of the events.
Disaster-prone writer and reluctant dog rescuer Ken Foster finds himself adopting an ever-growing collection of stray dogs, from a beagle abandoned in a New York City dog run to a pit bull in a Mississippi truck stop. Their circumstances offer a grounding counterpoint to his own misfortunes: the shock of New York City after 9/11, the evacuation of New Orleans during Hurricane Katrina, and the day his heart nearly stopped for good. KEN FOSTER is the editor of two anthologies, including Dog Culture. His collection of short stories, The Kind I'm Likely to get, was a New York Times Notable Book. His work has appeared in The New York Times Book Review, The San Francisco Chronicle, McSweeney's, and The Believer. For more information, visit www.dogswhofoundme.com.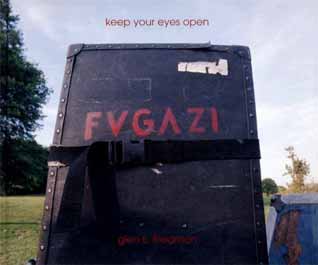 Dang, the boxes were raining down this week and I don't know where to even start. Its an impressive list this week here are a few highlights from: Brian Chippendale, Fugazi, Naomi Klein, Ivan Brunetti, Chris Marker & Alejandro Jodorowsky.
Dam it getting hot in here!
Continue reading 'New Stuff Sept 22nd 2007'
Ladyfest Chicago 2007 Reading at Quimby's! Sunday, October 21st, 2:30 PM – free event!
Ladyfest (October 18th-21st) is an arts festival, started in Olympia, Washington in 2000, that which has spread to various cities around the world.  It celebrates achievements of women in music, film, visual arts, and spoken word. Ladyfest also showcases the work of female filmmakers, artists, writers and activists, in addition to hosting lively music and club nights featuring live bands and female djs and organized workshops and speakers to encourage activism, education, and discussion over apathy. This event at Quimby's is one of multiple events during Ladyfest Chicago 2007.

This event will feature readings by these awesome lady zinesters:
*Christy C. Road: Creator of Greenzine and the illustrated storybook INDESTRUCTABLE (Microcosm). As artist, illustrator and writer, her repertoire consists of ten years of independent publishing, two graphic novels, and countless illustrations for multiple magazines, record album art, concert posters and political organizations. Her most recent release is Distance Makes the Heart Grow Sick (Microcosm), a collection of postcards featuring her drawings, some of which she created for Bitch Magazine, Jane, Green Day, The Queers, and various other bands, books, and publications. Currently, she is working on Bad Habits, an illustrated love story.
*Jami Thompson: Of No Better Voice zine. Formally, she ran Stranger Danger Distro and has been publishing zines since the age of fourteen.
*Angelina Schmalzried: Publisher of Odd Number, Extreme Unction, Dirty Past/City Troubles zines
*Liz Mason: Publisher of Caboose and The Bad Lyrics Project zines. Karaoke, gum and gossip extraordinaire
*Raechel Tiffe: Raise the Fist zine (editor/contributor), Girlistic webzine (contributor), Darling & Discontent zine. Anti-imperialist, pro-cat.
For more info: http://www.ladyfestchicago.com , http://www.croadcore.org or contact Raechel Tiffe at raecheltiffe@gmail.com .
The best book of the year is now available at Quimby's. Like Derek Pell's lyric ode to the Warren Report, Assasination Rhapsody, and Joe Wenderroth's fast-food tragicomedy Letters To Wendy's, Roy Wrapped In Clingfilm is probably best when it is shared, read aloud, with friends and a few bottles of cheap wine. And a roll or two, just in case.
I wrap more carefully than ever before. Not merely personal gratification but civic pride is at stake. The sunlight glints on the translucent triumph of science. The faint rasp as I unspool it sends delirious brightly coloured butterflies flocking through my stomach. I am like a tailor of the elves bedecking him in a shimmering suit of some magical material. Soon, Roy Orbison stands before all of Dusseldorf wrapped up in clingfilm. Silent white light floods my whole being and I become one with the universe.

'Fellow burghers!' I cry. 'Behold! Roy Orbison is completely wrapped in cling-film!'