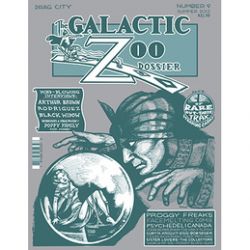 Galactic Zoo Dossier #9 (Drag City) $21.98 – Galactic Zoo Dossier #9 has over 100 pages on overlooked freak rock bands, heady comics and populist pop-psych. Contributors include creator Plastic Crimewave, Byron Coley (The Wire), Eric Colin (Ugly Things / Shindig), Avi Spivak (Human Being Lawnmower) and Scott Wilkinson (Ugly Things, Endless Trip). Contains Interviews with Arthur Brown, Black Widow, Poppy Family, Rodriguez and Mark Fry. Features on Egg & East Of Eden, Collectors & Folklords, Curtis Knight, John Berberian, Psyched Archie & Mad, Kirby, Texas psych scene, Kak, Moody Blues, White Witch. Trading cards of damaged guitar gods and astral folk maidens, in full colour. The CD compilation contains unreleased and mind-frying sounds by Mainliner, Secret Syde, Ultima Thule, Mark Fry, Daze Of Night and The Light Company, amongst others.
Zines
Pieces #7 On Belief Delusion and Love by Nichole $3.00
Hoax #7 Feminism and Change $3.00
Suck It and See by Zanny Begg $5.00
NA680 by Blaise Larmee $3.00
Zines from Drippy Bone: Locked Up Forevers by Alicia Ordal $4.00, Freak Scene $7.00, MOCA #1 Magazine of Contemporary Alchemy by Gordon Magnin $5.00
Decrepit Americana #1 and #2 by Iowa Joe $3.00 each
Magic Afternoon #1 $10.00
Stuff from the Transgender Oral History Project Distro, including: Transgender Herb Garden An MtF Guide to Disconnecting Ones Self From Big Pharma, Trannydykewhore #1, Excerpts From a Journal of a Trans Girl and more.
Telegram #25 Feb 12 by Miranda Elizabeth $3.00
Cop Dad #1 Premier Issue Magazine of the Exceptional Personal Experience $2.00
zines by Dan Copulsky: Concisely #7 Stories Under 500 Words, Living Cooperatively In Intentional Community by Dan Copulsky with a Chicago Resource List. Personal Account of Tipping
Cocaine Makes the Heart Grow Fonder by Harry  Marker et al. $3.00
Quick Non Monogamy Glossary by Max Mandax $.25
Prickly Places Raisin Catalog #1 by Alex Nichols $28.00
Playing Victim #5 by Brittany Maksimovic $2.00
Little Otsu Living Things vol 8 featuring Jessica Seamans $6.95
Period by Christopher Adams $5.00
Acid Kat #4 Jun Jul 12 by Austin et al. $3.00
Comics & Comix
Executive Werewolf Raisin Catalog #.5 by Alex Nichols $3.00 – Were the 99%.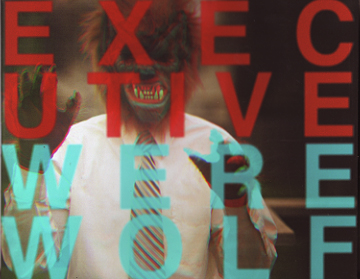 Linework #3 Spr 12 $12.00
RAV #6 by Mickey Z $6.00
Freal Real by Pat Aulisio $5.00
John Blaze #1 by Leslie Weibeler $4.00
Nome #1 by Jason T. Miles et al. $7.00
Jason T. Miles titles: Pines #2-#4, No Body Move Know Buddy Moves Love and more.
Swamr #1 by Michael Olivo $3.00
Ductile Anchor by Karneeleus $3.50
Crestfallen #5 by Sandra Sierra $4.00
Swaying Gates by Naji $4.00
Jason Ludtke titles: Colossal Feathers and Composite Armour, Colossal Vulpes Vulpes
LCB (Liberty Crew Breakers) by Nate Beaty $5.00
Pizza Face #1 by Mikey Anderson $4.00
Donda by Jon Dradoer $2.00
Spazz Factory #1 by "Bill Cosby" $2.00
Breakfast for Dinner by Kelci Crawford $3.50
Sweetmeats #1 by Edie Fake $2.00
Slurricane #3 by Will Laren $8.00
Graphic Novels and Trade Paperbacks
Cake Book 2012 $15.00 – The official anthology of CAKE (Chicago Alternative Comics Expo) $15.00
Hellboy vol 5 by Mike Mognola et al. (Dark Horse) $49.99 – Contains the stories Darkness Calls and The Wild Hunt.
Flannery O'Connor The Cartoons (Fantagraphics) $22.95
JLA vol 2 TPB by Grant Morrison et al. $24.99
Midnight Days Deluxe Edition by Neil Gaiman $24.99
Art & Design
Wolf the Artist From Apocalypse Back by Wolfgang Carver and Lisa Carver $13.00
Fiction
Gather Yourselves Together by Philip K. Dick $13.95
My American Unhappiness by Dean Bakopoulos $13.95
Torn in Two by Brit Sigh $10.00
Year Zero by Rob Reid $25.00
Enchantment New and Selected Stories by Thaisa Frank (Counterpoint) $16.95
Politics & Revolution
Black 911: Money, Motive and Technology by Mark H. Gaffney (Trine Day) $19.95
Mayhem, Miscreants, Memoirs & Misc
Books by Prof Oddfellow (and friends): Annotated Ellipses Revealing Hidden dot to dot game within a novelists Eccentric $9.95, Presumptive Conundrums Rhetorical Math Questions and Answers $14.25, Moon Fish Ocean a Zen Converstion of Rock Paper Scissors $11.49 Wyes Dictionary of Improbable Words by Craig Conley $27.99
It Chooses You by Miranda July (McSweeneys) $16.00 – Now in soft cover, this book is about Miranda July's fascination with PennySaver classified ads. Then it turned into this big meditation on the creative process. And she got a photographewr in on the action. Then it became a movie.
Music Books
If You Like Metallica Here Are Over 200 Bands, CDs, Movies, and Other Oddities That You Will Love by Mike McPadden (Backbeat) $14.99 – This book illuminates the sounds and styles that influenced and have been influenced by this band, in addition to non-musical elements such movies, books, and cultural iconoclasts.
Hammered: Heavy Tales from the Hard-Rock Highway ed. by Kirk Blows – Whether being threatened by members of Motörhead, sipping soup with Ozzy Osbourne, sharing a stage with Metallica, drinking with UFO or enjoying candid conversation with Queen, veteran journo Blows presents a collection of enticing tales that provide an often hilarious, always unique insight into an exciting and largely unseen world. Packed with over 200 adventures and anecdotes that span a twenty-year period.
Childrens
Just Add Water: Making the City of Chicago by Renee Kreczmer (Lake Claremont Press) $12.95
Magazines
The Baffler #20 $10.00
Hi-Fructose #24 $6.95
Wallpaper Jul 12 $10.00
Juxtapoz #139 Aug 12 $5.99
Wilder Quarterly vol 1 #3 Sum 12 $18.95 – Art mag about gardening. All the rage!
Brownbook #33 $14.99
High Times Sep 12 $5.99
Boneshaker Magazine #9 $12.00
Dazed & Confused vol 3 #11 Jul 12 $9.99
Z Magazine Jul Aug 12 $6.95
Inked Aug 12 #47 $6.99
Literary Journals, Poetry & Chap Books
Literary Review vol 55 #2 Spr 12
Artifice Magazine #4 $7.00
Bad Version vol 1 #3 Sum 12 $9.00
Women Arts vol 2 #3 Sum 12 $10.00
Ninth Letter vol 9 #1 Spr Sum 12 $14.95
Tape Op #90 Jul Aug 12 $4.95
Sex & Sexy
Our sister store, Chicago Comics sent us a buncha their sexy books and comics that are –um, how shall we phrase this? — more appreciated over here. Soem of them we're selling for cheaper than their original retail price. And there are a lot of them, probably too many to mention. Stuff by Kevin Taylor, older Housewives at Play stuff, hilarious older sexy comics and more.
Housewives at Play – Do You Work Here? by Rebecca (Eros) $9.99
Meat #7 by Adrian Lourie $20.00 – Fresh pack.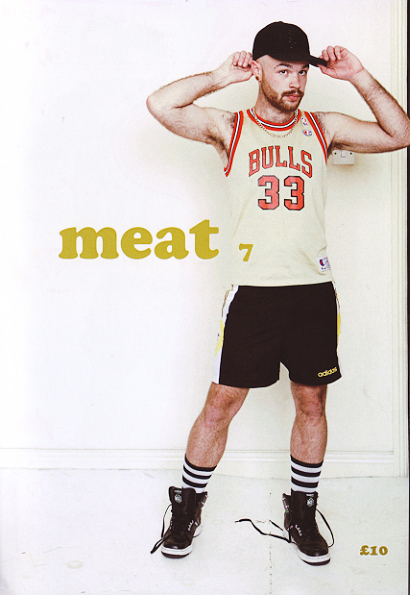 Other Stuff
We just a big shipment of stuff in from Buy Olympia, including cards by artists like Little Otsu, Nikki MCClure, Paper Milk, Stumptown Printers and more. And a few prints in too, including a Jill Bliss Octopus print.