Our hours for New Year's Eve and New Years Day:
Dec 31st noon-5pm and Jan 1st, 2013 CLOSED.
Quimby's resumes our usual hours on Wed, Jan 2nd when we will open at noon.
…and here's NEW STUFF THIS WEEK: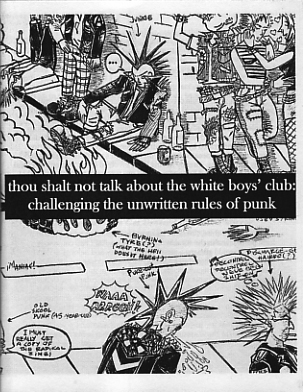 Thou Shalt Not Talk About the White Boys Club by Sari $2.50
Zines
East Village Inky #51 by Ayun Halliday $3.00
Goat Fucker #3 Get Rad or Die $6.00
Fury #21 Photographs by Mark Novotny $3.00
I Drove to the City by Mark Ehling $5.00
Docs #2 Fall 12 Journal of Microbiography $2.00
No Better Voice #3 by Jami $2.00
Nature Zine #1 ReConnecting with the Natural World  by Nessie Grace $3.00
Comics & Comix
Last Train to Old Town Chapter 1 by Kenan Rubenstein $10.00
Slurricane #4 by Will Laren $5.00
Graphic Novels and Trade Paperbacks
Problematic Sketchbook Drawings 2004-2012 by Jim Woodring (Fantagraphics) $28.99
Perennial Islanders: Last Parable Book 1 Prologue to the Islanders by CK Arthur $14.00
Lollygag $15.00
Ticket Stub by Tim Hensley $14.00
Castle Waiting vol 1 SC by Linda Medley (Fantagraphics) $24.99
Heart of Thomas by Moto Hagion (Fantagraphics) $39.99
Batman Incorporated TPB by Grant Morrison et al. $19.99
Dark Tower: The Gunslinger The Man In Black by Stephen King et al. $24.99
Hard West by Mikko Komu $20.00
Death Roams Nearby by Marko Turunen $6.00
Supernormal by Marko Turunen $20.00
Gunslingers and Ghost Stories by David B. Riley $12.95
Fiction
The Beautiful Anthology: Essays Stories and Poems ed. by Elizabeth Collins $14.99
Mayhem, Miscreants, Memoirs, Music & Misc
On the Map: A Mind Expanding Exploration of the Way the World Looks by Simon Garfield $27.50
Drug Books
Growgirl: The Blossoming of an Unlikely Outlaw by Heather Donahue $16.00 – Remember the girl from in The Balir Witch Project? Well now she has a book about growing pot and how great it is.
Magazines
Hi-Fructose #26 $6.95
Frankie #50 Nov Dec 12 $13.95
Dwell Feb 13 $5.99
Creative Review Dec 12 $14.99
True Crime Dec 12 $8.99
Science Fiction Trails #9 All Martian Spectacular $8.00 – We also have #8 Where Science Fiction Meets the Wild West
Interzone #243 $9.99
Empire Jan 13 $9.99
Mojo #230 Jan 13 $9.99
Poetry, Lit Mags and Lit Journals
The Believer #95 $8.00
Other Stuff
What Did I Buy Today? An Obsessive Consumption Journal by Burt Kale Bingamin $12.95
2013 Animal Pin Up Calendar by Stina Kaczmaryn $20.00
Want to see what new things are available from our webstore? See  quimbys.com/store for weekly updates.