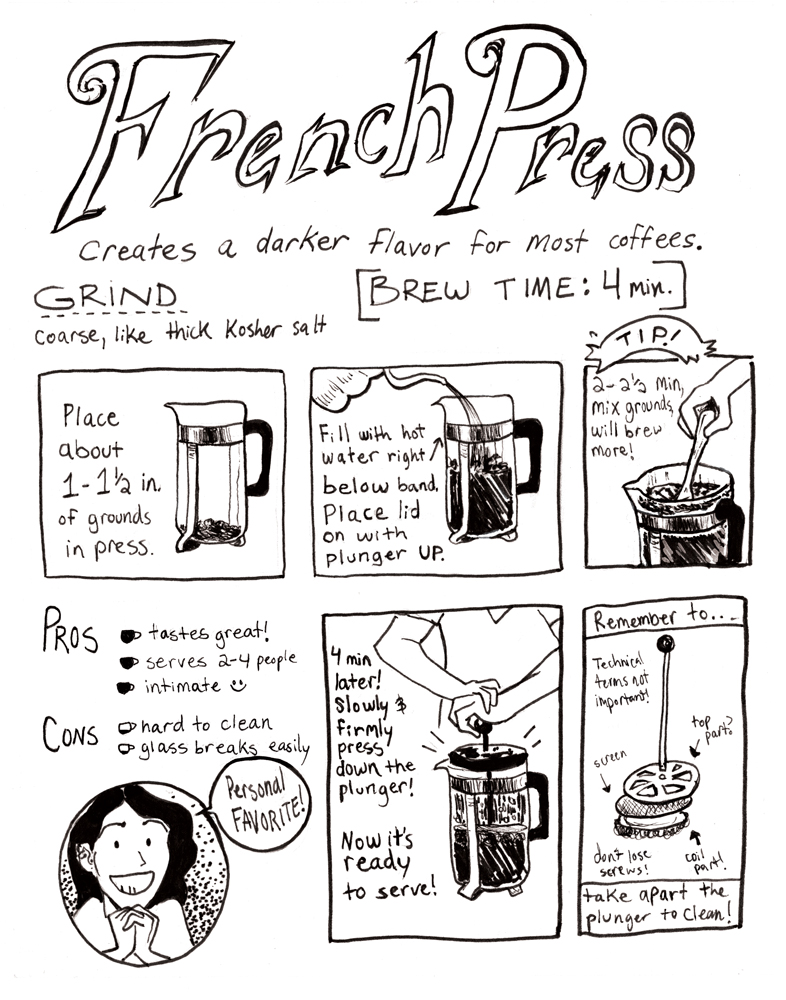 selection from A Comic Guide to Brewing by Lara Antal $7.00
Zines & Zine-Related Books
We Know You Suck by Justin Carlin (Parking Block Publishing) $5.00
Black Metal of the Americas vol III by Ed and Patrick $5.00
Simba Collection of Personal and Political Writings from the Nineties Hardcore Scene by Vique Martin (Vitriol) $12.00
Travel On #4 Six Months in South Carolina by David Solomon $2.00
Junk Food Figure 38 #2 (Octagon Press) $4.50
Comics & Comix
You Don't Get There From Here #1 by Carrie McNinch $2.00
Walking Into Traffic #3 (Tales of the Night Watchman) by Dave Kelly and Lara Antal $1.00
Castle Waiting #18 by Linda Medley (Fantagraphics) $3.95
Comix by Janice Shapiro: Crushable Ricky Nelson, Crushable Neil Young: Cinnamon Girl, Popular and more $5.00 each
A whole nuncha stuff from Bulb Comix: Cadavre Exquis by Nicolas Robel and Christophe Lambert, tiny comics boxes featuring folks like Sophie Dutertre, Olivier Deprez, Helge Reumann, Stephane Blanquet, Lauren Redniss, Chris Ware, Jordan Crane, Greg Cook, Souther Salazar, Marc Bell, Jad Fair, Ivan Brunetti
True Chubbo Presents Infinidick by Family Sohn (Picturebox) $12.00
ZZZZZ Series and Other Stories by Michael McMillan (Picturebox) $10.00
Party Plans #2 by Zejian Shen $8.00
Graphic Novels and Trade Paperbacks
Less Than Epic Adventures of TJ and Amal vol 1 Poor Boys and Pilgrims and vol 2 Wanderlust Kings by EK Weaver $15.00 each
Osbick Bird by Edward Gorey $12.95
DNA Failure by Leon Sadler, Stefan Sadler and Jon Chandler (British Weapon Comics/Picturebox) $14.00
Drawing Comics Lab: 52 Exercises on Characters, Panels, Storytelling, Publishing & Professional Practices by Robyn Chapman (Quarry Books) $24.99 – Designed for the beginning or aspiring cartoonist. Featured artists include: James Sturm, Tom Hart, Jessica Abel, Matt Madden, Eddie Campbell, and many others.
Walking Dead TPB vol 17 Something to Fear by Robert Kirkman et al. $14.99
Stitched vol 1 by Garth Ennis et al. $19.99
The Marvelous Land of Oz TPB by Frank L. Baum, Eric Shanower et al. $24.99
Upside Down: A Vampire Tale by Jess Smart Smiley (Top Shelf) $9.95
Baron Bean 1916 The Complete First Year (Library of American Comics Essentials) by George Herriman (IDW) $19.99
How Should I Know by Nicolas Robel (Bulb Comix) $41.00
Art & Design
100 UK Graffiti Artists by Frank Malt $45.00
Fiction
IQ84 by Haruki Murakami $29.95 – The soft cover version of this book is actually a 3 volume boxed set.
Me and the Devil by Nick Tosches $26.99
Mayhem, Miscreants, Memoirs, Music & Misc
Dating AI: A Guide to Falling In Love with Artificial Intelligence by Alex Zhavoronkoff (Re/Search) $19.99
Song Reader by Beck (McSweeneys) $34.00 – Look! It's Beck's new album. As sheet music. Hey! Wanna go to the movies? Have fun!
Most Dangerous Book In the World: 9/11 as Mass Ritual by SK Bain (Trine Day) $24.95
That Is All by John Hodgman $15.00 – Now in soft cover.
Sex & Sexy
Silky Whip vol 1 TPB by Oh Great (Eros) $16.95
DIY
Criminal Crafts: Outlaw Projects for Scoundrels Cheats and Armchair Detectives by Miss Demeanor $18.99
Drug Culture
Practical LSD Manufacture by Uncle Fester (Festering Publications) $20.00
Politics, Revolution & Current Events
Reformers, Socialists and Communists: An Anarchist Critique by Alexander Berkman (Thought Crime Ink) $9.95
Vultures' Picnic: In Pursuit of Petroleum Pigs, Power Pirates, and High-Finance Carnivores by Greg Palast $17.00
Magazines
Proximity #10 Mutualisms Win 12 vol 4 #2 $11.99
Dwell Dec Jan 12 13 $5.99
The Burlesque Bible vol 4 win 12/13 $16.95
Lula #15 $16.99
Sneaker Freaker #25 $14.95
Press the Fashion vol 2 #2 Win 13 $12.50
Smith Journal #4 $17.99
Armchair Shotgun #3 $10.00
Tape Op #92 Nov Dec 12 $4.95
Magnet #93 $4.99
Harpers Magazine Dec 12 $6.99
AdBusters Jan Feb 13 $8.95
Poetry, Lit Mags and Lit Journals
Wet and Blessed by Muyassar Kurdi and Jordan Rutherford $10.00
Further Distractions by Bucket Siler $3.00
Parody vol 1 #2 $5.00
Childrens
The Expeditioners and the Treasure of Drowned Mans Canyon by S.S. Taylor and Katherine Roy (McSweeneys) $22.00
Tater Totter #1 A Periodical Publication for Kids by Kate Berube $5.00
Restocks and Reprints
Field Notes notebooks! Plus a new edition, "Red Blooded." $9.95 for a collected package of 3 slender notebooks.
More stationary from Buy Olympia, including cards from Power and Light Press, Little Otsu, Jill Bliss, Nikki McClure and more.
Dark and Somber Press Black Metal Greeting Cards (a top seller in these parts!)
King Cat Collection (French edition) by John Porcellino $18.00
Fuck (French Edition) by Ron Rege Jr. $23.00
Brains Brilliancy Bohemia: Art and Politics in Jazz-Age Chicago Dill Pickle Club by Marc Moscato $5.00