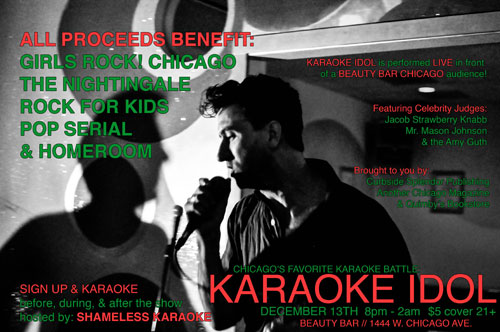 The Holiday installment of Chicago's favorite live karaoke battle KARAOKE IDOL tinsels up the stage at Beauty Bar on Thursday, December 13th, at 8PM! One singer from each the following cool Chicago-based companies and organizations will battle it out to determine who will wear the crown of KARAOKE IDOL!
Girls Rock! Chicago
The Nightingale
Rock for Kids
HOMEROOM
& Pop Serial!Celebrity Judges Mason Johnson, Amy Guth, & Jacob Knabb, and KJ Gods "Shameless Karaoke" will preside.The reigning Karaoke Idol champ Carrie Shemanski returns from the wilds to defend her crown against a stacked field including last month's champion HOMEROOM, so this one looks to be a total free-for-all. Someone from the crowd will be chosen to be the 6th contestant.Show up at 8PM to compete in an epic hour-and-a-half long karaoke free-for-all! Sign up to sing your ass off for a chance to be chosen as the 6th contestant by our celebrity judges!
Tune in at 10PM as 2 FINALISTS are chosen from the field of 6 to compete in Chicago's ultimate karaoke death-match.
YOU DECIDE THE WINNER!
Ultimately CHICAGO DECIDES who wins based upon audience applause so come ready to cheer for your favorite performer!
Be sure to stick around afterward for OPEN KARAOKE w/ "Shameles Karaoke"! There will be plenty of time for you to sing too! Just come early or stay late so you can sign up & belt out your favorite songs when your turn arrives!
Remember, all that door money goes to a good cause! All door money will be divided up amongst the contestants and their sponsors.
KARAOKE IDOL is brought to you by Curbside Splendor Publishing, Another Chicago Magazine, & Quimby's Bookstore.
21+
$5 cover
More info:
Please note: this event is
NOT AT QUIMBY'S, It is at The Beauty Bar at 1444 W. Chicago Ave.