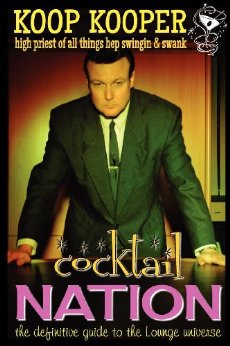 Cocktail Nation: The Definative Guide to the Lounge Universe by Koop Kooper (Bear MANOR) $19.95 – Koop Kooper, the Cocktail universe's high priest of all things hep, swinging, and swank, and cyber disc-jockey of his radio show, "The Cocktail Nation," has unleashed the definitive guide to the Lounge universe. Replete with gassin interviews and cool pixeramas, he reveals the incredible diorama of Cocktail culture, lifestyle, and music. Koop mixes it up with cool luminaries and pioneers of the Cocktail soundtrack, such as hepster Jack Constanzo, the bongo player of the 1950s, shakes a martini with the leaders of the revival Combustible Edison, trades smart lip with comedian satirist Shelley Berman and 21st century hit-makers Martini Kings, heads down the dark streets of Cocktail noir, muscling it up with croonoir Jimmy Vargas, then it's off to the Vegas pool, where he conducts an underwater interview with gorgeous fire-eating mermaid Marina. Koop Kooper's Cocktail Nation book is a glorious panorama of all things Lounge, created by the swank meister of uber cool himself. As featured in Tiki Magazine.
Zines
Roctober #51 Special Comedy and Novelty Records Issue $5.00
She Is Restless vol 4 Drought and She Is Restless vol 5 Underwater Cities by Rebecca Mir $3.00 each
Shit Nonentity Illustrated #1 and Probably Only by Doug Fahrman $5.00
Serial Killers Unite #14 $3.00
Dylan Zine #3 $1.00
Sentimental Value #1 by Emily Spivack $10.00
Cometbus #55.5 Love You Like Suicide $3.00 – Limited pressing! We only have 2 left!
Snot Rocket City #3 $2.00
Sometimes You Gotta Be Your Own Cheerleader $1.00
Doom Spiral #8 $5.00
The Difference Between by Billy McCall $1.00 – LOL hilarious. Tells the difference between easily confusable things, like Puddle of Mudd and Pile of Shit. Recommended for guffaws.
Comics & Comix
Its Happening by Theora Kvitka $4.00
Vortex #4 by William Cardini $6.00
Little Tommy Lost vol 1 by Cole Closser (Koyama) $15.00
Kodoja Terror Mountain Showdown #1 and #2 by Keith Foster et al. $4.50 each
Occupy Comics #3 by Alan Moore, Molly Crabaple, Shannon Wheeler et al. $3.50
Graphic Novels & Trade Paperbacks
Squirrel Machine by Hans Rickheit (Fantagraphics) $22.99
The League of Extraordinary Gentlemen – Omnibus Edition by Alan Moore and Kevin O'Neill $29.99
Drama by Raina Telgemeier $10.99
Blobby Boys Book by Alex Schubert (koyama Presss) $10.00
Festival Frenzy by Kyle Platts (Nobrow) $24.75
Hole  by Oyvind Torseter (Enchanted Lion) $22.95
Art & Design
Printing at Home by Xavier Antin $23.36
Visual Funk: Jim Mahfood Art by Jim Mahfood $49.99
The Astonishing World of Art: Stickers, Postcards, Full Color Art Coloring Pages by Brandon Bird $14.95 – paint by numbers action.
Samplings and Babblings: A Cartoon Art Museum Exhibition by Sam Kieth $19.99
High Fidelity: The Art of Jim Flora – Album Covers and Music Illustrations (Fantagraphics) $34.99
Cruelty and Carnage: Superviolent Art Ukiyo-e Master Series vol 6 $34.95
Fiction
The Suicide Shop by Jean Teule (Gallic Books) $13.95 – One stop shopping.
NW by Zadie Smith $16.00 – Now in soft cover.
Zero Fade a Novel by Chris L. Terry (Curbside Splendor) $12.00
As Flies To Whatless Boys by Robert Antoni (Akashic) $15.95
Kids Stuff
Wild by Emily Hughes $16.95
Mayhem, Miscreants, Memoirs, Music & Misc
Larceny Games: Sports Gambling Game Fixing and the FBI by Brian Tuohy (Feral House) $18.95 – Don't miss Brian Tuohy here to talk about this book on 9/28!
Every Love Story Is a Ghost Story: A Life of David Foster Wallace  by DT Max $17.00 – Now in soft cover.
Spy Rock Memories by Larry Livermore (Don Giovanni Records) $12.99 – In 1982 Larry Livermore, ex-greaser, post-hippie, burnt out and disillusioned by the Bay Area punk scene, journeyed north into an off the map, off the grid mountain wilderness that lay at the heart of California's Emerald Triangle in search of something "real." Things got way more real than he'd bargained for, as he ended up confronting blizzards, droughts, floods, fires, marauding bears, skunks, rattlesnakes, and a posse of ornery pot growers, all while launching a magazine, a solar-powered punk rock band, and the DIY record label that introduced the world to the likes of Green Day, Operation Ivy, and Screeching Weasel. With a cover by Gabrielle Bell.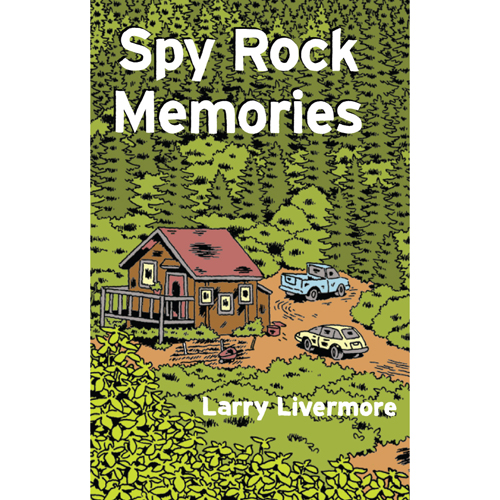 Politics & Revolution
Radical Unionism: The Rise and Fall of Revolutionary Syndicalism by Ralph Darlington (Akashic) $22.00
Underminers: A Guide to Subverting the Machine by Keith Farnish (New Society) $19.95
Magazines

Lucky Peach #8 The Gender Issue (McSweeneys) $12.00 – With split covers for men and women.
Grantland Quarterly vol 7 (McSweeneys) $25.00
Creative Nonfiction #49 Sum 13 $10.00
The Believer #101 Sep 13 $8.00
Bizarre #205 Oct 13 $10.50
Mojo #238 Sep 13 $9.99
Brownbook #40 $14.99
Monocle vol 7 #66 Sep 13 $12.00
Poetry, Lit Mags, Lit Journals, Chap Books
Lookbaby Poems by David Welper $14.00
Sexy
Pinups #17 Jake by Christopher Schultz $17.00
To see what is for sale in our webstore, see quimbys.com/store.