Laydeez do Comics is a unique salon with a focus on graphic works based on life narrative, the drama of the domestic, and the everyday. Invited guest speakers have 10-20 minute slots to present works/ideas followed by a Q&A. Launched in London in July 2009, the group has now expanded to other cities, including Chicago. Quimby's hosts the Chicago chapter and it is usually the last Thursday of every month.
September's guests: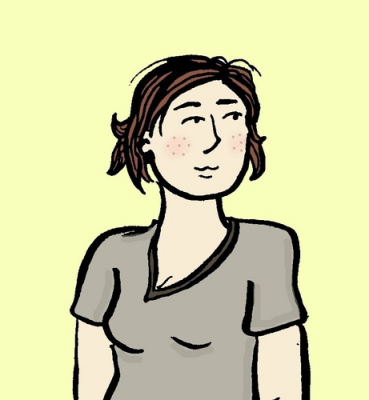 Rachel Foss is a happy cartoonist drawing sad stories for real people everywhere.  Originally from Grand Rapids, MI, she moved to Chicago after spending a year with the Center for Cartoon Studies in Vermont.  Her new comic, the Wandering Fox, a historical drama based on her family history, will debut October 1, 2013. She writes: "
I was raised in the general area of (infamous) Flint, MI, where I watched a lot of Nickelodeon and read every Goosebumps book released prior to 1996.However, Flint sucked, so I left as soon as possible.  I went to school and studied film and design.  I graduated realizing that I didn't really want to do either of those things. I moved to Grand Rapids and did nothing for a really long time.  THEN in 2009, thanks to some amazing people, i discovered Comics/Graphic Novels/Cartooning.  For many reasons, including this, I consider Grand Rapids, MI my true home.

In 2011 I moved to White River Junction, VT (or more fondly TOON TOWN, VT) after I was accepted into the Center for Cartoon Studies Master's Program.I now live in Chicago where everything is awesome, especially me.
For more info:
thingsiveseenandheard.wordpress.com
rachelftfoss.wix.com/wanderingfox
MK Czerwiec aka Comic Nurse presents on "Comics, Laydeez, and the Movies," with a surprise announcement at the end!