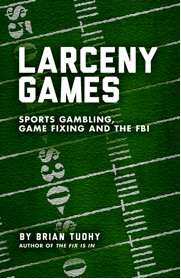 Major League Baseball claims it hasn't had a game fixed by gamblers since 1919. Point shaving hasn't admittedly occurred in the NBA since 1954. And the NFL publicly states not one of its games has come under outside influence—ever. This league-sponsored history, however, is wrong.
Larceny Games provides the details and names the names of Hall of Fame athletes who have either bet upon their own sport or outright thrown games for the benefit of gamblers—and why the sports leagues have covered-up these incidents.
Larceny Games also digs into this vast underworld through interviews with sports gambling insiders and former FBI agents as well as detailing information from more than 400 previously unreleased FBI case files relating to sports bribery to reveal how professional athletes and referees have been corrupted into fixing games in the NFL, NBA, MLB, boxing, soccer, and tennis.
Brian is also the author of The Fix Is In: The Showbiz Manipulations of the NFL, MLB, NBA, NHL and NASCAR and is the leading expert on the subject of game fixing.

"Once again, Brian shows there's much more to professional sports than meets the eyes (or ears), He digs so deep that he'll need a bodyguard!" — Sam Bourquin, Host, WHBC Ohio
Saturday, September 28th, 7pm – Free Event