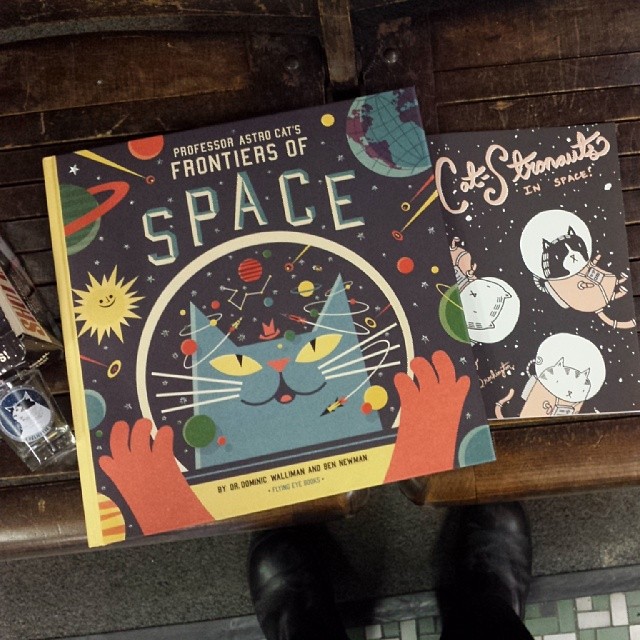 Professor Astro Cat's Frontiers of Space by Dominic Walliman and Ben Newman (Flying Eye) $24.00
Catstronauts In Space #1 by Drew Brockington $4.00
Shot Into Space Animal Pioneers Shot Glasses $16.00 for set of 6 different animals.
Zines
Corpus Corpus #5 Little Man Pee Party by Paul Nudd $20.00
Salome Silkscreened Zine by Sarah Hamerman $13.00
Rochester Teenset Outsider #26 and #27 $1.00 each
Open Pit Open Dialogue by various $4.00
Hawaiian Honeycreepers and Biogeography by Kels Choo $3.50
Graze #4 Fall 13 $0.00
On Flora #1 by Lydia Saint $10.00
Frontier #2 Hellen Jo by Hellen Jo $8.00
Moist Ladies #4 Seven Cities by Ryan and Nathan Veach $10.00
Women by Joseph Padilla & Edward Anderson $12.00
Summer of Shred #2 2012 by JM Moore $5.00 and #3 2013 $10.00
Last Night at the Casino #5 Oct 13 by Billy $2.00
Send Me A Pic: A Summary of Rejection by Hanna M. Owens $10.00
Save The Bees Worx #2 by various $7.00
Excerpts From Another Ghost #1 and #2 by Matthew R. Diomataris $3.75
Comics & Comix
Sandman Overture #1 of 6 by Neil Gaiman et al. $4.99 – !!!
You Don't Get There From Here #26 by Carrie McNinch $2.00
Muse by Kelsey Choo $6.00
Half Asleep vol 1 by Beth Hetland and Kyle O'Connell $5.00
Blobby Boys #3 by Alex Schubert $6.00
Army of Lovers Will Be Beaten #8 by Bernie McGovern $6.00
Raven and the Red Death One Shot by Edgar Allen Poe & Richard Corben $3.99 – With Mag the Hag.
Thought Bubble 2013 Anthology $3.99 – With Gabriel Ba, Jeffrey Brown, and more!
Stuff About Sex for Guys who are not like Total Idiots by David Mellon (Top Shelf) $3.95
Astounding Villian House by Shannon Wheeler $3.50
Xeno Kaiju by Pat Aulisio $3.00
Monster Pops: SAIC Student Anthology by Paul Nudd et al. $7.00
Are Snakes Necessary #2 New England Theres No Place Like Home $5.00
Signs by Maritsa Patrinos $5.00
Peehole #12 Danziggy IV by Jim Donaldson $3.00
God Are You There? What About My Cardigan and Other Stories – Ghost Cardigan #1 by Kim Ku $4.00
Coffee by Evah Fan $4.00
Brian's Brain and Comics Megamix vol 1 by Jacob Halton $6.00 each
Conditions on the Ground issues #5-#7 by Kevin Hooyman $4.00 each
Graphic Novels & Trade Paperbacks
Rage of Poseidon by Anders Nilsen (D&Q) $29.95
Maria M Book 1 by Gilbert Hernandez (Fantagraphics) $22.99
Moomin vol 8 by Lars Jansson (D&Q) $19.95
Hagelbarger and That Nightmare Goat by Renee French $18.00
Pongo by Jesse Hodgson (Flying Eye) $16.95
VIP Mad World of Virgil Partch by Jonathan Barli (Fantagraphics) $49.99
Due North by Jacob Kearney $17.00
Johnny Hiro vol 2 The Skills to Pay the Bills by Fred Chao $17.99
Other Stories and the Horse You Rode In On by Dakota McFadzean (Conundrum) $18.00
Mara by Brian Wood et al. (Image) $12.99
Gold Pollen and Other Stories by Seiichi Hayashi et al. (Picturebox) $27.50 – Masters of Alternative Manga.
Tintin: The Art of Herge, From the Archives of the Herge Museum $45.00
Chester Brown, Conversations $40.00
Super Graphic A Visual Guide to the Comic Book Universe by Tim Leong $18.95
Wrinkle in Time Graphic Novel by Madeleine L'Engle $19.99
Art & Design Books
Yokai Museum: The Art of Japanese Supernatural Beings From the Yumoto Koichi Collection (PIE Books) $39.95
So I've Been Told by Maryanna Hardy (Conundrum) $17.00
Blaring House by Claire Seringhaus Conundrum) $15.00
Sketchbook Selections 2000-2012 by Ryan McGinness (Gingko) $39.95
Vehicles: Art Brut Series, ed. by Sarah Lombardi (5 Continents) $40.00 – The Art Brut Collection has created the Biennale de l'Art Brut, a project that capitalizes on the diversity of this superb collection of more than 60,000 works by grouping a selection of them into themed exhibitions.
In the Good Name of the Company: Artworks aand Epherma Produced By Or In Tandem With the Colby Poster Printing Company (Picturebox) $34.95
Nathan Ota Ikiru by Chiwan Choi and Nathan Ota (Gingko) $50.00
Abandoned Futures: A Journey to the Posthuman World  by Tong Lam (Gingko) $34.95
Much Loved by Mark Nixon (Abrams) $17.95 – Award-winning photographer Mark Nixon has created a trove of quirky and nostalgic portraits of teddy bears and other stuffed animals that have been lovingly abused after years of play.
Graphic Candy: Sweets For Your Eyes (Gingko) $39.95
Vandals by Nils Muller $39.95
Drawing Attention by John Van Hamersveld (Gingko) $29.95
Colourkamikaze by Won ABC $29.95
Zombie Love by ABC Won $29.95
Nordic Tattooing Nordic Tattooists and their Drawings $65.00
Tattoo Coloring Book by Megamunden $14.95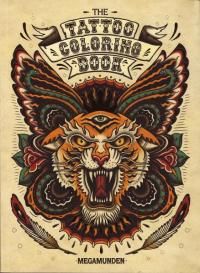 Mayhem, Miscreants, Memoirs, Music & Misc
Alternative Movie Posters Film Art From the Underground by Matthew Chojnacki (Schiffer) $34.99
Every Day Is an Atheist Holiday by Penn Jillette $16.00
The Onion Book of Known Knowledge $20.00
Overthrowing the Old Gods: Aleister Crowley and The Book of the Law by Don Webb $19.95
Madison Square Tragedy: The Murder of Stanford White by Rick Geary $15.99
Jack The Ripper: The Terrible Legacy by The Whitechapel Society $16.95
Lost Race of the Giants: The Mystery of Their Culture Influence and Decline Throughout the World by Patrick Chouinard $18.00
Aliens In Ancient Egypt: The Brotherhood of the Serpent and the Secrets of the Nile Civilization Xaviant Haze $20.00
Shadow Out of Time by HP Lovecraft and INJ Culbard (Self Made Hero) $19.95
Eerie Encounters in Everyday Life: Angels, Aliens, Ghosts, Haunts by Thomas Freese $16.99
Mysterious Origins of Hybrid Man: Crossbreeding and the Unexpected Family Tree of Humanity by Susan B. Martinez $24.00
Glam Rock Dandies In the Underworld $40.00
Meal Deal With The Devil: A Horrible Little Listen Along Book by Bobby Joe Ebola et al. (Microcosm) $19.95
Bobby Joe Ebola Songbook by Dan Abbott et al. (Microcosm) $15.95
In The Words of Sparks Selected Lyrics by Ron Mael et al. $24.95
Punk 45: Singles Cover Art of Punk 1976-'80 ed. by Jon Savage et al. $39.95
Lord of Garbage by Kim Fowley (Kicks) $13.95
33 1/3 Series: They Might Be Giants' Flood by Alexander S. Reed et al. $14.95
Starting at Zero: His Own Story by Jimi Hendrix $26.00
Beat Box: A Drum Machine Obsession by Joe Mansfield $49.95 (Get On Down) – Comes with beat download card! Awesome drum machine photos.
John Lennon: Letters $25.00
Johnny Cash: The Life by Robert Hilburn $32.00
DeTextbook: The Stuff You Didn't Know About the Stuff You Thought You Knew by the editors of Cracked $23.00
Real Man Adventures by T. Cooper (McSweeneys) $14.00
Politics & Revolution
Necessary Illusions Thought Control In Democratic Societies by Noam Chomsky $19.95
Anarchy Geography Modernity Selected Writings by various (PM Press) $22.95
DIY, Food & Drugs
How To Build a Hovercraft: Amazing DIY Science Projects $24.95
Peyote Dreams: Journeys in the Land of Illumination by Charles Duits $16.95
Opium the Diary of His Cure by Jean Cocteau $19.95 – Published to commemorate the 50th anniversary of Cocteau's Death.
Food Rules: An Illustrated Eaters Manual by Michael pollan and Maira Kalman $16.00 – Now in soft cover.
Fold Me Up: 100 Paper Fortune Tellers for Lifes Pressing Questions by M. Taute $16.00
Cocktail Hour: Rum Gin and Vodka 3 Pack (Scout Books) $12.00
Cocktail Hour: Tequila Whiskey Brandy 3 Pack (Scout Books) $12.00
Sex & Sexy
Domestic Burlesque by Elsa Quarsell (Gingko) $39.95
Nasty Boys: Rough Trade Erotica ed. by Shane Allison (Cleis) $15.95
Sexual Practices of the Druids: A Handbook of Magic and Ritual by Jon G. Highes $16.95
Carnal Alchemy: Sado-Magical Techniques For Pleasure Pain and Self Transformation by Stephen E. Flowers et al. $16.95
How to Win at Everything Even Things You Cant or Shouldnt Try to Win At by Kibblesmith and WEiner $15.95
Bikenomics: How Bicycling Can Save the Economy by Elly Blue $14.95
George Noory's Late Night Snacks, Winning Recipes for Late Night Radio Listening $24.99 – Over 150 Snacks to Make and Bake while listening to Coast to Coast AM
Isa Does It: Amazingly Easy Wildly Delicious Vegan Recipes for Every Day Isa Does It Amazingly Easy Wildly Delicious Vegan Recipes for Every Day by Isa Chandra Moskowitz $30.00
Fiction
This is How You Lose Her Deluxe Edition by Junot Diaz, with iluustrations by Jaime Hernandez, in a slipcase! $40.00
Day Night Two Novels by Paul Auster $16.00 – Includes Travels in the Scriptorium and Man in the Dark.
The Twenty-Seventh City (25th Anniversary Edition) by Jonathan Franzen $18.00 – His debut novel reprinted.
Dance With Dragons by George RR Martin $9.99
Magnificence by Lydia Millet $15.95
Pick a Plot Book 2 You Are a Cat in the Zombie Apocalypse by Sherwin Tija (Conundrum) $18.00
Serial Villain: A Dozen Thrilling Illustrated Tales by Sherwin Tija (Conundrum) $17.00
Happy Mutant Baby Pills SC by Jerry Stahl $14.99
Lords of Salem by Rob Zombie and BK Evenson $16.00
Luminaries by Elanor Catton $27.00
Books by Gene Gregorits: Johnny Behind the Deuce, Dog Days vol 1 and vol 2, Fishhook
Magazines
Juxtapoz #155 Dec 13 $5.99
Bizarre #207 Dec 13 $10.50
Frankie #55 $13.95
Design Bureau Nov Dec 13 $8.00
Toiletpaper September 1971 $16.00
Backwoodsman vol 34 #6 Nov Dec 13 $4.95
Skeptical Inquirer Nov Dec 13 vol 37 #6 $4.95
American Atheist 4th Quarter 13 Fall $4.95
True Detective Winter Special 2013 $10.99
True Crime Oct 13 $8.99
Flaunt #130 $10.95
Lula #17 $17.99
High Times Jan 13 $5.99
Paper Nov 13 vol 30 #3 $4.00
Smith Journal #8 $17.99
Mother Earth News #261 Dec Jan 13 14 $5.99
Dazed and Confused vol 3 #27 Nov 13 $9.99
Fangoria #328 $10.99
Monocle vol 7 #68 Nov 13 $12.00
Gay and Lesbian Review Worldwide Nov Dec 13 $4.95
Progressive Nov 13 $4.95
In These Times Nov 13 $3.50
Poetry, Lit Mags, Lit Journals, Chap Books
Make #14 Fall 13 Visual Culture $12.00 – Newest issue from local lit mag.
Death Poems: Classic, Contemporary, Witty, Serious, Tear-Jerking, Wise, Profound, Angry, Funny, Spiritual, Atheistic, Uncertain, Personal, Political, Mythic, Earthy, and Only Occasionally Morbid by Russ Kick $21.95
I Dream of Amaresh Deluxe Edition by Allen F. McNair $17.00
Some Churches by Tasha Cotter $14.95
Kiss as Many Women as You Can by Franki Elliot and Shawn Stucky $19.95
Lana Turner #6 $12.00
The Believer #103 Nov Dec 13 $10.00
Mojo #240 Nov 13 $9.99
Decibel #110 Dec 13 $4.95
Uncut Special Ed: Small Faces $13.99
Younger Than Dead $10.00
Smut by Al Jamal et al. $10.00
Kids Stuff
Crabtree by Jon and Tucker Nichols (McSweeneys) $17.95
Recipe  by Angela and Michaelanne Petrella (McSweeneys) $17.95
Books in the Adventures of the Salamander Book series by Michael Klaus Schmidt $15.00 each
OZ Road to Oz by Frank L. Baum, Eric Shanower, Skottie Young $16.99
Ghosts by Sonia Goldie and Marc Boutavant (Enchanted Lion) $16.95
Letter for Bear by David Lucas (Flying Eye) $14.95
Alice In Tumblr Land and Other Fairy Tales for a New Generation by Tim Manley $20.00
Night Riders by Matt Furie (McSweeneys) $8.95 – Now in soft cover!
Other Stuff
Anders Nilsen Silkscreen Print Set 13 $12.00
Brew It Yourself Ginger Ale Kit $16.00
New shipment from local journal publisher Field Notes, including a limited edition Local Drinks series which comes with a coaster!
Also blank booklets from Scout Books.
Narwhal Screwdriver Kit with 4 Changable Driver Bits $14.00
New funny zipper pouches, tin storage boxes and other fun storage solutions!
Close Shave Working "Straight Razor" Bottle Opener $20.00