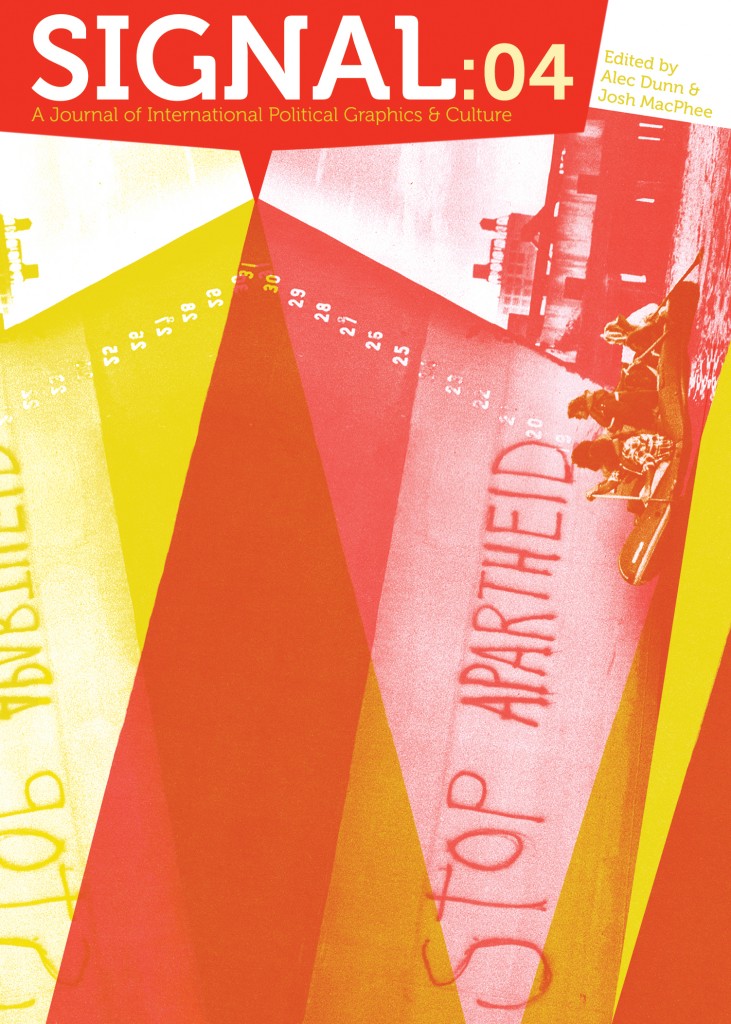 Signal: 04: A Journal of International Political Graphics & Culture by Alec Dunn and Josh MacPhee (PM Press) $14.95 – The 4th volume of the ongoing book series dedicated to documenting and sharing compelling graphics, art projects, and cultural movements of international resistance and liberation struggles. Readers will be inspired by not only fine and graphic arts but also political posters, comics, zines, murals, street art, art collectives, documentation of performances, and articles on the often-overlooked but essential roles all of these have played in struggles around the world. Highlights of the fourth volume of Signal include Lincoln Cushing's discussion of the Bay Area Peace Navy's large-scale visual interventions; Tennessee Watson's project made in response to the violence in Juárez; New Zealand's Kotare Trust Poster Archive; the early years of West Germany's militant counterculture; an interview with Max Karl Winkler, book cover designer for Three Continents Press; and the history of Toronto's Punchclock Print Collective.
Zines
Pieces #12 On Travel by Nichole Baiel $4.00


Such a Happy Mess #2 by Elliott Junkyard $2.00
Put a Egg On It #10 Sum 15 $10.00
Zines by Sarah McNeil $2-$3: Make an 8 Page Zine, Sleep, Using Gocco, Pasta Maker Printing Press, Summer Goals List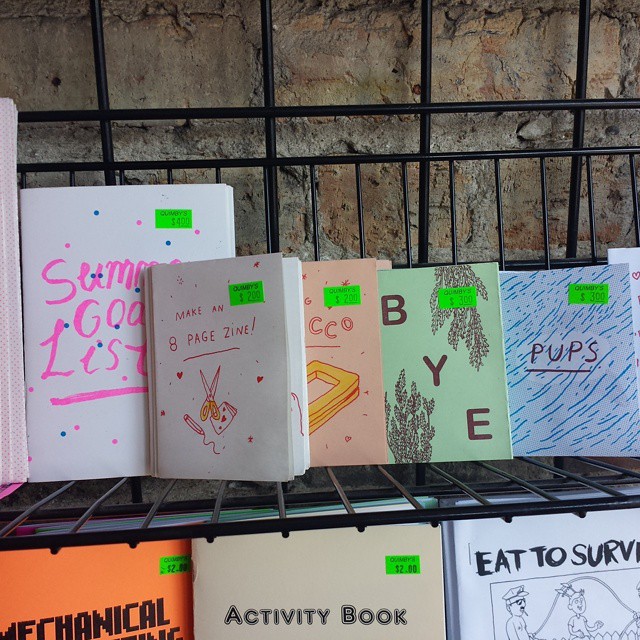 Comics & Minis
Frontier #7 Jillian Tamaki $8.00
Sandman Overture #5 of 6 by Neiil Gaiman $3.99
Deep Space House Plant by Ashley Ronning $10.00
It's Always Tea Time with Vampire Kitty and Space Bat $4.00
Heavy Soda by Harley Jones (Caldera Press) $12.00
Graphic Novels & Trade Paperbacks
Dodd Skalle Investigations vol 1 The Simian Case by John Ingle $16.00
Exquisite Corpse by Penelope Bagieu $19.99
Louise Brooks Detective by Rick Geary $15.99
Nimona by Noelle Stevenson $17.99
Infinite Bowman by Pat Auslisio (Hic and Hoc) $15.00
Battle Lines: A Graphic History of the Civil War by Ari Y. Kelman & Jonathan Fetter-Vorm $26.00
Lady Justice vol 1 TPB Complete Comics by Neil Gaiman & friends $14.99
Art & Design
Big Gay Alphabet Coloring Book by Jacinta Bunnell & Leela Cornman (PM Press) $12.95
Fiction
Sisters Of the Revolution: A Feminist Speculative Fiction Anthology, ed. by Ann and Jeff VanderMeer (PM Press) $15.95 – Including stories from the 1970s to the present day, the collection seeks to expand the conversation about feminism while engaging the reader in a wealth of imaginative ideas. Work by writers such as Carol Emshwiller, Ursula K. Le Guin, Angela Carter, Octavia Butler, Eileen Gunn, James Tiptree Jr. & more.
The Making of Zombie Wars by Aleksandar Hemon $26.00 – The story of a screenwriter stuck in a rut until a series of events propel him to write a screenplay, Zombie Wars, about a zombie apocalypse.
New World by Eli Horowitz & Chris Adrian $24.00 – A story of love, decapitation, cryogenics, and memory.
American Innovations: Stories by Rivka Galchen $15.00 – In one of the intensely imaginative stories in Rivka Galchen's American Innovations, a young woman's furniture walks out on her. In another, the narrator feels compelled to promise to deliver a takeout order that has incorrectly been phoned in to her. Whether exploring the tensions in a mother-daughter relationship or the finer points of time travel, Galchen is a writer like none other today.
My Struggle Book One by Karl Ove Knausgaard $16.00 – The American public has spoken, and what they want is six volumes of a diary written by a Norwegian man born in 1968. This is the first volume.
Humor
Gumption: Relighting the Torch of Freedom with America's Gutsiest Troublemakers by Nick Offerman $26.95 – The star of Parks and Rec highlights twenty-one figures from our nation's history.
Mayhem, Outer Limits & Essays
Drugs as Weapons Against Us: The CIA's Murderous Targeting of SDS, Panthers, Hendrix, Lennon, Cobain, Tupac, and Other Leftists Paperback by John L. Potash (PM Press) $24.95
The Lives of Sacco and Vanzetti (Treasury of XXth Century Murder) by Rick Geary (NBM) $9.99
Monster Hunters: On the Trail with Ghost Hunters, Bigfooters, Ufologists, and Other Paranormal Investigators by Tea Krulos (Chicago Review Press) $16.95
Carsick: John Waters Hitchhikes Across America by John Waters $15.00 – Now in soft cover.
Yeah Science, Bitch!
Atoms Under the Floorboards: The Surprising Science Hidden in Your Home by Chris Woodford $27.00
Politics & Revolution
No Gods, No Masters, No Peripheries: Global Anarchisms ed. by Barry Maxwell & Raymond Craib (PM Press/Institute for Comparative Modernities) $27.95 – Looks at geographical and political peripheries on anarchism. Includes contributions by Gavin Arnall, Mohammed Bamyeh, Bruno Bosteels, Raymond Craib, Silvia Rivera & more.
Playing as if the World Mattered: An Illustrated History of Activism in Sports by Gabriel Kuhn (PM Press) $14.95
Kids Books
Beautiful Birds by E Walker and J Roussen (Flying Eye) $19.95
Magazines
Make vol 45 $9.99
Freshly Inked Jul 15 $6.99
Grand Circus #1 Spr Sum Launch Issue $14.99
Frank 151 #59 $10.00
Cinema Retro vol 11 #32 $11.99
Horror Hound #53 May Jun 15 $6.99
Relix Jun 15 $6.99
Mojo #257 Jun 15 $10.50
Raw Vision #85 $14.00
Tattoo Black and Grey Special #13 $9.99
Psychic News May 15 $10.99
Other Stuff
"Eleanor and Claude" Print by Emily Winfield Martin $18.00
Intimacy Idiot by Isaac Oliver $24.00
Judge This by Chip Kidd $16.99 – From the design of your morning paper to the subway ticket machine to the books you browse to the smartphone you use to the packaging for the chocolate bar you buy as an afternoon treat, Kidd reveals the hidden secrets behind each of the design choices, with a healthy dose of humor, expertise, and of course, judgment as he goes.
Thank You, Goodnight by Andy Abramowitz $26.00 – Nick Hornby meets Almost Famous in this side-splittingly funny coming-of-middle-age debut novel about the lead singer of a one-hit wonder 90s band who tries for one more swing at the fences.