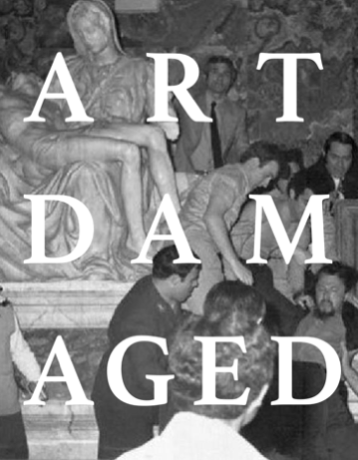 In their forthcoming book Art Damaged, Christopher Schreck and Casey Hudetz offer a sweeping study of the methods and motivations behind acts of art vandalism. Combining in-depth analysis with dynamic imagery, Art Damaged guides readers through stories of exhibited artworks being damaged, defaced, dismembered, and destroyed for reasons ranging from the political to the personal, from artistic expression to pure accident.
For their talk at Quimby's, Schreck and Hudetz will recount a choice selection of incidents, using witness accounts, forensic photographs, and surveillance footage to depict a series of events whose varied, often sensational circumstances suggest a larger underlying narrative regarding art's position in modern society.
Christopher Schreck is a writer and editor whose work has been featured in such publications as Aperture, Cura, Kaleidoscope, Mousse, Office, and Sex. He has served as an editor at Kaleidoscope magazine since 2013. After years spent teaching, writing, producing short films and traveling the world, Casey Hudetz has decided to pursue a career in user experience design. His love of history, art, and well-told stories drew him to writing this book which will be released in 2019.
For more info, visit artdamagedbook.com.
Facebook Event Invite for this event.
Sat, Aug 11th, 7pm. Free Event.