Monthly Archive for August, 2018
CHIPRC is closing, so Zine Zine Club is moving to Quimby's for the September meeting!
Long before the Internet was a thing, far-flung zinesters exchanged zines via postal mail. For many of us, the thrill of finding zines in our mailbox is just as potent as ever.
This month the book club-style event for people who read zines will be talking about zines received in the mail. Zine newbies and longtime enthusiasts alike are invited to bring your favorite titles that you've bought or traded online from an individual zinemaker, distro, or zine shop. BYOZ and join the discussion about which zines are worth paying extra for postage!
There will also be a Blind Zine Swap, so please bring a zine (wrapped up or concealed in some way) to trade with someone else on the spot this month.
This event will be led by Chicago Zine Fest organizer Cynthia Elizabeth Hanifin.
Tuesday, September 11th, 6:30pm
Here's the Facebook invite for this event!
There Was A Light: The Cosmic History of Chris Bell and the Rise of BIG STAR by Rich Tupica (Hozac Books) $37.99 – 400+ pages, stocked with a wealth of previously-unseen color photos, personal ephemera from the Bell family's archive, as well as everything Ardent Studios could jam in, plus Bell's childhood bands, his post-Big Star solo work & more!
Zines
Men Who Memorize #1 & #2 $5 each
How to Uncover SELF In Chaotic Times by Lauren Maxwell $12
Meal Based Artist Residency Program by Marc Fischer (Public Collectors) $8 – Marc takes visiting artists to Joong Boo Market in Chicago's Avondale neighborhood. Here they share their reflections.
Affinity by David Meehan $10
Razorblades and Aspirin #4 by M. Thorn $8
Transhumanist Street Style Look Book by Peter J. $8
Comics & Minis
Nude Beach by Eloise Grills $8
Saliva Tide by Hawkins $8
Claw the Terrible Beautiful Claw by Marc Pearson $8
Humboldt by Grant Musser $2
Cotards Joke by Jonas $1
Hoody #3 Robot City $10
Grixly #44 by Nate Mcdonough $2
Draw by Night June 2018 by Steph Neary $2
Snack Time by Ally Lasser $4
Graphic Novels
Coyote Doggirl by Lisa Hanawalt (D+Q) $22.95 – Half dog, half coyote, all cowgirl, on the run from a trio of vengeful bad dogs. And also, there are homemade crop tops.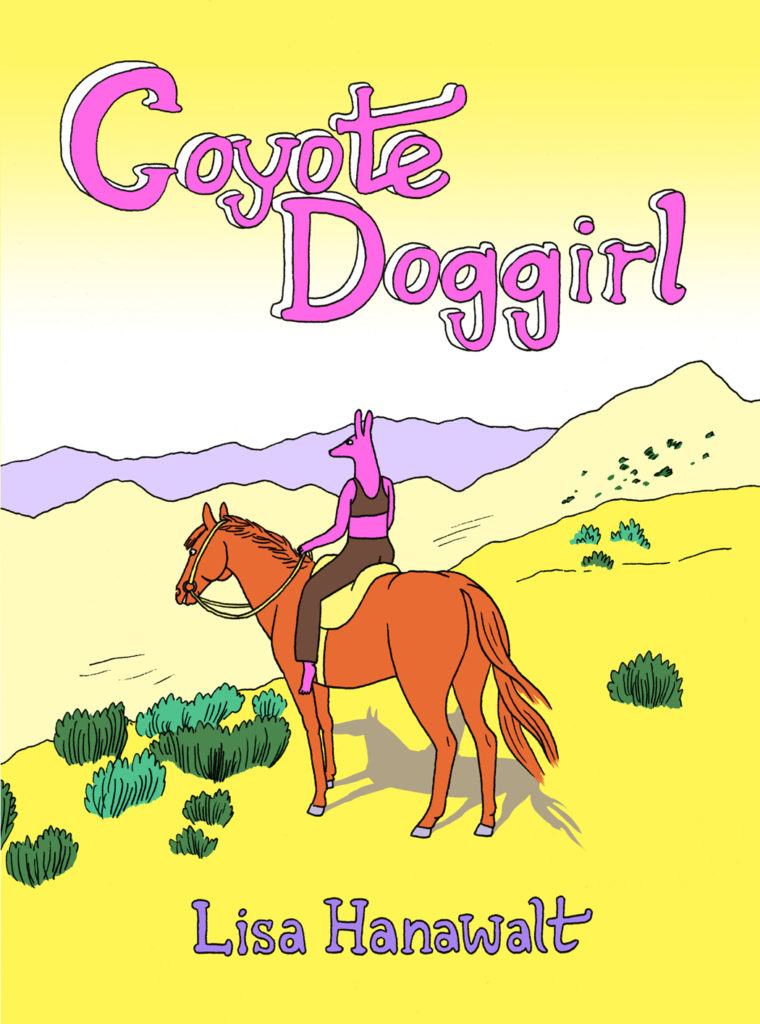 The Agency by Katie Skelly (Fantagraphics Underground) $25 – A collection strange and arcane medical images collected as a webcomic: horny skeletons, yonic portals, thrill-seeking vegetation, and multitudinous wry glances and stammered phrases!
Fang vol 1 Moon Light Snack by Marc Palm $7.99
Pivot by Jaime Dear $20
Politics, Revolution & Help
Resist!: How to Be an Activist in the Age of Defiance by Michael Segalov $19.99
Ways of Being: Advice for Artists by Artists by James Cahill $15.99
Creating Chaos: Covert Political Warfare, from Truman to Putin by Larry Hancock (OR Books) $17.95
Magic for the Resistance: Rituals and Spells for Change by Michael M. Hughes $15.99
Art Books
Fully Coherent Plan: For a New and Better Society by David Shrigley $24
Outer Limits
Paranormal Parasites: The Voracious Appetites of Soul-sucking Supernatural Entities by Nick Redfern $16.99
Fiction
Surrealists and Outsiders 2018: I Wagered Deep on the Run of Six Rats to See Which Would Catch the First Fire, ed by RW Spryszak $10 – Fiction and poetry anthology.
Book Smarts and Tender Hearts: A Novel by Shelley Pearson $12.99 – Hannah discovers zines at 16 and makes some new friends who help her figure out how to balance her book smarts and her heart.
New Micro: Exceptionally Short Fiction, editor James Thomas $15.95 – 35 stories by 89 authors of microfiction, stories of no more than 300 words.
Notes from the Fog: Stories by Ben Marcus $26.95
Heartbreaker by Claudia Dey $26
Murder Romance and Two Shootings by Todd Allen Smith $15
Magazines
Maximumrocknroll #424 $4.99
Jacobin #30 $12.95
Raw Vision #98 $14
Mojo #298 $11.25
Lit Journals & Chap Books
Windowcat #2 $5
McSweeney's 53: Includes 8 Inflatable Balloons $28 – Yes, there's a book but there's also stories printed on the balloons you have to blow up to read.
Zines
Basic Paper Airplane #12 Interview Issue by Joshua Amberson $3
2 Brian Cotnoir titles, $10 each: The Alchemical Wedding & On the Homunculus
Rejected Zine #1 by Troy Kody Cunio $3
Pfff by Chad Cook $5
Lana Del Rey Is That Bitch: A Zine by Mattie Ganson $2.50
Zines/Comics from Sara McHenry: Hard to Love #7 & #8 $3 each
Comics
Cloud by Tom McHenry $5
Politics, Revolution & Current Events
Protest: The Aesthetics of Resistance by Michelle Akanji / Friedrich Von Borries (Lars Muller Publishers) $29.95 – Signs, photos, art, text and more from the last 50 years of protest.
From the Folks Who Brought You the Weekend: An Illustrated History of Labor in the United States, Revised and Updated by Priscilla Murolo / A. B. Chitty, with illustrations by Joe Sacco $19.99
Art Books
Off the Wall: Art of the Absurd by Victionary $34.95 – Talking pets, repurposed pop-culture icons & more from 20+ artists.
Local Interest
Scarface and the Untouchable: Al Capone, Eliot Ness, and the Battle for Chicago by Max Allan Collins / A. Brad Schwartz $29.99
Mayhem
Sons of Cain: A History of Serial Killers from the Stone Age to the Present by Peter Vronsky $17
The Handy Forensic Science Answer Book: Reading Clues at the Crime Scene, Crime Lab and in Court by Patricia Barnes-Svarney / Thomas E. Svarney $21.95
Fiction
Eat Only When You're Hungry by Lindsay Hunter $16
The People's Republic of Everything by Nick Mamatas $15.95 – Hilarious stories of a dog who simply won't stop howling on social media, a very bad date that births an unforgettable meme and more!
Micro Novels by Tory Seller $14.99
Magazines
AdBusters #139 $14.95
Shots #140 $8.25
Poetry, Chap Books & Lit Journals
Citizen Illegal by José Olivarez (Haymarket) $16
Android Poet American Tongue by Troy Kody Cunio $4
Time Snail by Brian Cotnoir $5
Secrets of Daydreaming by Nathaniel Bek $12
I Come From There by Joy Stokes $9.99
Chicago Review vol 61 #3 and 61 #4 $15
Kids Stuff
3×4 by Ivan Brunetti (Toon Books) $12.95
Rally 2019 Nikki Mcclure Calendar: Share the Future $18
Zines
KerBloom #133 by Artnoose $2
Mentor: A Zine About Female Role Models by Monica Johnson and Michelle M. Murphy $10
Caboose #10 The Searching Issue by Liz Mason $4
Smudge vol 2 #8 by Clay Hickson & friends $5
Big Pharma Gets Stoned: An Art and Smart Zine $7
Bookstores and Baseball 10th Inning $5
Inkgoober vol 2 by Anna Lisa Schneider $15
Black Bean Zine #3 Is It Dark Is it Light Does it Matter by Simone Simone $5
Thank You for your Cooperation #2 Verhoeven Zine $8
Mono Rot #3 Susan Okla Drawings & #4 Bill Fick Prints (Rotland Press) $6 each
Screentime by Brendt Rioux $12
Vinyl Vagabonds #9 $8
Vinyl Vagabonds Presents Reggie The Lovable Record Slob $5
Strangers by Arfil Pajarillaga $5
Comics
American Flytrap #1 The Post Truth Issue 2017 & #2 the Gun Issue 2018 (Rotland Press) $10 each
Withered Memories by Urooj Shakeel $10
Daygloayhole Quarterly #2 by Ben Passmore (Silver Sprocket) $6
Graphic Novels
Look Back and Laugh: Journal Comics by Liz Prince (Top Shelf) $19.99
Constant Companion: A Noah Van Sciver Sketchbook (Fantagraphics Underground) $25 – Sketchbooks created between 2013 and 2017.
Sanpaku by Kate Gavino $24.99 – Don't miss the author event here for this book on Thurs, August 23rd!
Love and Rockets vol 14: Three Sisters by Gilbert Hernandez (Fantagraphics) $19.99
Retreat by Jaakko Pallasvuo (2d Cloud) $19.95
Petey & Pussy: Puppy Love by John Kerschbaum (Fantagraphics) $19.99
The Arab of the Future 3: A Graphic Memoir: A Childhood in the Middle East, (1985-1987) by Riad Sattouf $27
Politics & Revolution Books
I Am Action: Literary and Combat Articles, Thoughts, and Revolutionary Chronicles by Praxedis G. Guerrero (AK Press) $15 – A collection of writings from Mexico's firebrand revolutionary. Available in English for the first time.
Girls Resist!: A Guide to Activism, Leadership, and Starting a Revolution by Kaelyn Rich $14.99
Art Books
Dark and Fetish Art by Kaoru Arakawa (PIE International Books) $49.95
Improper Cross-Stitch: 35+ Properly Naughty Patterns by Haley Pierson-cox $19.99
Mayhem & Outer Limits
Ingratitude by Peter Sotos (Nine-Banded Books) $30
Music, Film & TV Books
Twin Peaks and Philosophy: That's Damn Fine Philosophy! ed. by Richard Greene $19.95
The Hard Stuff: Dope, Crime, the MC5, and My Life of Impossibilities by Wayne Kramer $28
MDC Al Schvitz: Double Life in Double Time by Alan Schultz (Manic D Press) $16.95 – Memoir written in prison from the drummer from MDC.
Off the Cliff: How the Making of Thelma & Louise Drove Hollywood to the Edge by Becky Aikman $18
Fiction
A Short Film About Disappointment by Joshua Mattson $25 – A jaded film critic peppers his reviews with disclosures from his own life, from his dream of making a film without mainstream commercialism to his feud with a vending-machine tycoon.
Perfect Conditions by Vanessa Blakeslee (Curbside Splendor) $16.95
Metabolize If Able a Novel by Clay Ad (Monster House Press) $14
Essays
Too Fat, Too Slutty, Too Loud: The Rise and Reign of the Unruly Woman by Anne Helen Petersen $16
After Kathy Acker by Chris Kraus (Semiotexte) $16.95 – Now in soft cover.
The Best of Royko: The Tribune Years by Mike Royko $28
Idiophone by Amy Fusselman $16.95
Magazines
Wire #414 $10.99
Illustoria #7 $16
Critical Mass vol 1 #17 & #18 $8 each
Lit Journals & Poetry
The Chicago Review vol 61 #3 and 61 #4 $15
Visions of Mundane Madness by Dwiputri Pertiwi $20
Black Glitter by Bree Jo Ann (Monster House Press) $12
Raffish #1 $8