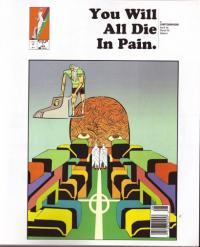 1. Butt #29 Fantastic Magazine $9.90 – Good gawd, after a two year hiatus we are back in the pink. This may be the last time Butt goes to print, but it's hardly a bitter end- this issue serves it extra long and thick. Obscene yet classy homoerotic art? Check. Juicy interviews with a whole gamut of gays? Check. John Waters? Check. Cool, let's party like its 1999. -EF
2. Notes for a People's Atlas (AREA Chicago) $8.00 – Notes on a People's Atlas is a compelling project summary of AREA Chicago's year-long autonomous mapping project. The gathering of how we chart our lives into physical space relfects the absorbtion of the political into the personal and vice versa, shaping an amorphous picture of a physical plane. Compelling and well-explained, "Notes" offers some amazing modes of mapping, Chicago-centric but extending itself worldwide. -EF
3.   Grantland Quarterly vol 1 (McSweeneys) $25.00 – Sports journal from Eggers & Co. More copies on the way!
4.   S #9 Baltic Comics Magazine $8.00
5. The Post-It Note Diaries: 20 Stories of Youthful Abandon Embarrassing Mishaps and Eve by Arthur Jones and friends (Plume) $15.00
6.  Make Your Place: Affordable Sustainable Nesting Skills by Briggs (Microcosm) $7.00
7. Everybody Dies: A Children's Book for Grown Ups (Don't Feel Bad) $by Ken Tanaka $10.00
8. Crap Hound #8 Superstition by Sean Tejaratchi (Show & Tell) $12.00 – This issue meditates on such things as black cats, butterflies, knots, candles…All with a wonderful "Fair Use" collage-y awesomeness.
9. Milk and Cheese Dairy: Products Gone Bad (They Hate What You Hate And They Hate You) by Evan Dorkin (Dark Horse) $19.99 – This Everything-Milk-and-Cheese lux hardcover collection has even got our resident vegan Neil stoked -EF
10. Cartoonshow #1 You Will All Die In Pain by Derek M. Ballard (Drippy Bone) $6.00 – Shit, this comic came outta left field and hit me upside the head as I was leaning in for more pretzels. Freak publishers Drippy Bone Books and freak publishee Derek M Ballard flow together into one pastel future pornscape of the third mind. Stain your purity panties and give it a go, so glad this is happening. -EF