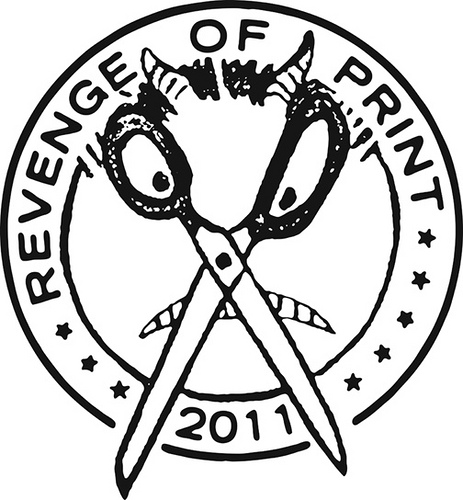 Before last week's bestsellers, we just wanted to say we are really excited by everyone who participated in the 2011 Revenge of Print!

Click here to download a list.

Then print it out and fold it pamphlet style.
1. Henry and Glenn Forever Sticker Funbag by Igloo Tornado $5.00
2. Suspect Device #1 by Josh Bayer and Edwin Vazquez $6.00 – A turd in the hand is worth two in the Bushmiller….Josh Bayer and Edwin Vazquez assemble quite the goon squad to take old Nancy out for a night on the town. -EF – Work from: Jon Vermilea, Dane Martin, Elizabeth Bethea, Lizz Hickey, Nikki Burch, Brendan Leach, B Florio with M Note, Josh Burggraf, Jimmy Giegerich, J Hessig, Scalzo, M Sgier, Marina Gargarina, Leroy, V Kerlow, Sam Henderson, Anne Emond, Pat Aulisio, Tom Hart, Jude Killroy and Box Brown.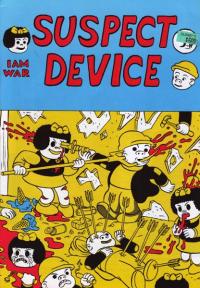 3. Hound and the Musch by Scott Roberts $6.00
4. Under the Radar #39 $5.99
5. Ganges #4 by Kevin Huizenga $7.95 – The lucid insanity of insomnia fuels Huizenga's understated formalist finesse. Glenn Ganges, suburban everyman, falls prey to a eye-pleasing array of graphic tricks and a 1 a.m. sense of humor that would keep me up at night thinking about it too. -EF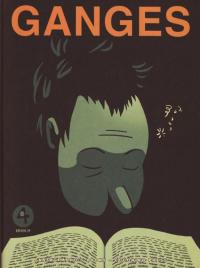 6. Bad Day #12 – a culture magazine.
7. Du Manger En Canne by R. Suicide $5.00 – loppy botulistic potted meat from the Mille Putois Laboratory, getting busy making it's own gravy.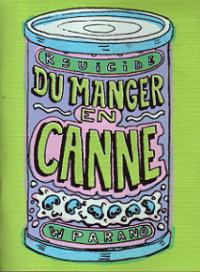 8. Grantland #1 $25.00 – Well, finally we got a few of these in for long enough that I can put them up on the webstore. Grantland #1 is the McSweeney's launch of a physical sports magazine geared for folks who like multiform sports, McSweeney's writers and blogs you can hold. You know who you are. -EF
9. Hark A Vagrant by Kate Beaton $19.95
10. My Aim is True #2 by Carrie $1.00