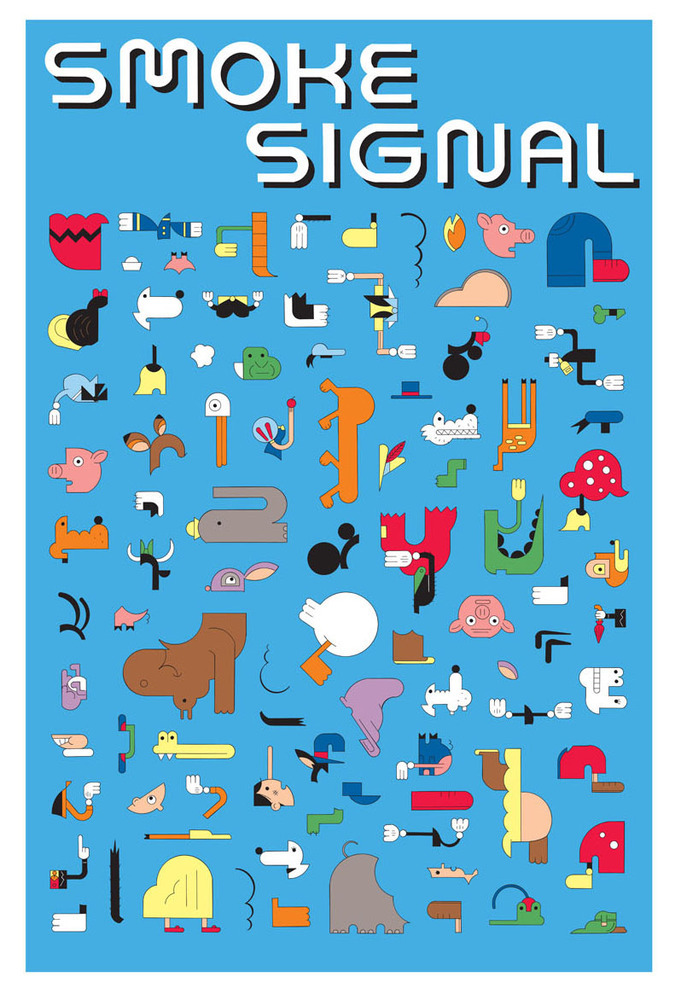 Smoke Signal #18 $5.00 – 32 page tabloid newspaper comic, color cover and (mostly) b+w interior. Featuring Lala Albert, Josh Bayer, John Broadley, Ivan Brunetti (cover), Gerald Jablonski, Keren Katz, Aidan Koch, Travis Millard, Anders Nilsen, Yumi Sakugawa, David Shrigley, Brecht Vandenbroucke, Lale Westvind, and Basil Wolverton.
Zines
Pizza Lovers ZOMG: 'Za the Pizza Zine, Special Issue by Nicki Yowell $4.00 – What kind of pizza are you? Find out here!
After Life Spr 14 by Darin Klein $5.00
Witchcrap #2  by Euronymous Paycheck and Mean Mom $5.00
Graze #5  $10.00
Interview with Kate Palmer of the Chicago Doula Circle by Molly Berkson $2.00
Comics & Comix
Reich #11  by Elijah Brubaker (Sparkplug) $4.00
Long Legs by Julianna Green (Sparkplug) $2.00
It's Snowing Down South: A Lame Talisman by Andice Arp (Sparkplug) $3.00
Intergalactic Telepathic Pen Pal and Other Super Short Stories by Yumi Sakugawa $5.00
Hungry Summer  by Asher Z. Craw $6.00
There is No Love For a Lonely Soul #1 by Brad Rohloff $5.00
Minis from Joe DeGeorge: ET Activity Booklet, Cat People, Time To Go To The Dentist (various prices)
Graphic Novels & Trade Paperbacks
Angie Bongiolatti by Mike Dawson (Secret Acres) $20.00 – Set in the same universe as Troop 142, Dawson's much acclaimed tale of Boy Scouts gone wild, Angie Bongiolatti puts away childish things and moves into the city. Don't miss Mike Dawson here at Quimby's on 5/30 with MariNaomi and Elisha Lim during CAKE!
Andre the Giant: Life and Legend by Box Brown (First Second) $17.99
Ditko Public Service Package: A Funny Bold Look Into the Comic Industry by Steve Ditko $14.00
Hey Mister: Come Hell or High Water Pants by Peter Sickman-Garner (Top Shelf) $14.95
True Lives of the Fabulous Killjoys TPB by Gerard Way et al. (Dakr Horse) $19.99
Other Worlds Gridlords Anthology – Lords by Sean Christensen $10.00
Bohemians by Paul Buhle and David Berger (Verso) $16.95
Saga of the Swamp Thing Book 6 TPB by Alan Moore et al. $19.99
Murder Mysteries by Neil Gaiman et al. (Dark Horse) $19.99
This One Summer by Jillian Tamaki and Mariko Tamaki (First Second) $17.99
Art & Design Books
Outdoor Gallery New York City by Yoav Litvin $39.99
Everything is Everywhere  by Ryan McGinness (Frame) $39.95
The Bicycle Artisans by Will Jones (Gingko Press) $39.95 – 88 of the best, most unique builders from around the globe.
Fiction
American Innovations Stories HC by Rivka Galchen $24.00
Young God by Katherine Faw Morris $24.00
Guide To Being Born Stories by Ramona Ausubel $16.00 – Thoughful and magical short stories. Now in soft cover.
Imperfections of James and Kate: An Almost True Love Story by ChristopherGutierrez & Keltie Colleen $16.00
Mayhem & Outer Limits
Voodoo Doll Spellbook: A Compendium of Ancient and Contemporary Spells and Rituals by Denise Alvarado (Weiser) $21.95
Unconventional Flying Objects: A Former NASA Scientist Explains How UFOs Really Work by Paul R. Hill $24.95
Essays
The Happy Atheist by PZ Myers $15.00 – Now in soft cover.
Hard Feelings – Selected Works 2009-2013 by Christopher Gutierrez $16.00
Politics & Revolution
Presente! Latina Immigrant Voices In the Struggle For Racial Justice (Voces de Immigrantes Latinas en la Lucha por la Justicia Racial) ed. by Cristina Tzintzun et al. (AK) $17.95
Method of Freedom: An Errico Malatesta Reader by Davide Turcato (AK Press)$21.95
Holding Fast to an Image of the Past: Explorations in the Marxist Tradition by Neil Davidson (Haymarket) $22.00
Music-Related Books
The Jesus Lizard Book by Duane Denison, Mac McNeilly, David Wm Sims and David Yow (Akashic) $29.95
1800 Miles To Nowhere: Two Decades of Life on the Road by Brian Keith Diaz $16.00
Metal Cats by Alexandra Crockett (PowerHouse) $12.95 – Metalheads and their feline friends. Meta-lions! Rar!
Magazines
Nobrow #9 Its Oh So Quiet $24.00
Offscreen #8 $22.00
Juxtapoz #161 Jun 14 $5.99
Cabinet #52 Celebration $12.00
Skeptical Inquirer vol 38 #3 May Jun 14 $4.95
Fantastic Man #19 Spr Sum 14 $14.99
Cannabis Now #10 $7.99
Inventory vol 5 #1 Spr Sum 14 $20.00
Fangoria #332 May 14 $10.99
Classic Rock Presents #45 Prog $14.99
Fader #91 Apr May 14 $5.99
Monocle vol 8 #73 May 14 $12.00
Shindig #38 $12.99
In These Times May 14 $3.50
Radical Philosophy #185 May Jun 14 $13.00
Freshly Inked vol 4 #3 Jul 14 $6.99
Tattoo Society #43 $7.99
Other Stuff
Handselecta: Blackbook, Blank Sketch Book (Gingko Press & Adnaseum) $14.95 – Christian Acker's Flip the Script, a book which analyzes graffiti handstyles in a formal typographic construct, was dubbed an instant classic by writers and designers alike upon its release in 2013. Following in this tradition, Handselecta's Blackbook is a tribute to the work that goes into developing a strong, consistent handstyle. Acker designed the book with 64 gridded pages and 64 blank pages so you have both structured and free-form options for developing your letterforms. Practice makes perfect! Perfect it here and then go use it on your street art.