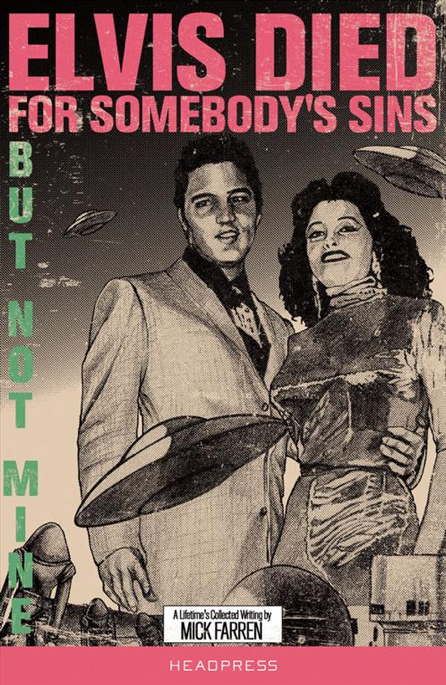 Elvis Died For Somebody's Sins But Not Mine: A Lifetime's Collected Writing by Mick Farren (Headpress) $19.95 – A rocking life railing against the machine, in the company of Johnny Cash, Frank Zappa, Chuck Berry, Gore Vidal, Pete Townshend and others. Farren is a commentator, activist, essayist, poet, performer, and rebel with multiple causes and a founding figure in the 1960s underground press.
Nice Guys Don't Work in Hollywood: The Adventures of an Aesthete in the Movie Business by Curtis Harrington (Drag City) $19.95 – This memoir chronicles the unusual, multidecade career trajectory of Curtis Harrington, who man who created avant-garde films as part of Kenneth Anger's inner circle, directed critically acclaimed and cult-adored horror films like Night Tide and Games, and then descended down the "slippery slope" of television work by directing episodes of Charlie's Angels and Dynasty. Doubling as both a serious study of film aesthetics and a gossipy tell-all, this truly unique look at the Hollywood dream includes an unlikely cast of characters, including Dennis Hopper, Christopher Isherwood, Shelley Winters, Marilyn Monroe, Stanley Kubrick, and Aaron Spelling, as it reveals a portrait of the machinations of the film and television business.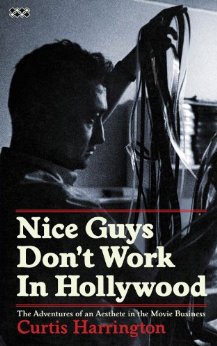 Zines
Epiphanies vol 1 Christian Death: On the Occasion of the 15th Anniversary of The Passing of Rozz Williams by Matthew Moyer $3.00
The Worst: A Compilation Zine on Grief and Loss, ed. by K. McIntyre, issues #2 and #3 $8.00 each
Two Fisted Librarians #1 2013 $2.50
Serial Killers Unite #13 $3.00
Who Remembers Anyway by David Alvarado $.75
Comics & Comix
I Think of Demons/ Sticky Icky Icky by Box Brown $8.00
Fold and the Creator by Grant Reynolds $4.00
I Thought You Quit This Place by Kristine Conroy $3.00
(Kahvillen Comics Presents) Coracle by David C. Mahler, issues #1 and #2 $4.00 each
Army of Lovers Will Be Beaten Book 7 by Bernie McGovern $6.00
Word and Voice #6 by Aaron Cockle (Oily Comics) $1.00
Lou #15 by Melisssa Mendes (Oily Comics) $1.00
Blood Visions Part 2 by Zach Worton $1.00 (Oily Comics) $1.00
Habit #1 ed. by Josh Simmons (Oily Comics) $5.00
Mrs Connie Dutton an Adaption of Spam by Jessica Campbell (Oily Comics) $1.00
Cut Away #1 Part One of Tree Swallows by Dan Zettwoch (Oily Comics) $1.00
Odette #1 by Sarah Ferrick $5.00
Graphic Novels & Trade Paperbacks
Demongunz Minicomic Anthology by Bernie MCGovern $6.00 – Collects Demon Gun and Demon Dust zines #1-11 by this local artist.
Zero Hour Graphic Novel by Ray Bradbury and the Grand Rapids Comics Society $10.00
Lost Cat by Jason (Fantagraphics) $24.99
Graphic Canon vol 3 Worlds Great Literature as Comics and Visuals ed. by Russ Kick (7 Stories) $44.95 – Third volume in this series where the classic literary canon meets comics artists, illustrators, and other artists. This volume includes such artists as Crumb, Dame Darcy, Peter Kuper and more.


Leon Trotsky: An Illustrated Introduction by Tariq Ali and Phil Evans (Haymarket) $15.00
A Cartoon Introduction to Statistics by Gray Klein and Alan Dabney PhD $17.95
Failure by Karl Stevens $21.95
Art & Design
I'm One: 21st Century Mods by Horst A. Friedrichs (Prestel) $19.95 – photos.
A Map of the World: The World According to Illustrators and Storytellers ed. by Antonis Antoniou et al. (DGV) $60.00 – Publications, the tourism industry, and other commercial parties use contemporary, personal maps to showcase specific regions, to characterize local scenes, to generate moods, and to tell stories beyond sheer navigation. A new generation of designers, illustrators, and mapmakers are currently discovering their passion for various forms of illustrative cartography.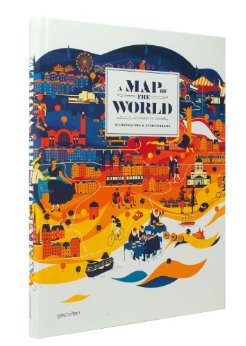 Kawaii Japans Culture of Cute by Manami Okazaki et al. $24.95
Coloring Book Project: Collection by 100 Artists From Around the World of Tattoo Flash Art by Brett Herman $25.00
Skin Graf Masters of Graffiti Tattoo $34.95
Druuuuuugs
Too High To Fail: Cannabis and the New Green Economic Revolution by Doug Fine $16.00
Mayhem, Miscreants, Memoirs, Music & Misc
I Wear the Black Hat: Grappling With Villains Real and Imagined by Chuck Klosterman $25.00
Recombo DNA Story of DEVO Or How the 60s Became the 80s $19.95
Strange Medicine Shocking History of Real Medical Practices Through the Ages $14.00
Politics & Revolution
Anarchism and Workers Self Managemant in Revolutionary Spain $19.00
Fiction
Emmaus by Alessandro Baricco (McSweeneys) $13.00
Million Heavens by John Brandon (McSweeneys) $15.00
Don't Miss Me by Lindsay Hunter $14.00 – Stories from local author.
Magazines
Frankie #53 May Jun 13 $13.95
Pinstriping #38 Kustom Graphics Magazine Jun Jul 13 $10.00
Mother Earth News #259 Aug Sep 13 $5.99
Monocle vol 7 #65 Jul Aug 13 $12.00
Poetry, Lit Mags, Lit Journals, Chap Books
After Hours #27 Sum 13 Journal of Chicago Writing and Art Afterhours $8.00
First Words by Andrew Byrne $12.95
Sex & Sexy
Little Fluffy Gigolo Pelu vol 2 by JUnko Mizuno (JaPress) $17.95
Smokin' Hot Firemen: Erotic Romance Stories for Women ed. by Delilah Devlin $15.95
LA Woman Lives in the Fast Lane Stories Told on LA Stages by Anna Metcalf $6.50
Steam Bath: Sweaty Gay Erotica by Shane Allison $15.95
Click here to see what new stuff is available in our web store!