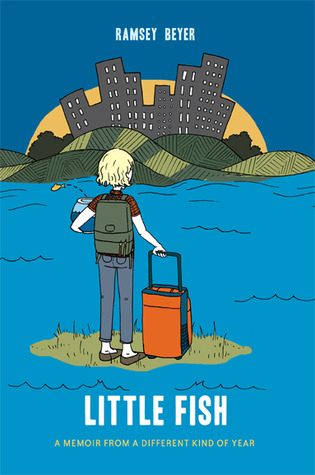 Little Fish: A Memoir From a Different Kind of Year by Ramsey Beyer $15.99 – If you've been shopping at Quimby's regularly checking out our zines and comics, you might be famililiar with the zine List (one of our best-selling zines) by former Chicago zinester and screen-printer Ramsey "Everydaypants" Beyer (one of the original founders of Chicago Zine Fest). Ramsey took some of her zines from when she was 18, just starting college (years and years ago!), and put parts of them in her book, along with commentary about those pieces, that are really the by-products of the introspection that comes with age. The zine-y and mini-comics-y stuff in the book (which by the way, were better then any zine I could do at the age), appeals to the scrappy aesthetic readers have come to enjoy in Ramsey's work, but then also it's a thoughtful and compelling narrative about growing into a person. Recommended. -LM
Zines
Rumpy Pumpy #2 by Milo $2.00 – Remember that manic-y girl with the bob from Real Genius? I'm pretty sure I saw her in this zine. Sold! -LM
On Struggling #3 Bodies by Monica Trinidad $8.00
Panic Zine: A Guide to Recovering From Panic Attacks With Resources for Managing Long Term Anxiety by Corina $2.00
Philly Dudes Collective Year 1 and a Half $2.00
Abstract Door #2 by Vicky Lim $2.75
Black Metal of the Americas vol 5 $5.00
Cell Phone Drawings vol 1 $8.00
Ella Funt #1 May 13 by Ciara Xyerra $5.00
From a Short Pleasure Comes a Long Repentance by Gina Pierce $5.00
Ghost Lungs #1 sum 12 by Em Rose $2.00
Kayfabe Strategies Against Slideshows Reviews 2011-2013 by Michael T. Fournier $3.00
Miso Soup for the Armchair Activist's Soul by Ashlee Green $2.00
See No Speak No Hear No: Articles and Questions about Sexual Assault $2.50
Stay Cool in the Evil Zone #3 Wait It Gets Better $4.00
Think About the Bubbles, various issues, various prices. By Joyce Hatton.
Comics & Comix
Once Twice by Chloe Wilson $18.00
Stranger Two Stranger #5 by R. Hendricks $2.00
Milk Teeth #1 by Kate Lacour $5.00
Sam O Ed in Siren Song vol 4 by Benjamin Wacks $5.00
Graphic Novels & Trade Paperbacks
Love and Rockets: The Covers by the Hernandez Bros (Fantagraphics) $35.00 – For the first time, these iconic comic book covers from the original Love and Rockets comic book series (and the earliest trade paperbacks) have been restored and collected in a gorgeous, oversized art book.
The Walking Dead Book Nine by Robert Kirkman et al. $34.99
In Pieces by Marion Fayolle (Nobrow) $23.00
Ambedkar: The Fight For Justice by by Srividya Natarajan et al. $27.50 – A beautiful graphic novel about the activist Bhimrao Ramji Ambedkar, born into India's "untouchable" caste, went on to draft the Constitution of India, becoming one of the country's foremost revolutionaries.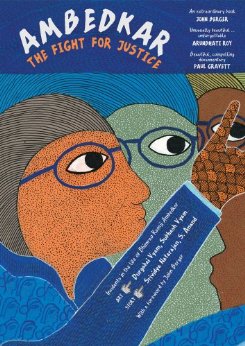 Blue is the Warmest Color by Julie Maroh (Arsenal Pulp Press) $19.95 – The original graphic novel adapted into the award-winning French film about a young woman who discovers herself and the elusive magic of love when she meets a confident blue-haired girl named Emma: a lesbian love story for the ages that bristles with the energy of youth and rebellion and the eternal light of desire.
Heroic Tales: The Bill Everett Archives Vol. 2, ed. by Blake Bell (Fantagraphics) $39.99
Art & Design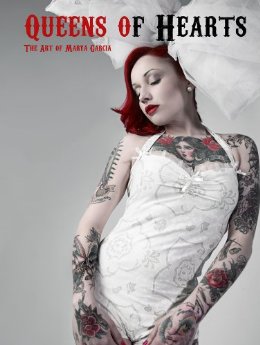 Queens of Hearts: The Art of Marya García (Schiffer) $34.99 – Classic pin-up concepts converge with contemporary aesthetics in this enticing collection of images from Spanish photographer Marya García. In more than 100 arresting images, her love of 1950s pin-up and cinema combine with her alternative aesthetic to offer elegant and sensual images of gorgeous, tattooed women.
Outside The Lines: An Artists Coloring Book For Giant Imaginations by Souris Hong-Porretta $18.00 – For anyone who loves creativity and contemporary art, or who simply loves the joy of coloring, comes Outside the Lines, a striking collection of illustrations from more than 100 creative masterminds, including animators, cartoonists, fine artists, graphic artists, illustrators, musicians, outsider artists, photographers, street artists, and video game artists. With contributions from Keith Haring, AIKO, Shepard Fairey, Exene Cervenka, Keita Takahashi, Jen Corace, Ryan McGinness, and more, Outside the Lines features edgy and imaginative pieces ready for you to add your own special touch.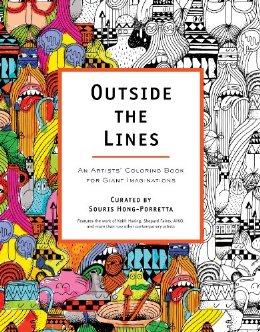 Mayhem, Miscreants, Memoirs, Music & Misc
The Upright Citizens Brigade Comedy Improvisation Manual by Matt Besser, Ian Roberts and Matt Walsh $25.00 – Yes, for real, by the founders of the UCB. With fun illustrations! Read more about it here.
Initiatic Eroticism and Other Occult Writings from La Fleche by Maria de Naglowska $19.95
Guys Can Be Cat Ladies Too: A Guidebook for Men and Their Cats by Michael Showalter $14.95
Tasteful Nudes and Other Misguided Attempts at Personal Growth and Validation by Dave Hill $14.95
Lost In the Darkness: Life Inside the Worlds Most Haunted Prisons, Hospitals, and Asylums by Benjamin S. Jeffries (Schiffer) $19.99
Glam: The Performance of Style by Darren Pih $40.00
Politics & Revolution
The Feminine Mystique: 50 Years by Betty Friedan $17.95
Sexy Stuff
Fat Girl by Carlos Batts (Cleis) $29.95
Big Man on Campus: Fresh Gay Erotica by Shane Allison (Cleis) $15.95
Dark Secret Love: A Story of Submission by Alison Tyler (Cleis) $16.95
Magazines
Tiki Magazine vol 9 #2 Sum Fall 13 $6.99
Bitch #60 $5.95
Juxtapoz #153 Oct 13 $5.99
Kinfolk vol 9 Discovering New Things to Cook Make and Do $18.00
Offscreen #6 $22.00 – The People behind bits and pixels. In print! Wait, what? You read that right.
Dwell Oct 13 $5.99
Skeptical Inquirer Sep Oct 13 vol 37 #5 $4.95
Backwoodsman vol 34 #5 Sep Oct 13 $4.95
Gothic Beauty #41 $6.95
High Times Nov 13 $5.95
Treating Yourself #42 $7.99
Mass Appeal #53 $9.99
In These Times Sep 13 $3.50
Tabu Tattoo #54 $6.99
Poetry, Lit Mags, Lit Journals, Chap Books
Sorry Tree by Eileen Myles (Wave Books) $14.00
Lemonworld and Other People by Carina Finn $15.00
Within Mutiny by Holms Troelstrup $15.00
Mosaic Sum 13 $6.00
The Oxford American #82 Fall 13 $5.95
Vademecum vol 1 #2 $5.00
Filter #53 $5.95
Under the Radar #47 $5.99
Fiction
This Is How You Lose Her by Junot Diaz $16.00 – Now in soft cover.
Sad Robot Stories: A Novella by Mason Johnson (The Chicago Center For Literature and Photography) $24.99
Women Float: A Novella by Maureen Foley (The Chicago Center For Literature and Photography) $24.99
Long Live Us: Stories by Mark R. Brand (The Chicago Center For Literature and Photography) $24.99
The Portable Edgar Allen Poe $20.00
Revitalized: The High Arc by Jessica Cage $14.99
Haunted Dolls House and Other Ghost Stories by MR James (Penguin) $16.00
In The Land of Time and Other Fantasy Tales by Lord Dunsany $16.00
Kids Stuff
Hilda and the Troll by Luke Pearson (Nowbrow/Flying Eye) $18.95
Jedi Academy by Jeffrey Brown $12.99
Ottos Orange Day by Jay Lynch and Frank Cammuso (Toon Books) $4.99
Other Stuff
Incredible Sonic Wallet Drum Machine $15.00 – Open it and it makes drum noises. Forget that sonic screwdriver. You want a sonic wallet!
Shot Into Space Animal Pioneers Shot Glasses $16.00 – Eight of 'em.
Hell Passport Blank Pocket Notebook and Utopia Passport Blank Pocket Notebook $3.00 each.
Monty Pythons Wafer Thin Mints $3.00 – They're waaaafur thin.
Old School Iron Ons $14.95
Notable Restocks
Boss: Richard J. Daley of Chicago by Mike Royco (Penguin) $16.00 – As heard on WBEZ's Afternoon Shift book club.
Field Notes notebooks, different sizes and prices.
Cock Cessaries #1 by Brian Hochberger $2.00
Want to see what's new to order in our web store? See quimbys.com/store.