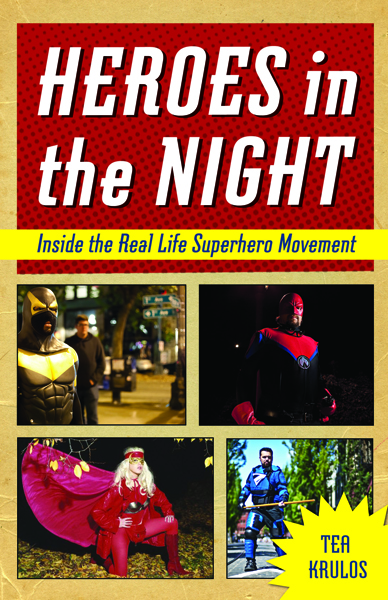 In Tea Krulos's new book, a creative non-fiction titled Heroes in the Night: Inside the Real Life Superhero Movement (Chicago Review Press), he explores the "Real Life Superhero" movement, a sub-culture of people who adopt their own costumed personas and hit the street to battle injustice. Like in the comic books…but not really.
Through historical research, extensive interviews, and many long hours walking on patrol in Brooklyn, Seattle, San Diego, Minneapolis, and Vancouver, Krulos discovered what being a RLSH is all about. He shares not only their shining, triumphant moments but some of their ill-advised, terrifying disasters as well.
"Krulos combines solid journalism with colorful storytelling to shed light on this bizarre and utterly human subculture… Heroes in the Night is a great example of the promise of creative non-fiction." –Matt Hlinak, Pop Mythology.com
The work of Tea Krulos has been featured in such places as: The Guardian, Boston Phoenix, New York Press, Shepherd Express, Milwaukee Magazine and Third Coast Digest. He's been a featured guest several times on WUWM's Lake Effect.
For his appearance at Quimby's, Krulos will read an excerpt from the book, run through a slideshow of some of the colorful characters he's met, and feature an appearance from a surprise guest.
For more info: http://heroesinthenight.blogspot.com
Click here for the Facebook event post.
Or contact Mary Kravenas, mkravenas(at)chicagoreviewpress(dot)com, 312-676-4226
Saturday, October 5th, 7pm – Free Event