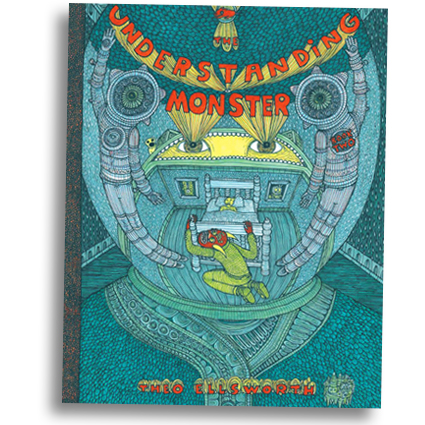 Understanding Monster Book 2 by Theo Ellsworth (Secret Acres) $21.95 – Continuing where Book One left off, Book Two follows Pharoah Tellitome, Inspector Gimble, Turtletree, Master Sponko and Minnow on their collective quest to awaken Izadore and re-establish his identity and memory.
Zines
Celebrity Acrostic Poems #1 by Matt Walsh $2.00
How 2 Survive High School by Rosie Accola $2.00
Adita #23 Fifteen Faces by Bradley Adita $1.00
Comics & Minis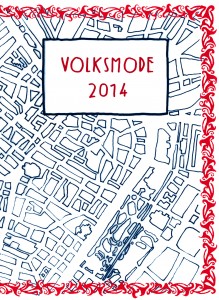 Volksmode 2014 by Anne Elizabeth Moore, Delia Jean, et al. (Pressing Concern) $7.00 – A limited-edition project of the Ladydrawers Comics Collective, created in conjunction with das weisse haus in Vienna, Austria. Interviews conducted by Anne Elizabeth Moore and art by Delia Jean and Simon Haussle. This comic is an addition to Our Fashion Year, which is an exploration of international women's labor that ran monthly on Truthout. Unraveling the threads that weave together fast fashion and human trafficking, Our Fashion Year asks why and how the flow of capital particularly disadvantages women, throughout the world. Volksmode 2014 focuses on asking this question of men in Austria, a country neither currently known as a garment producer nor a fashion capital, but which is nonetheless subject to the same global forces as workers in Phnom Penh and models in New York City.
Ditko Once More by Steve Ditko (Sparkplug) $4.00
Monkey Chef vol 2 Animal Kindness by Mike Freiheit $6.00
Cover is Misleading by Jonathan La Mantia $4.00
Red House $2.00 – A little anthology of short, funny comics by six artists: Pat Barrett, Beth Hetland, Ben Horak, Josh Kramer, Dakota McFadzean, and Kevin Uehlein. The comedy ranges from mischievous, to satirical, to hilariously disturbing, and all the way to downright revolting.
You Don't Get There From Here #31 by Carrie McNinch $3.00
Pick Yer Poison by Danielle Chenette $3.00
Kim K. by Meghan Turbitt (Birdcage Bottom Books) $2.00
Poet Poe #1 by R. Sikoryak (Birdcage Bottom Books) $3.00
Thanger Dangers (Thinger Dingers 2) by JT Yost (Birdcage Bottom Books) $3.00
Minderings vol 1 by Don Stettner $15.00
Graphic Novels & Trade Paperbacks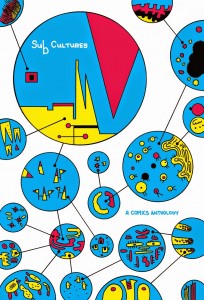 SubCultures: A Comics Anthology, Edited by Whit Taylor (Ninth Art Press) $15.00 – 36 indepenent cartoonists explore the varied worlds-within-the-world we know as "subcultures," from Star Wars conventioneers to bigfoot hunters, from goths and gamers to record collectors and cosplayers, these stories reveal the rules, rituals and relationships that define these infinite and intricate subsets of humanity. Contributors include Sam Alden, Liz Prince, Alex Robinson, Darryl Seitchik, Noah Van Sciver, MariNaomi, Box Brown and many others!
Wendy by Scott Walker (Koyma Press) $18.00
Aama vol 2 the Invisible Throng by Frederik Peeters (Self Made hero) $19.95
Mouse Guard Baldwin the Brave by David Petersen (Archaia) $14.99
Strong Female Protagonist Book One by Brennan Lee Mulligan & Molly Ostertag (Top Shelf) $19.95
Art, Design & Photo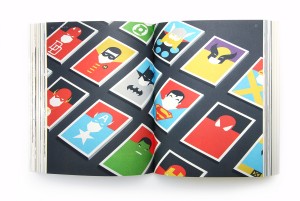 viction:ary: Comics Feeeever!! Uncover the Power of Comics in Art and Design $39.95 – Comics in art and design.
Gathering Whispers by Edwin Ushiro (Zero+ Publishing) $45.00
Usugrow Works 2007-2013 (Upper Playground) $29.95
Disposable A History of Skateboard Art by Sean Cliver (GingkO )$29.95 – Back in print!
You Are an Acceptable Level of Threat and… by Banksy (Carpet Bombing Culture) $37.50 – Updated to include Banksy's Better Out Than In residency.American Grotesque: The Life and Art of William Mortensen by Larry Lytle & Michael Moynihan (Feral House) $45.00
Abandoned Planet by Andre Govia (Carpet Bombing Culture) $45.00 – That ruin porn that the kids love so much these days.
Future Tense Paintings by 2010-2014 by Alex Gross (Gingko Press) $29.95
The Manly Art of Knitting by Dave Fpugner (Gingko) $13.95 – Reprinted from the 70s.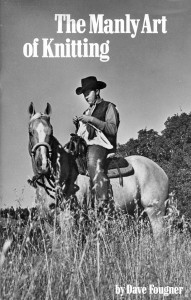 Fiction
You're Fine by Gina Tron $15.00
Mayhem
The Weiser Book of Horror and the Occult: Hidden Magic, Occult Truths, and the Stories That Started It All by Lon Milo DuQuette (Weiser) $19.95
The Herbal Alchemists Handbook: A Grimoire of Philtres Elixers Oils Incense and Formulas For Ritual Use by Karen Harrison (Weiser) $21.95
Music Books
The Jesus and Mary Chain: Barbed Wire Kisses by Zoe Howe (St. Martin's Press) $26.99
Gil Scott-Heron: Pieces of a Man by Marcus Baram $26.99
Check the Technique vol 2 More Liner Notes for Hip-Hop Junkies by Brian Coleman (Wax Facts Press) $28.00
Punk Rock Paper Scissors: 80s punk and hardcore flyers by Lee (Image) $29.99
Sound Man: A Life Recording Hits with The Rolling Stones, The Who, Led Zeppelin, The Eagles, Eric Clapton, The Faces . . . by Glyn Johns (Blue Rider) $27.95
Hole's Live Through This (33 1/3 Series) by Anwen Crawford $14.95
Essays, Politics, & Revolution
Semi-socialism: An Alternative Government and Economic System by Keith Anderson $6.50
Citizens of the Green Room: Profiles In Courage and Self Delusion by Mark Lebibovich (Blue Rider) $26.95
It Runs In the Family: On Being Raised By Radicals and Growing Into Rebellious Motherhood by Frida Berrigan (OR Books) $18.00
Magazines
Lucky Peach #13 Holiday Issue Feel the Joy $12.00
Raw Vision #83 $14.00
Juxtapoz #167 Dec 14 $6.99
Girls and Corpses #8 Win 14 $8.95
Maximumrocknroll #379 Dec 14 $4.99
V Magazine #92 Win 14 15 $7.50
Smith Journal #12 Zombie Economics $17.99
Inventory vol 5 #2 Fall Win 14 #11 $20.00
Monster Children Photo Annual 14 $15.00
Sugar and Rice #3 Booms and Busts $15.00
Ghettoblaster #39 $4.50
Radical History Review #120 Fall 14 $14.00
Tattoo Life #91 $9.99
Freshly Inked vol 4 #6 Jan 15 $6.99
Sexy
In My Bed Magazine vol 5 #2 $9.95
Lit Journals
St. Petersburg Review vol 6 $15.00
Papercut Annual 2013 $17.00
Fifth Wednesday Journal #15 Fall 14 $11.00
Granta #129 Fall 14 Fate $16.99
Common #8 $14.00
Other Stuff