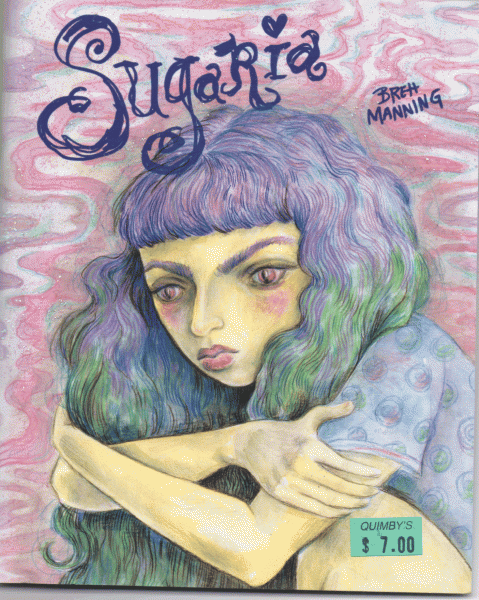 Sugaria by Brett Manning $7.00 – Sweet Sugaria is 100% candy and 100% girl – the result of a union between a witch and a cake. She rides mystical pastel-toned waves of unicorns, cotton candy and chocolate bunnies in this silly, fun treat of a story. BONUS: has a sparkly cover.-NY
Zines
Bohemian Grove: The Day the Teddy Bears Have Their Picnic by Victoria Harley and Oats Redding $2.00
The Difference Between #4 by Billy Roberts, with illustrations by Ramsey Beyer $2.00 – What's the difference between Patti Smith vs Patty Smyth? Read to find out, along with other pairs of similiar but different things. And hand drawn illustrations! Hilarious!
Coffee and Cigarettes #2 by CF $5.00 – A celebration of both vices!
Lattes For Love $3.00
Lady Grunts by Alicia Obermeyer $2.00
Hot Bath Cold Whiskey #1 by Maggie Coughlan $7.00
various issues of Thrifty Times by Sarah MacDonald, various prices
Comics & Minis
Barely Here Barely There #2 by Kellysue Calderon $3.00
Team Work Makes the Dream Work…by Kyle OConnell and Beth Hetland $5.00
Graphic Novels & Trade Paperbacks
Intelligent Sentient? by Luke Ramsey (D&Q) $22.95 – Filigreed sci-fi drawings that involve a loose narrative about a society of giant people, strange art, and inexplicable scientific experiments utilizing nonexistent technology.
Yo Miss, A Graphic Look at High School by Lisa Wilde $12.95
Caliban Collected Volume by Garth Ennis & friends $19.99
Zombies Vs Robots Omnibus #1 by Chris Ryall and Ashley Wood $29.99
Trees vol 1 In Shadow by Warren Ellis & friends $14.99
Fables Deluxe Edition Book 7 by Bill Willingham & friends $29.99
Pies by Ian King $24.00
Art & Design
An Edge Effect: Art & Ecology in the Nordic Landscape by Bonnie Fortune (Half Letter Press) $25.00
Street Craft: Guerrilla Gardening / Yarnbombing / Light Graffiti Street Sculpture / and More by Riikka Kuittinen $29.95
Fiction
Enjoy Me by Logan Ryan Smith $11.99
Einstein's Beach House by Jacob M. Appel $10.00
Annihilation Book 1 of the Southern Reach Trilogy by Jeff VanderMeer $13.00
Food'n'Drugs
Mastering Homebrew: The Complete Guide to Brewing Delicious Beer by Randy Mosher $29.95
Marijuana Nation: One Man's Chronicle of America Getting High: from Vietnam to Legalization by Roger Roffman $15.95 – Now in soft cover. There's a joke about rolling papers in there somewhere.
Film Books
The Wes Anderson Collection: The Grand Budapest Hotel by Matt Zoller Seitz $35.00
Politics & Revolution
Guantanamo Diary by Mohamedou Ould Slahi $29.00
Kids Stuff
Crazy Hair by Neil Gaiman, illustrations by Dave "Sandman Covers" McKean $6.99 – Now in soft cover.
Magazines
Juxtapoz #170 Mar 15 $6.99
The Great Discontent #2 $25.00
Offscreen #10 $22.00
Subconscious Restaurant #3 Mexico Edition $10.00
Raw Vision #84 $14.00
Atlantis Risig #110 Mar Apr 15 $5.95
High Times Apr 15 $5.99
Modern Drunkard #59 $4.95
Cannabis Now #13 $7.99
Worn Fashion Journal #19 and #20 $22.00
Monocle vol 8 #80 Feb 15 $12.00
Cinema Retro vol 11 #31  $11.99
Little White Lies #57 Truth and Movies  $12.99
Highway Magazine #1 Fall 14 $12.00
Maximumrocknroll #382 $4.99
Mojo #255 Feb 15 $9.99
AdBusters Mar Apr 15 $12.95
Skin and Ink Apr 15 #156 $8.99