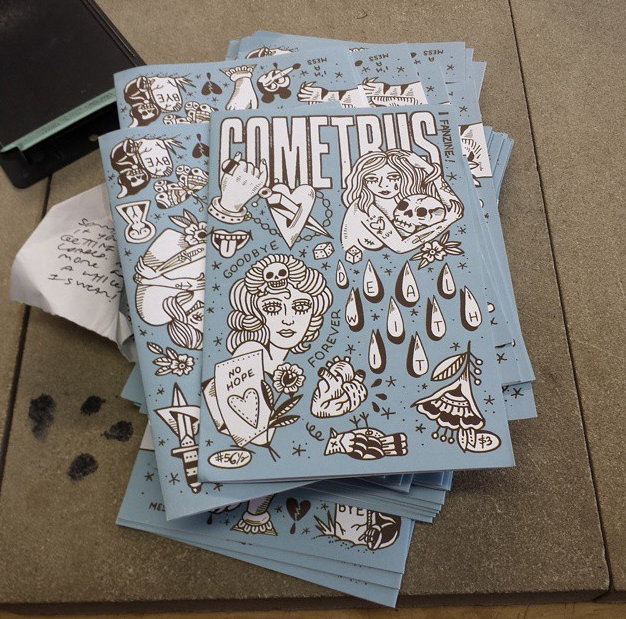 Cometbus #56 1/2 by Aaron Cometbus $3.00 – This issue is devoted to Aaron's friend Sue who he knew thorugh the punk scene, a tattoo artist with a terminal illness, who writes about it in her own words. Thoughtful and succinct. -LM
Zines
Zine Club #2 by Alyson $6.00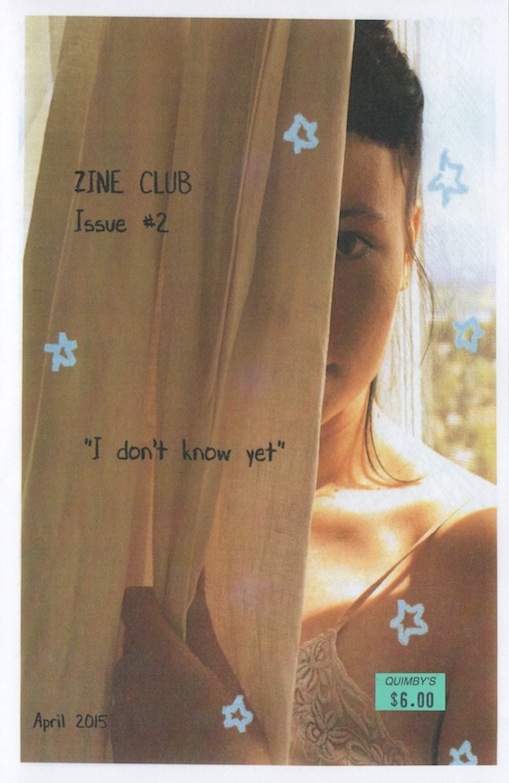 Natural Basic Guide to Working With Self Herbs and Crystals 2014 by Itshanapa $3.00
Science or Something $5.00
Crazy awesome activity zines of paper figures you cut-out and assemble by artist Gary Kachadourian (Is this guy an engineer?!): Motorcycle Action Set Like the Ones in Akira $2.00, Middle Earthian Action Set $3.00, 1/48th Scale Forest $5.00, Field of Dandelions $3.00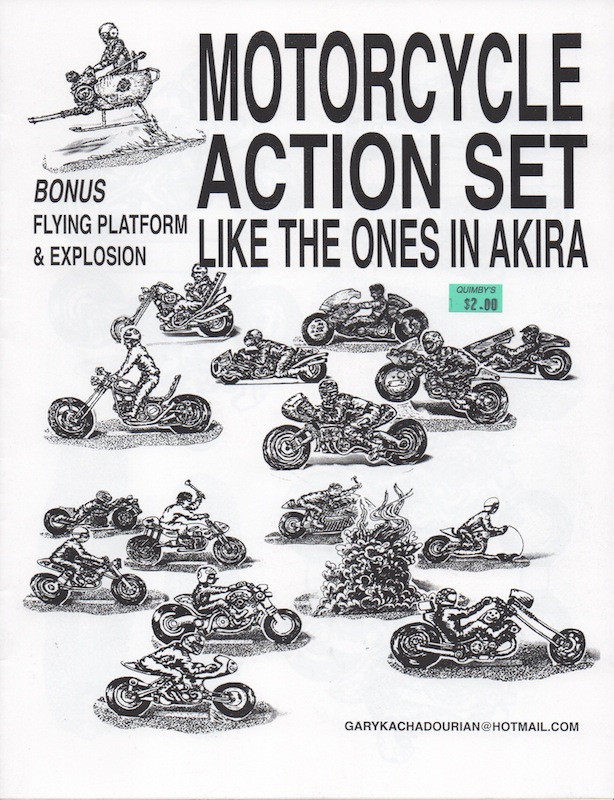 Comics &  Minis
zines by Marian Runk: Thaw $4.00, Plastic Feathers, Porcelain Fur $12.00 – Portraits of animals SO CUTE I CAN'T HANDLE HOW CUTE IT IS. -LM
Comics for Nothing by Noel Freibert $6.00
Cartozia Tales issues #1-#6 $6.00 each
Eschew #4 by Robert Sergel $6.00
Sequential Vacation #2 by Sar Shahar $6.00
Drawing Board #2 by CHIPRC (Chicago Publishers Resource Cetner) & friends $2.00
Boring Comics by Emily Hutchings (Bred Press) $5.00
Man of Few Worms by Jacob Sluka (Grossbus Comics) $2.00
Kevin Budnik comics: Hand Book issues #1 & #2 $5.00 each, Keep Circulating the Tapes: A Mystery Science Theater 3000 Zine $4.00 – In a not too distant past, Kevin did a self-imposed experiment where he watched every episode of MST3K while drawing at least one iconic character a day, including B movie monsters, Joel and Mike's friends on the Satellite of Love, robots and more. Plus: Servo end papers! Cambot, give me rocket number nine! -LM
Graphic Novels & Trade Paperback
Stroppy by Marc Bell (D&Q) $21.95 – The first full-length graphic novel from the author of Shrimpy and Paul: Who will win the All-Star Schnauzer Band song contest?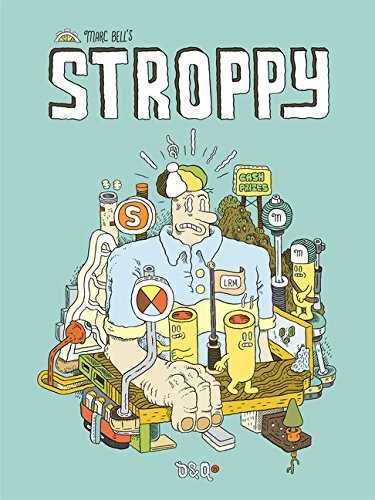 Adventure Time Banana Guard Academy by Pendleton Ward $19.99
Clover Honey (Artists Cut, 20th Anniversary Edition) by Rich Tomasso (Alterna Comcis) $14.95
Fragments of Horror by Junji Ito (Viz) $17.99
Brain Camp by Susan Kim, Laurence Klaven & Faith Erin Hicks (Squarefish) $9.99
Essays
Modern Romance by Aziz Ansari $28.95 – Comedian Aziz Ansari teamed up with a sociologist to study how people hook up. Unsurprisingly, it's really funny while being informative as well. With pie charts too!
Music Books
Crate Digger: An Obsession With Punk Records by Bob Suren (Microcosm) $14.95 – Don't miss Bob Suren here at Quimby's August 17th at 7pm, reading from his memoir of thirty years in the D.I.Y. punk scene. There are stories about touring, recording studios and record stores. There are stories about success, failure, disappointment, self-actualization and heartbreak. There are 60,000+ words, 192 pages and 39 photos. The story takes place over three decades in nine countries on four continents. There are nine deaths, two basset hounds and one love poem. There are special appearances by Jello Biafra, Ron Reyes (possibly), Tesco Vee, Joey Shithead, Cheetah Chrome and one very serious FBI agent.
Snakes! Guillotines! Electric Chairs!: My Adventures in The Alice Cooper Group by Dennis Dunaway & Chris Hodenfield $26.99
DIY Books
Hot Pants: Do It Yourself Gynecology by Isabelle Gauthier and Lisa Vinebaum (Microcosm) $9.95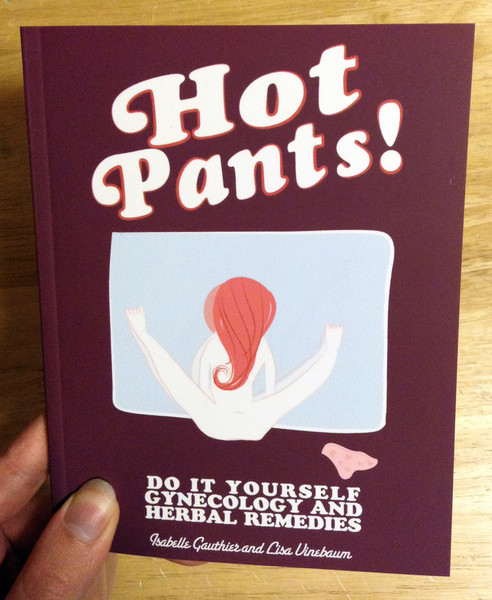 Urban Homesteader: How To Create Sustainable Life in the City Box Set (Microcosm) $29.95 – Live your own revolution! Books included in this set: Make It Last by Raleigh Briggs, Make Your Place by Raleigh Briggs Homesweet Homegrown by Robyn Jasko.
Politics & Revolution Books
Writing on the Wall: Selected Prison Writings of Mumia Abu-jamal, ed. by Edited by Johanna Fernández (City Lights) $17.95 – Mumia Abu-Jamal's essential perspectives on black experience, race relations, freedom, justice, social change, and the future of American society.
Teenage Rebels: Stories of Successful High School Activists, From the Little Rock 9 to the Class of Tomorrow by Dawson Barrett (Microcosm) $11.95
Magazines
Cabinet #56 Win 14 15 Sports $12.00
Shots #128 Sum 15 $7.25
Kinfolk vol 16 Essentials Issue $18.00
Frankie #65 $14.95
Drift vol 2 $24.00 – A mag about coffee in different cities! This issue: Tokyo!
Bad Day #19 $12.00
Harpers Magazine Jul 15 $6.99
Lit Journals & Chap Books
Taddle Creek #35 $5.95
After Hours #31 Sum 15 Journal of Chicago Writing and Art Afterhours $10.00
Stuff Of Song by Richard Wehrenberg Jr. (Monster House Press) $3.00
Deadpan by Alex Mussawir (Monster House Press) $4.00
Kids Books
Edmond the Moonlit Party by Astrid Desbordes & Marc Boutavant (Enchanted Lion) $17.95
Other Stuff
Beautiful Creatures Tarot by JR Rivera and Jasmine Becket-Griffith $34.99