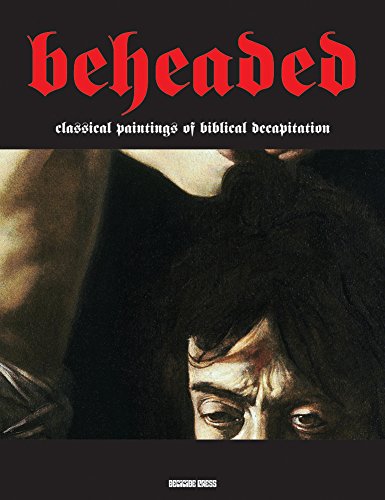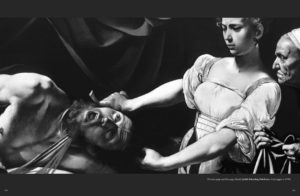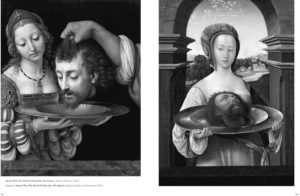 Beheaded: Classical Paintings Of Biblical Decapitation (Illuminated Masters) by Gianfranco Sodoma (DEICIDE PRESS) $24.95 – Lose your head over this holiday book. The two centuries from 1500 to 1700 saw a great rebirth of European art, including a massive body of works devoted to biblical subjects. Amongst these are three narratives which focus in particular on death and decapitation – Salome's demand for the severed head of John the Baptist, Judith's seduction and beheading of Holofernes, and David's felling and beheading of Goliath. BEHEADED collects more than 80 Renaissance and early Baroque period paintings depicting these three violent myths, a catalogue of full-color images steeped in blood, death, and the occasional frisson of erogenous horror. The artists featured include Caravaggio, Mattia Preti, Andrea Solario, Orazio Borgianni, Carlo Dolci, Guido Reni, Sebastián de Llanos Valdés, Pieter Fransz de Grebber, Lucas Cranach, Massimo Stanzione, Peter Paul Rubens, Valentin de Boulogne, and many others. Illuminated Masters is a new series of high-quality art books featuring the work of classical artists from the 15th to 17th centuries.
*ZINES*
Cat Party #1 Five True Cat Stories by Katie Haegele $3.00
Faith Harper zines, $4.00 each:
This Is Your Brain on Grief: What to Do and Say and Not For Yourself and Others
Getting Over It: When Other People Are Total Assholes or You're Just Tired of Your Own Bullshit
Shik'is ShiHeart: My Friend, My Heart: Native American Feminist Musings by Melanie Fey $5.00
One Sclerosis: An MS Story by Chris Kill $3.00
Craphound LiartownUSA Postcard Pack by Sean Tejaratchi $13.95
Sit with Satan/Hail Santa (Eternia Press) $5.00 – Is Sit with Satan/Hail Santa a bitingly funny critique on the capitalist nightmare Christmas has become or just the weirdest, evilest high-art pamphlet since the Chick Tracts? You decide! A downright hilarious holiday read full of Letterist International/Situationist-style détournement from the press that brought you Niceferatu, the coloring book Dungeons & Dragons Monsters Saying Inspiring Shit, and Skeletor's Guide to Self-Care! Featuring actual Satanic chants you can perform with your family around the hearthside!
Colonization Decolonization: A Manual For Indigenous Liberation in the 21st Century $4.00
National Teenset Outsider #32 $1.00
Gnaw #2 The Devil Is a Gentleman by Dan Kelly $1.00
Scam #10 Twenty Fifth Anniversary Issue $5.00 – SCAM #10 takes on Trump America with ideas on resistance and activism in the coming four years (and a cover image shot during recent freeway takeovers in LA during anti-Trump protests). This special double-sized 25th anniversary issue also features interviews with: CA CONRAD, EDIE FAKE, VEXX, PLEASURE LEFTISTS, LOS ANGELES POVERTY DEPARTMENT, and DAPHNE GOTTLIEB. Contributors include BARRY McGEE, DANNY LYON, TENNESEE JONES, SERGEJ VUTUC, E CONNER, REBECCA GIORDANO, BRONTEZ PURNELL, JACOB BERENDES, JOSH BAYER, PEAR, WILLIE OSTERWEIL and more. Plus! Stories about Tubman House (squatted community center in Baltimore), recent anti-gentrification activism in Bay Area, SHELLSHAG, the new Black Mountain School and other alternative arts education ideas, Kenya Robinson, Vanessa Renwick, Lee Lozano, Mierle Lederman Ukeles, art shows in NYC empty plots, scamming free Greyhound rides, graffiti, comics and even more!
Nine Love Potions by Kelly Cree $5.00
Worst Is Over by Nathan Pearce $2.00
Good Riddance, A Zine About Stuff #2 by Megan Kirby and Rosamund Lannin $4.00
*COMICS & MINIS*
Growing Hope by Rachel Bard $7.00
Cook Your Own Food: A Bill Murray Scratch and Sniff $9.00
Island #13 $7.99
Crritterrzz Crritterrzz #1 by Talbert Johnson $4.00
*GRAPHIC NOVELS*
Perfect Hair by Tommi Parrish (2D Cloud) $16.95
Portraits of Violence: An Illustrated History of Radical Thinking by Brad Evans and Sean Michael Wilson (New Internationalist) $16.95
Object 15: Works by Kilian Eng (Floating World) $24.95
Abigail Larson's The Cats of Ulthar by H.P. Lovecraft and Abigail Larson (One Peace Books) $18.95
Peter Bagge: Conversations by Kent Worcester (U of Miss) $25.00
I Hate Fairyland vol 2 Fluff My Life by Skottie Young & friends $14.99
Black Science vol 5 True Atonement by Rick Remender & friends $14.99
Guided Tour of Hell: A Graphic Memoir by Samuel Bercholz & Pema Namdol Thaye (SHAMBHALA) $24.95
Krazy: George Herriman, a Life in Black and White by Michael Tisserand $35.00
*ART & DESIGN BOOKS*
Queer and Trans Artists of Color vol 2 by Nia King $20.00
Street Art Anthology: From Graffiti to Contextual Art by Magda Danysz (Promopress) $29.95
Street Art: International by Lou Chamberlin $34.99
*MUSIC, FILM & TV BOOKS*
Fight Your Own War: Power Electronics and Noise Culture by Jennifer Wallis $21.95
Mozlandia Morrissey: Fans In the Borderlands by Melissa Mora Hidalgo (Headpress) $21.99
Finding Joseph I: An Oral History of H.R. from Bad Brains by Howie Abrams and James Lathos (Lesser Gods) $26.00
The Complete History of The Return of the Living Dead by Christian Sellers and Gary Smart (Plexus) $24.95
The Art of Archer by Neal Holman (Dey St) $29.99 – A fully illustrated and highly visual guide to everything Archer—from storyboards to character sketches to script excerpts—making it a collector's item for Archer fans everywhere, and featuring a foreword by Christian Slater.
*MAYHEM & OUTER LIMITS*
Creepy Krampus: Coloring Book For Fantasy Fans of All Ages by by Monte Beauchamp (Last Gasp) $12.95
Hidden Angenda: NASA and the Secret Space Program by Mike Bara $19.95
The Weiser Book of the Fantastic and Forgotten: Tales of the Supernatural, Strange, and Bizarre by Judika Illes (Weiser) $16.95
How to Be a Hobo by Brooke Willett (Free Press Publications) $9.45 – This self-help, memoir, survival guide is designed to help hobos not only make it through the day, but to come to love and enjoy every blessed moment of this feral life. Written by by Brooke Willett, who hit the road with her dog when her life fell apart. She put on a knapsack, and they started walking. She was able to navigate her way through challenges and obstacles, getting odd jobs along the way, and hopping freight trains as a main mode of transport, when one day she awoke in the forest, looked around the jungle of homemade shelters, and realized she had become… a hobo… and would ultimately come to know exactly what it means to survive.
*DRUUUUUUGS*
Ayahuasca Reader: Encounters With the Amazons Sacred Vine by Luis Eduardo Luna & Steven F. White $26.95
Cannabis and Spirituality: An Explorer's Guide to an Ancient Plant Spirit Ally by Steven Gray (Park Street Press) $16.95
*SEXY*
The Wild World Of Betty Page: An Anthology Of Classic Fetish Photography (Klaw Klassix) by Stephen Pentacoste (DEICIDE PRESS) $22.95
Nudist Girls Of Germany: Nude Photography From Classic German Naturist Magazines by Stephen Pentacoste (DEICIDE PRESS) $26.95
Glamour Girls Of Tokyo: Erotic Photography From Classic Japanese Men's Magazines by Stephen Pentacoste (DEICIDE PRESS) $26.95
*HUMOR*
Dream It! Screw It!: 30 Years of Rejected Disney Park Ideas by Imagineer Dipp Disney by Geoffrey Golden (Devastator) $12.00 – With art from Shing Yin Khor, Elan Trinidad, Reid Psaltis & Marc Palm.
Brain Fart Ultimate Edition by Andy Wentz $12.00
*POLITICS & REVOLUTION*
The Undercommons: Fugitive Planning & Black Study. Stefano Harney and Fred Moten (Minor Compositions) $24.00
*MAGAZINES*
The Baffler #33 Win 16 The Virtue Cartel $14.00
The Pitchfork Review #11 Fall 16 $19.96
Monocle vol 10 #99 Dec 16 Jan 17 $12.00
Tank Moto #11 $16.95
True Crime Special Win 16 20 All True Murder Cases $12.99