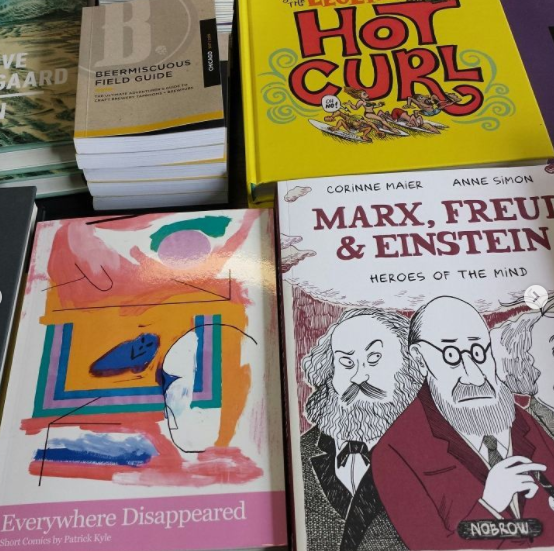 And yes! WE ARE OPEN Mon, Sept 4th, noon to 9pm!
*ZINES*
Cul de Sac #7 The Adult Geek Issue by Liz Mason and Julie Halpern $3.00 – True to the zinester "When I'm Damn Good and Ready" publishing schedule, Gen Xers and lifelong friends Liz Mason and Julie Halpern have published a new issue of Cul-de-sac 20 years after the last issue. This time around they're looking at what it's like to navigate the world of their beloved pop culture experiences as adults (Carrie Fischer! Ancient Aliens! Out of Order from Don't Just Sit There), but with the perspective of adults with adult responsibilities asking the big questions: what does an adult do when her D&D group breaks up? What do you do when you're old enough to realize that no subculture you gain access to will ever feel like home? How does one navigate the horror of fertility issues at a horror convention? How do you get your significant other to dress up like the Tenth Doctor? CDS #7 proves that life actually gets better the more complicated it becomes.
Conversations with Dan Gleason $3.00 – More tales of weirdness from beloved Chicago weirdo & Quimby's fave, Mr. Gleason.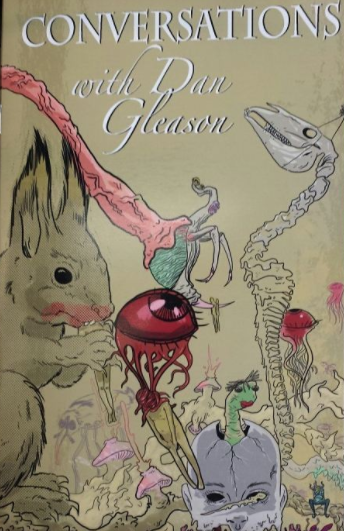 Pussweek #4 by Bexy McFly $11.99 – The magazine for cats by cats! You thought they took over the internet but they've taken over print too apparently. This issue: hard-hitting topics such as balls, flaps, worms, what really happens when you vote for clump, and the heart-wrenching story of a cat and his gender identity crisis. There's also a litterbox-load full of new segments, fleatures, and lots of prizes to be won! Me-wow! Printed on high quality paper that's great to chew and/or sit on when you're done.
Art of the Bedtime by Ethan Jones $12.00
Kilter Magazine #12 2017 $5.00
Shit I've Cried About #3 A Highly Sensitive Person Spring 2017 $4.00
Inkgoober by Anna Lisa Schneider $6.00
Public Service Announcements by Tiffany Johnson and Anja Morell $4.00
Terca vol 1 $2.50
*COMICS & MINIS*
Tongues Chapter 1 by Anders Nilsen $15.00 – Nilsen's first long-form comic since 2011's Big Questions follows the story of a minor god chained to a mountainside and his friendship with the eagle who comes everyday to eat his liver. Also: a young girl on a mission and a boy with a teddy bear strapped to his back. Adventure. Revenge. Human evolution. A talking chicken. The fate of the world.
Vixtopher Comics anthologies (various issues) $16.00-$20.00
Mister Stranges Monster Mansion #1 Egg by Dan Wolff $4.99
Gwar Orgasmageddon #3 $3.99
Hot Bread by Bridget Bilbo $12.00
comics from Ian McDuffie:
Bodies of Work $8.00
Lazarus $5.00
Two Stories $5.00
Comics by by Kriota Willberg:
Hoorabies For Rabies vol 1 A Pathology Laffs Minicomic $1.00 – An illustrated evaluative essay on the efficacy, tropes, and merits of humor in the creation of gaga cartoons concerning rabies and its place in suburban east coast modern culture starring Princess, the Rabid Poodle.
An Exploration Through Cartooning, of the Genesis of France's Most Famous Musical Rendition of a Lithotomy. -or-. The INSPIRATION of MARIN MARAIS $2.00
Pictorial Anatomy of the Cute $3.00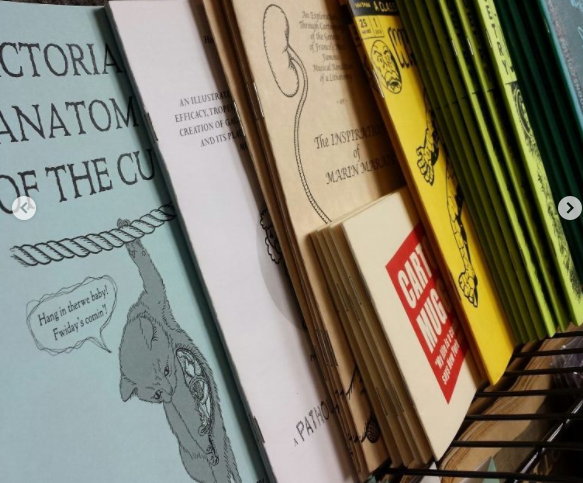 Comics from by R. Sikoryak:
Masterpiece Mini-Comics $5.00 – Work from Homer, Euripides, The Bard, Melville & Dickens.
House of Dickinson #1 $3.00 – Combines the poetry of Emily Dickinson with the atmosphere of 1950's horror comics.
Cartoonist Mugged – My Life Is a Comic Strip Says New York Victim Artist $3.50
Whitman #1 Song of Myself $4.00
*GRAPHIC NOVELS*
I'm Not Here by GG (Koyama) $12.00 – A young, second-generation immigrant wanders through her city and memories, encountering the world through a camera's lens, her independence pulled by the gravity of familial responsibility. She drifts until she encounters what could possibly be her potential self.
Duran Duran, Imelda Marcos, and Me by Lorina Mapa (Conundrum) $18.00
Everywhere Disappeared by Patrick Kyle (Koyama) $15.00 – New stuff from the artist of Black Mass, Distance Mover & Don't Come In Here.
Johnny Appleseed by Noah Van Sciver (illustrator) and Paul Buhle (author) (Fantagraphics) $19.99 – Bio of John Chapman, aka Johnny Appleseed, the green dreamer of the American Frontier. Ilustrated by Van Sciver and written by Buhle.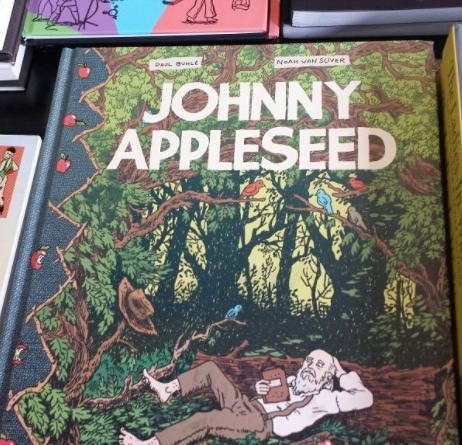 Grosz by Lars Fiske (Fantagraphics) $19.99 – Short nearly wordless comics, arranged chronologically, that form a biography of the caricaturist best known for his visualization of the Weimar Republic.
Sex Fantasy by Sophia Foster-Dimino (Koyama) $18.00 – Elegantly-drawn collected mini-comics from this SF-based RISD grad.
Anti-Gone by Connor Willumsen (Koyama) $18.00 – A VR world gone cray-cray. Like Joyce with a joystick.
Spinning by Tillie Walden $17.99
Bloody Cardinal by Richard Sala (Fantagraphics) $16.99
Sartre by Mathilde Ramadier & Anaïs Depommier (NBM) $27.99
Providence Act 3 by Alan Moore $21.99
Marx, Freud, Einstein: Heroes of the Mind by Anne Simon and Corinne Maier (Nobrow Press) $18.95
Moonhead and the Music Machine by Andrew Rae (Nobrow) $15.95
How to Survive in the North by Luke Healy (Nobrow) $15.95
Old Ground by Noel Freibert (Koyama) $18.00 – A cemetery so old that the names on the graves have eroded into nothing and no one remembers the dead is razed to make room for a retirement home for folks who've also been forgotten. Did we mention there's also slapstick?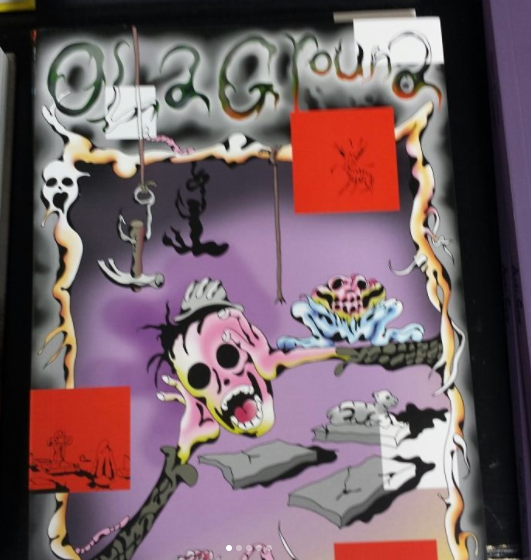 *POLITICS & REVOLUTION*
Upping The Anti #19 Journal of Theory and Action $13.00
Feminist Fight Club: A Survival Manual for a Sexist Workplace by Jessica Bennett $15.99
Futures of Black Radicalism by Gaye Theresa Johnson and Alex Lubin (Verso) $29.95
*ART & DESIGN*
The Book of Black by Faye Dowling $15.99 – Just the names of the chapters should tell you everything you need to know about this bad ass anthology: Gods & Monsters, The Kingdom of Darkness, and Dark Arts/Higher Power. Amen!
*MUSIC BOOKS*
33 1/3 Books, $14.95 each:
Angelo Badalamenti's Soundtrack from Twin Peaks by Clare Nina Norelli
The Raincoats' The Raincoats by Jenn Pelly
Young Marble Giants' Colossal Youth by Joe Bucciero and Michael Blair
Björk's Homogenic by Emily Mackay
The Pharcyde's Bizarre Ride II the Pharcyde by Andrew Barker
*OUTER LIMITS*
Clockwork Futures: The Science of Steampunk and the Reinvention of the Modern World by Brandy Schillace $28.95 – "Schillace presents a history of physical science as viewed through a steampunk lens. It's a thoroughly literary work that offers the reader education, inspiration and perspective." -Joe Mason. Read more about this book at steampunkchicago.com.
The Retro Future: Looking to the Past to Reinvent the Future by John Michael Greer (New Society) $19.99 – On the importance of deliberate technological regression. Save the world! Go back to a flip phone!
Time Travel: A History by James Gleick $17.00 – Now in soft cover! A mind-bending exploration of time travel: its subversive origins, its evolution in literature and science, and its influence on our understanding of time itself. From H. G. Wells to Doctor Who to Borges to Woody Allen an investigation of the inevitable looping paradoxes and examines the porous boundary between pulp fiction and modern physics.
Basic Witches: How to Summon Success, Banish Drama, and Raise Hell with Your Coven by Jaya Saxena & Jess Zimmerman $15.99
*FICTION*
Mammother by Zachary Schomburg (Featherproof) $17.95 – The story of what happens in the wake of a mysterious plague that leaves its victims dead with a random consumer product in their chest.
Swing Time: A Novel by Zadie Smith $17.00
A Gambler's Anatomy: A Novel by Jonathan Lethem $16.95
*LOCAL INTEREST*
Beermiscuous Field Guide Chicago 2017/2018 The Ultimate Adventurer's Guide to Craft Brewery Taproom + Brewpubs $14.95
Buzz Ride: Driven to Disruption: Memoirs of an Uber Driver by P.M. White (Lake Claremont Press) $12.95 – Come along for the bumpy ride as this sharp-tongued observer shares the always wild, sometimes dark, often humorous, and surprisingly touching side of Chicago nightlife in the smart-phone generation.
*MAGAZINES*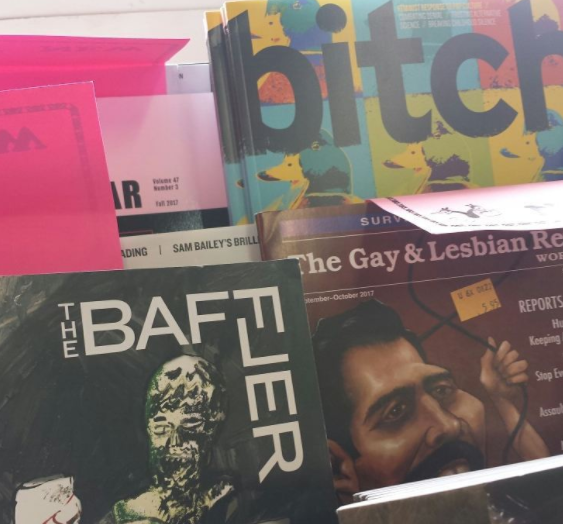 Bitch #76 Fall 17 The Facts Issue $7.95
The Baffler #36 Fall 17 A Crack in Everything $14.00
Maximumrocknroll #412 Sep 17 Elixr Sacrificio $4.99
Juxtapoz #201 Oct 17 $6.99
Ugly Things #45 Outsiders $9.95
Jacobin #26 Sum 17 Earth Wind and Fire $12.95
Skeptical Inquirer vol 41 #5 Sep Oct 17 $5.99
*POETRY & LIT JOURNALS*
Electric Arches by Eve Ewing (Haymarket) $16.00 – Exploration of Black girlhood and womanhood through poetry, visual art, and narrative prose.
Granta #140 Sum 17 Best of American Young Novelists $16.99
Feel Better Poems by Rosie Accola $12.00
Wired Aug 17 $7.99
N+1 Deep End #29 Fall 17 Bottoms Up $14.95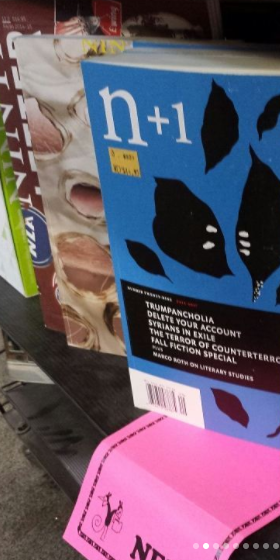 *FOR THE KIDDIES*
The World's Biggest Fart by Rafael Ordonez Cuadrado (NubeOcho) $16.95 – You'll never guess who dealt it!
Vehicles: Hide and Sneak by Bastien Contraire $9.95
GOOD NIGHT, PLANET: TOON Level 2 (Toon Books) by Liniers $12.95
What Is Hip-Hop? by Eric Morse and Nelson George $15.95
*OTHER STUFF*
Iron On Patches and stickers from local occult artist Jay Krevens!