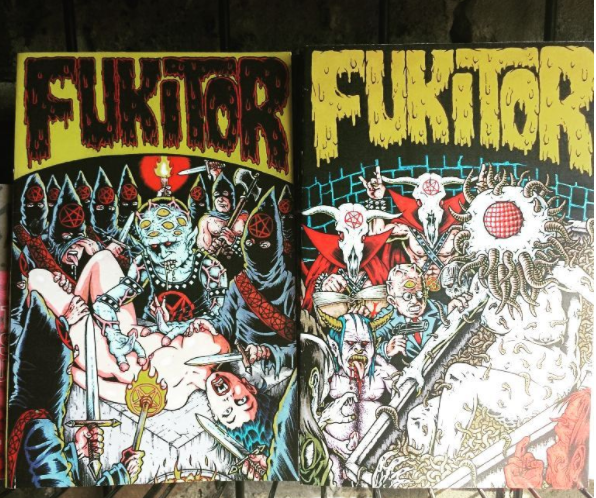 Fukitor #10 & #11 by Jason Karns $10.00 each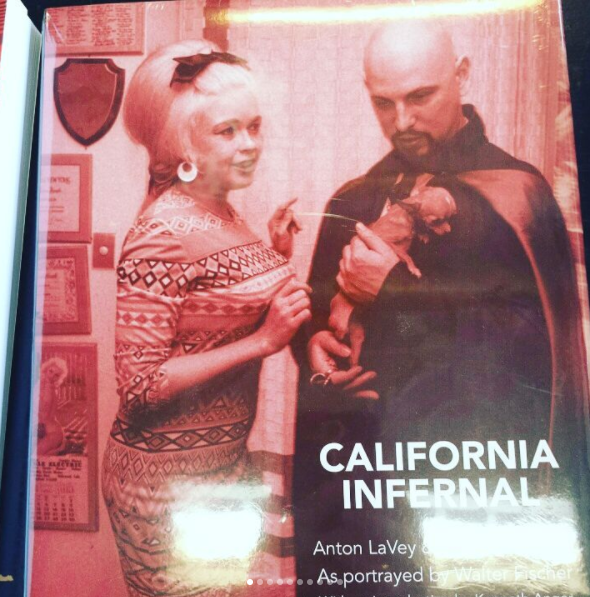 California Infernal: Anton LaVey and Jayne Mansfield As Portrayed by Walter Fischer (Trapart Books) $39.95
*ZINES*
Naughty Nuns by Corinne Halbert $10.00
Cometbus #58 Zimmerwald $3.00 – A teenager finds solace in a diner full of grumpy seniors during the heydey of San Francisco punk. It's a mythological place, full of ghostly archetypes, the aging veterans of scenes past and future. Reads like a novel, but is it fiction or barely disguised autobiography? Or is it the obituary of a movement? That's up to the reader to decide and Aaron to never let on. Either way, the backstory of the angry old woman glaring at you from the other end of the counter becomes a disturbing glimpse into your own future and distressing as this may be it's hard to put down or get out of your head.
Zines by Nyxia Grey, $2 each: Overthrow the Status Quo: A Super Rad Kickass Primer About Zines, Everything is Fine vol 1 #5 You've Got Mail, You Matter Always: A Zine About Making the World Less Shitty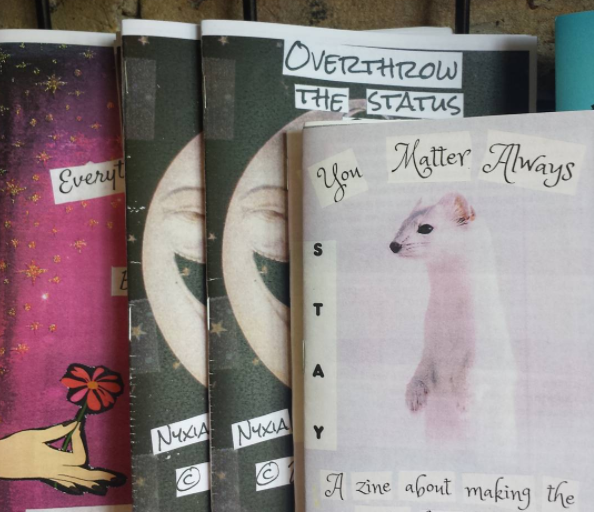 Fairy Tales for Cynical Girls vol 1 by K8 $2.00
Sluice issues #2, #3.5 $3.00 each
Manic Spring 2 This Time It's Summer by Maira $5.00
Pigmento #1 A Zine Created By and For People of Color $7.00
San Antonio Bound Death Sentence #1 by Kris $3.00
Mapping Out Utopia #1 Cambridge 1970 Boston Area Counterculture $8.50
Mystery and Adventure Series Review #51 by Fred Woodworth $3.00
Temporary Automatic Writing Zone #1 Aug 17 TAWZ $4.00
Disruptor #4 Sum 17 Fourth Issue of Disruptor $5.00
Worst Fucking Food Ever by Billy McCall $1.00
Picking Stuff Apart by Joshua Amberson and Rock Craven $3.00
Myrkfaelni #1 $16.00
The Future Generation: The Zine-Book for Subculture Parents, Kids, Friends & Others by China Martens (PM Press) $22.00 – Back in print!
Getting to Know Someone Just Means Hearing About their Exes by Alex Wrekk $1.00
Skidmark Zine #15 $5.00
KerBloom #127 July Aug 17 by Artnoose $2.00
*COMICS & MINIS*
Ryan Cecil Smith titles: My Dream Comics $5.00 and SF Liquid Planet Battle #1 $7.00
Isabella Rotman titles: Run With Your Demons $7.00 & Long Black Veil $6.00
Slasher #4 by Charles Forsman $4.99
Comics by Tony R: Exacerbate $4.00, I Sure Wish I Could Find the Motivation To Be Creative by Tony R. $5.00 & more!
Comics by Sam Spina: My Dumb Kids $3.00, Spinadoodles #7 Having a Time $5.00
*GRAPHIC NOVELS*
Sax Rohmer's Dope by Trina Robbins $24.99 – A talented young actress becomes fatally ensnared in London's mysterious and glittery drug culture. Based on Sax Rohmer's 1919 novel and inspired by true events, Dope was both the first novel to speak openly about the international drug trade and the first story to center around the death of a celebrity by drug overdose.
Nick Cave: Mercy on Me by Reinhard Kleist (Self Made Hero) $22.88 – Sit down in your Mercy Seat and devour this while eating cake at a Birthday Party!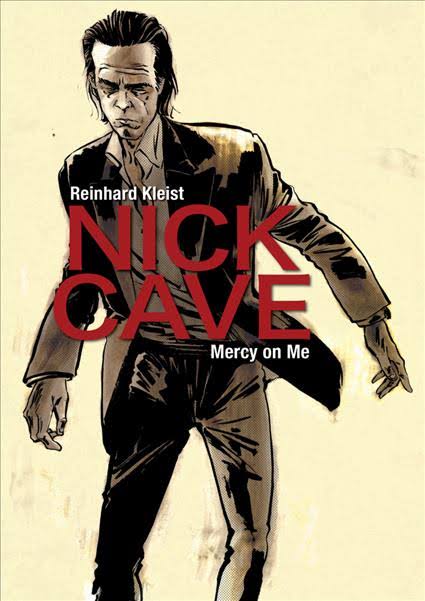 Language Barrier: Zines, Comics and Other Fragments by Hannah K. Lee (Koyama) $20.00
Morton: A Cross-Country Rail Journey by David Collier (Conundrum) $20.00
Dreams In Thin Air: by Michael M. Nybrandt and Thomas E. Mikkelsen (Conundrum) $25.00
Buffy the Vampire Slayer Omnibus Season 8 vol 1 (Dark Horse) $24.99
Total Tank Girl by Alan C. Martin (Titan) $24.99
Fred The Clown In… "The Iron Duchess" by Roger Langridge (Fantagraphics) $19.99
Superfuckers Forever by James Kochalka $17.99
Last Girl Standing by Trina Robbins $19.99 – Heavily illustrated memoir of the underground, feminist cartoonist.
Iceland by Yuichi Yokoyama (Retrofit) $15.00
Ghosts Etc by George Wylesol $13.99
Beirut Won't Cry by Mazen Kerbaj (Fantagraphics Underground) $30.00
Mountebank: A Psychedelic Sketchbook by DW (Fantagraphics) $25.00
Poppies of Iraq by Brigitte Findakly & Lewis Trondheim (D+Q) $21.95
This Must Be the Place: A Please Keep Warm Collection by Michael Sweater (Silver Sprocket Bicycle Club) $20.00
Catboy by Benji Nate (Silver Sprocket Bicycle Club) $20.00
*POLITICS & REVOLUTION*
Did It! from Yippie to Yuppie: Jerry Rubin, an American Revolutionary by Pat Thomas (Fantagraphics) $49.99 – Bio & oral/visual history of the co-founder of the Yippies, Anti-Vietnam War radical, Chicago 8 defendant, New Age/Self Help proponent, and social-networking pioneer.
Why Bad Governments Happen to Good People by Danny Katch (Haymarket Books) $13.95
Rebellious Mourning: The Collective Work of Grief, edited by Cindy Milstein (AK Press) $19.95
Curry: Eating, Reading and Race by Naben Ruthnum (Coach House Books) $13.95
*ART & DESIGN BOOKS*
Soviet Bus Stops vol 2 by Christopher Herwig and Owen Hatherly (Fuel) $32.50
Walled City: The Art of the Mural (Sandu Publishing) $39.95 International anthology of artists risking life and limb for huge scale works.
Asad Faulwell: Les Femmes D'Alger by David Pagel and Franklin Sirmans (Zero+) $45.00 – Mixed media paintings focused on Algerian women who actively engaged in combat during the Algerian War of Independence.
Freestyle: Illustrating Urban Fashion (Sandu Publishing) $35.00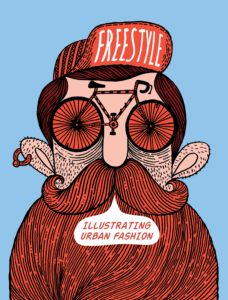 Ricky Powell: The Individualist by Tono Radvany and Nemo Librizzi $35.00 – Collection of Powell's work, one of NYC's most prolific street photographers, with portraits of the Beastie Boys, RUN DMC, LL Cool J, Andy Warhol, Basquiat, Keith Haring and hundreds more.
Turn The Page: The First Ten Years of Hi-Fructose by Virginia Museum of Contemporary Art and Alison Byrne (Baby Tattoo) $40.00
*OUTER LIMITS*
Trumpocalypse Now: The Triumph of the Conspiracy Spectacle by Kenn Thomas (Adventures Unlimited) $16.95
Mentored by a Madman: The William Burroughs Experiment by A.J. Lees $18.95 – A fascinating account by one of the world's leading neurologists of the profound influence of William Burroughs on his medical career. Lees relates how Burroughs, author of Naked Lunch and troubled drug addict, inspired him to discover a ground-breaking treatment for Parkinson's Disease.
Adventures of a Hashish Smuggler by Henri de Monfreid (Adventures Unlimited) $16.95
Project MK-Ultra and Mind Control Technology: A Compilation of Patents and Reports by Axel Balthazar (Adventures Unlimited) $19.95
*HUMOR*
A Field Guide to the Aliens of Star Trek: The Next Generation by Zachary Auburn (Devastator) $15.00 – Collecting the zines of the same name. Hilarious!
*MUSIC & FILM BOOKS*
Thurston Moore: We Sing a New Language by Nick Soulsby $23.95
Buzzcocks: The Complete History by Tony McGartland $13.95
David Bowie: A Life by Dylan Jones $28.00
Arcade Fire's The Suburbs (33 1/3) Eric Eidelstein $14.95
Quazarz Vs. The Jealous Machines by Shabazz Palaces & Joshua Ray Stephens (Fantagraphics/Sub Pop) $25.00 – Hand-numbered, limited-edition art piece with download code for the new Shabazz Palaces album.
The Who on the Who: Interviews and Encounters, edited by Sean Egan $30.00
Tokyo Cinegraphix One: Horror And Exploitation: 100 Film Posters From Japan by Kagami Jigoku Kobayashi (Shinbaku) $27.95
Voluptuous Terrors: 120 Horror And SF Film Posters From Italy (Art Of Cinema) by G.H. Janus (Deicide) $29.95
*FOR THE KIDDIES*
Moomin Begins a New Life by Tove Jansoon (D+Q) $9.95
Her Right Foot by Dave Eggers & Shawn Harris $19.99
Book of Bones: Ten Record Breaking Animals by Balkan & Brewster $19.95
The First Rule of Punk by Celia Perez $16.99 – YA book from Chicago zinester and librarian.
*MAGS*
AdBusters #134 vol 25 #6 Nov Dec 17 $14.95
Skeptic vol 22 #3 $6.95
The Monthly Review vol 69 #4 Sep 17 Meaning of Work in a Sustainable Society $6.00=
Make vol 59 Oct Nov 17 Home Making $9.99
Fortean Times #357 Crowley: The Comic Strip $12.50
Purple Fashion vol 3 #28 Anniversary Issue $25.00
Modern Farmer #17 Fall 17 $7.99
*LIT JOURNALS*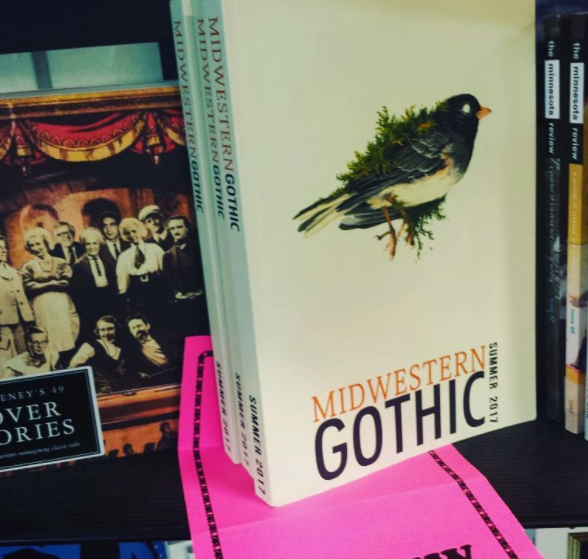 Midwestern Gothic #25 Sum 17 $12.00
Sinister Wisdom #106 A Multicultural Lesbian Literary and Art Journal by Julie R. Enszer $12.00
The Paris Review #222 $20.00
Lapham's Quarterly vol 10 #4 Fall 17 Music $19.00
Fence vol 18 #2 Sum 17 $13.00
*SEXXXY*
Elska #13 Helsinki Finland $18.50