Stuff from Night Watch Studios! Patches, stickers, buttons!
*ZINES*
Infinite Wheat Paste #2 $5.00
Survival Guide, Spring Fever $3.00
Night Watch #13 Psychedelic Issue $8.00
Derived From Matter $5.00
Dream Machine #1 Roots Growth $8.00
Razorblades and Aspirin #2 $8.00
*COMICS & MINIS*
Comics by Bianca Xunise, $10 each: Diary Comics & Say Her Name
My Son Falcon Girl by Marky Starr & friends $3.00
Shiner by Nathan Cowdry $10.00
Lost Little Dog #1 Sphinx by Swinnea $3.00
*GRAPHIC NOVELS*
Robert Crumb: Sketchbook, Vol. 2: Sept. 1968-Jan. 1975, edited by Dian Hanson (Taschen) $39.99
Present by Leslie Stein (D+Q) $21.95
Dark Knight III: The Master Race Frank Miller & friends $29.99 – Batman and his friends have retreated for years but a new war is beginning. An army of unimaginable power led by Superman's own daughter is preparing to claim Earth as their new world. The only force that can stop this master race—Batman—is dead. Long live the new Batman…Collects all 9 issues of the series.
Short Con by Pete Toms (Study Group) $9.95
*ART & DESIGN*
27 Exposures: A Disposable Scavenger Hunt by Alison Hunt $15.00
Green Lantern Press books:
Imperceptibly and Slowly Opening $30 – Artists and writers reflect upon plant life as it troubles both physical and ideological human spaces.
Notes On by Magalie Guerin $20 – An artist documenting her process in a, well, super arty way.
The New [New] Corpse $30 – Exhibition catalog from the Sector 2337 group show.
& more!
*MUSIC & FILM BOOKS*
Tranny: Confessions of Punk Rock's Most Infamous Anarchist Sellout by Laura Jane Grace and Dan Ozzi $16.99 – Soft cover version of memoir by the lead singer from Against Me!
Ishiro Honda: A Life in Film, from Godzilla to Kurosawa by Steve Ryfle and Ed Godziszewski $32.95 – Don't miss author Ed Godziszewski (and publisher of JAPANESE GIANTS magazine) here at Quimby's talking about the book on Oct 13th about the director behind the original GODZILLA and many of its beloved sequels and spin-offs of the 1950s and '60s!
*OUTER LIMITS*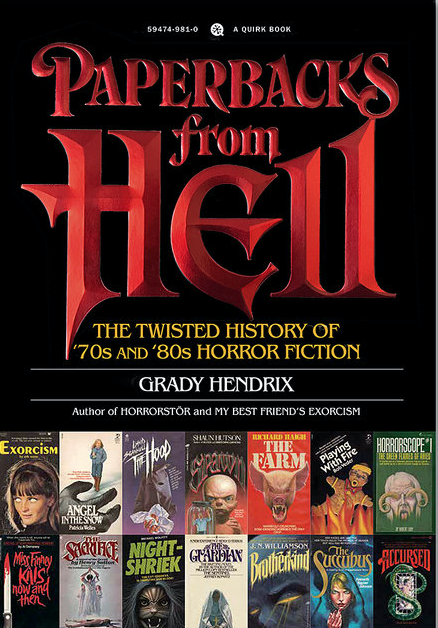 Paperbacks from Hell: The Twisted History of '70s and '80s Horror Fiction by Grady Hendrix $24.99 – A celebration of plotlines of devil worship, satanic children, and haunted real estate with book covers showcasing well-dressed skeletons, evil dolls, and more!
*DRUUUUUUGS*
Grow Your Own: Understanding, Cultivating, and Enjoying Cannabis by David Stein, Liz Crain, Micah Sherman, and Nichole Graf $26.95
*MAGS*
Hello Mr #9 About Men Who Date Men $20.00
Bust #107 Oct Nov 17 $6.99
Four Two Nine #11 Fall 17 $12.99
Tape Op #121 Sep Oct 17 $4.95
*LIT JOURNALS*
McSweeneys #50 $30.00
The First Line vol 19 #3 Fall 17 $4.00
The Literary Review vol 60 #2 Sum 17 Physics: The Fiction Issue $10.00
*SEXXXY*
Meat #24 $20.00