We got more Quimby's Logo t-shirts! Tons of sizes! Order them here!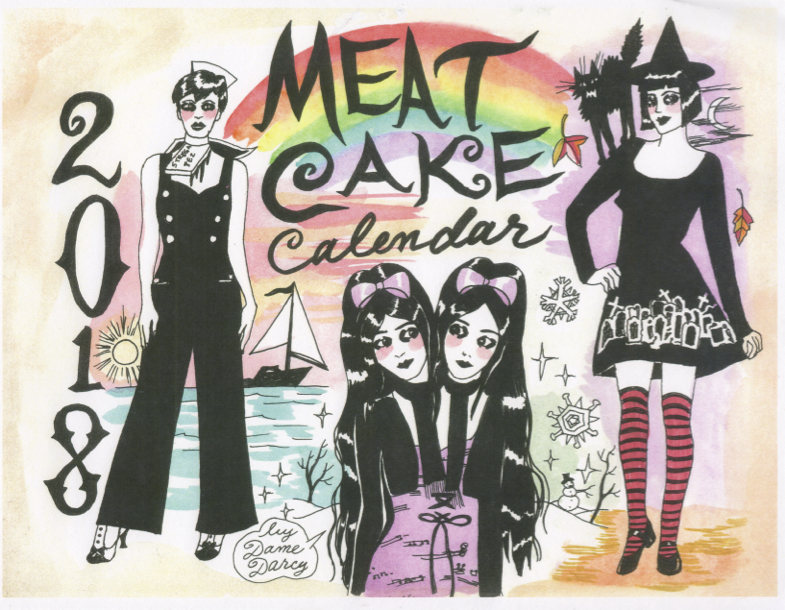 Meat Cake 2018 Dame Darcy Calendar $20.00
*ZINES*
KerBloom #128 Sep Oct 17 by Artnoose $2.00
Proof I Exist #27 Oct 17 First Impressions $2.00
Skidmark Zine #16 $5.00
Hard to Love #3 by Sara McHenry $3.00
*COMICS & MINIS*
South Beloit Journal by John Porcellino $6.00
Alienation #5 by Inechi Ines Estrada $10.00
Rapt in Fear #1-#3 by Alex Delaney $4.00-$5.00 each
Screen Screams #1 Skecthbook by Scott Roller $5.00
In Trouble: A Plot Story by Neil Brideau $3.00
Our Earthy Mother Is In All That is Life That is Nurture by Emily Schulert $5.00
*GRAPHIC NOVELS*
Monograph by Chris Ware (Rizzoli) $60.00 – Don't miss Chris Ware signing this amazing book here on Fri, Nov 3rd at 7pm! The book delves into how, as a storyteller and builder, Ware's work in three dimensions feeds into the thinking of his finely textured narrative art, offering a prismatic look at his work, including rarely-seen early attempts, previously unpublished strips and notes, all serving as a window into how artwork made for reproduction is still fundamentally "art."
The Unquotable Trump: Trump in His Very Own Best Words by R. Sikoryak (D&Q) $19.95
Head Games by Craig McDonald and Kevin Singles $19.99
The Little Book of Knowledge: Tattoos by Jerome Pierrat & Alfred $14.99
Voices in the Dark by Marrel Beyer and Ulli Lust $29.95
At War with War by Seymour Chwast $19.95
Black Panther & the Crew: We Are the Streets vol 1 by Ta-Nehisi Coates & friends $17.99
*POLITICS & REVOLUTION*
Now by The Invisible Committee $13.95
*ART & DESIGN*
Cinemaps: An Atlas of 35 Great Movies by A. D. Jameson and Andrew DeGraff $29.99
The Art of Pulps: An Illustrated History by Douglas Ellis $49.99
Ungrateful Mammals by Dave Eggers $29.99
Typewriters: Iconic Machines from the Golden Age of Mechanical Writing by Anthony Casillo and Bruce Curtis $40.00
*OUTER LIMITS*
Death and the Afterlife: A Chronological Journey, from Cremation to Quantum Resurrection by Clifford Pickover $19.95
The Big Book of Rogues and Villains: The Most Comprehensive Collection of Bad Guys and Girls Ever Assembled by Otto Penzler $25.00
Grave Tidings: An Anthology of Famous Last Words by Paul Berra $10.99
Member of the Family: My Story of Charles Manson, Life Inside His Cult, and the Darkness That Ended the Sixties by Dianne Lake with Deborah Herman $27.99
Robot Sex: Social and Ethical Implications by John Danaher and Neil McArthur (MIT Press) $40.00 – Sexbots are coming. Given the pace of technological advances, it is inevitable that realistic robots specifically designed for people's sexual gratification will be developed in the not-too-distant future. Despite popular culture's fascination with the topic, and the emergence of the much-publicized Campaign Against Sex Robots, there has been little academic research on the social, philosophical, moral, and legal implications of robot sex. This book fills the gap, offering perspectives from philosophy, psychology, religious studies, economics, and law on the possible future of robot-human sexual relationships.
The Occult Book: A Chronological Journey from Alchemy to Wicca by John Michael Greer $19.95
Other Minds: The Octopus, the Sea, and the Deep Origins of Consciousness by Peter Godfrey-Smith $16.00
*FICTION*
Deaths of Henry King by Jesse Ball, Brian Evenson, Lilli Carre (Uncivilized Books) $19.95
*MUSIC & MOVIES BOOKS*
Meet Me In the Bathroom: Tne Rebirth and Rock and Roll In New York City 2001-2011 by Lizzy Goodman $26.99
The Tao of Bill Murray: Real Life Stories of Joy Enlightenment and Party Crashing by Gavin Edwards $16.00 – Now in soft cover.
Straight Edge: A Clear-Headed Hardcore Punk History by Tony Rettman (Bazillion Points) $29.95
The Bad Movie Bible: The Ultimate Modern Guide to Movies That Are so Bad They're Good by Rob Hill $24.95
Cooking Price-Wise: A Culinary Legacy by Vincent Price and Victoria Price $19.95 – This charming book of Price's favorite recipes is based on the Thames Television series he hosted in the 1970 Cooking Price-Wise.
*ESSAYS*
Vacationland: True Stories from Painful Beaches by John Hodgman $25.00
*MAGS*
Maximumrocknroll #414 Nov 17 Bad Example $4.99
Reflekt Style Anthology #13 Family $12.00
Mojo #288 Nov 17 $10.99
Wire #404 Oct 17 Jlin $10.99
Subvrt #2 The Identity Issue $17.00
Dissent Fall 17 $12.00
2600 the Hacker Quarterly vol 34 #3 Sum 17 $6.95
Nexus vol 24 #6 Nov Dec 17 $6.95
ASR #71 and #72 Fall 17 Anarcho Syndicalist Review $6.00
Majestic Disorder #9 $15.99
Frankie #79 $15.95
Fantastic Man #26 Fall Win 17 $14.99
*LIT JOURNALS & CHAP BOOKS*
Meekling Review #1 $15.00
I'm Trying to Remember What it Means by Claire Mesesan $9.00
Late or Dear Tameka by Daniel McCloskey $15.00
Timid Hungry Ghosts vol 1 and 2 by Ellie Gordon $12.00
*FOR THE KIDDIES*
Professor Astro Cat's Solar System by Dr. Dominic Walliman and illustrated by Ben Newman (Flying Eye) $13.99
*OTHER STUFF!*
Sloth Nurse Bandages $6.00
Mixtape Pencil Case $5.50
Socks! $9.00-$10.50: "Mother Fucking Girl Power," "Certified Pain in the Ass"
…& more!