Twin Peaks: The Final Dossier by Mark Frost $21.99 – Fills in some graps left by The Return and the Secret History.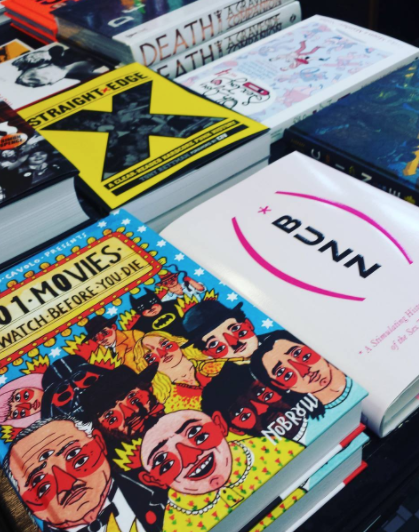 101 Movies to Watch Before You Die by Ricardo Cavolo (Nobrow) $22.95
Buzz: A Stimulating History of the Sex Toy by Hallie Lieberman $26.95
*ZINES*
Sucias by Chloe Perkis $10.00
Nickname #1 by Hurley Winkler and Aysha Mishkin $4.00
*GRAPHIC NOVELS*
Unfinished: 3 Poems by Tom Neely (Silver Sprocket) $10.00
Kitaro's Strange Adventures by Shigeru Mizuki (D&Q) $12.95
Grandville Force Majeure by Brian Talbot $24.99
Schiz by Bob Levin $15.99
And Then the World Blew Up by Mr. Fish (Fantagraphics) $29.99 – An intellectual punch in the face to the new political order by political cartoonist Dwayne Booth aka Mr. Fish!
*ART BOOKS*
A Queer Little History of Art by Alex Pilcher $19.95
Kit and Willy's Guide to Art by Zebedee Helm (Gingko Press) $15.95 – An art primer for the young ones.
Camo Mania: New Disruptive Patterns in Design by Viction Workshop $39.95 – As in camouflage! Being arty!
Kaibyo: The Supernatural Cats of Japan by Zack Davisson (Chin Music) $18.95 – An in-depth exploration of the sometimes charming, sometimes gruesome feline creatures and ghosts of Japan.
*POLITICS, REVOLUTION, CURRENT EVENTS*
Economics In Wonderland: Robert Reich's Cartoon Guide To A Political World Gone Mad And Mean by Robert B. Reich (Fantagraphics) $19.99
*HELP*
Biff Boff Bam Sock #8 For Your Health Making Sense of American Health Insurance $6.00
Unfuck Your Brain: Using Science to Get Over Anxiety, Depression, Anger, Freak-Outs, and Triggers by Faith Harper PhD LPC-S ACS ACN (Microcosm) $14.95 – A no-nonsense and helpful guide on how to cope with a slew of mental-health issues that are hellbent on ruining the lives of millions of people worldwide.
*OUTER LIMITS*
Bizarrism vol 2 Revised and Expanded Edition by Chris Mikul (Headpress) $19.95
Death: A Graveside Companion by Joanna Ebenstein $40.00
The Ghost: A Cultural History by Susan Owens $29.99
*MUSIC BOOKS*
33 1/3 series: Yoko Kanno's Cowboy Bebop Soundtrack by Rose Bridges $22.95
Hank: The Short Life and Long Country Road of Hank Williams by Mark Ribowsky $18.95
*FICTION*
The Familiar, Volume 5: Redwood by Mark Z. Danielewski $27.95
Highs and Lows of Shapeshift Ma and Big Little Frank by Frances Cannon $20.00
*FOOD*
F*ck, That's Delicious: An Annotated Guide to Eating Well by Action Bronson and Rachel Wharton $27.50
*BALLS*
Basketball (and Other Things): A Collection of Questions Asked, Answered, Illustrated by Shea Serrano and Arturo Torres $19.99
*ESSAYS*
What About the Rest of Your Life by Sung Yim (Perfect Day Publishing) $10.00
*SEXXXY*
Oh Joy Sex Toy vol 4 by Erika Moen and Matthew Nolan $29.99
Elska #14 Haifa Israel $18.50
*MAGS*
Juxtapoz #203 Dec 17 $6.99
Another Man #25 Fall Win 17 Modern Mythologies $18.50
Fader #111 Fall 17 $6.99
*CHAP BOOKS*
Private Parts by Shawna Kay Rodenberg $3.00
My Woods by Ryan J. Eilbeck $3.00
Slave Trade Moves to Ebay in the Capitalist West by Marlin M. Jenkins $3.00
Band of Weirdos stuff: enamel pins and greeting cards and patches and more!
Welcome to Twin Peaks Tin Lunchbox $15.99 Twin Peaks Microcassette Mini Journal $8.99
Topps Garbage Pail Kids 2017 Battle of the Bands Sticker Cards $3.99 per pack
My Space Adventure: Never-Ending Fun with Storytelling by Naomi Wilkinson (Victionary) $15.95 – Like divinity cards mixed with D&D: Simply roll the dice to determine the genre, draw some cards at random, and use your best improvisation skills to tell an original story based on the content of the card's artwork, arranged in any sequence.