Zines
Revering Individual Posessions #2 by Elizabeth S. Tieri $1
Bound Struggles #7 by Chicago Books to Women In Prison $10
Sick, Sad World Zine: A Tribute to Daria by Rosmund and Megan $5
Meanwhile #4 Mythical Creatures & #5 Whats Your Sign $5 each
Death Lick by Corinne Halbert $12 – Full color reproductions on heavy glossy paper of 19 erotic horror paintings, limited edition of 50.
Heuksando by Lila Lee $10
Good Day Mi Lady: A Ren Faire Zine by Megan Kirby $5
Contrived Critters by Aim Ren $2
Her by Talie M. Zrihen $2
Unguarded Conversations With Museum Guards at AIC by Shannon Hebert Waldman $5
Mineralis by Patricia Cram $10
Various Small Geological Controversies photo zine by Bill Daniel $12
Wiggly World by Michael R. Heck $10
Cognitive Dissonance for Beginners by Lita $4
For Everard vol 7 Tony From the Bronx $5
Annapolis photo zine by Philip Tomaru $20
Mainland by Lila Lee $16
Yolanda #2 Thigh Times Enterprises $5
Comics & Minis
You Don't Get There From Here #47 by Carrie McNinch $3
Short Gay Stories by HP Lehkonen $12
Our Friends the Bees by Rachel Bard $5
Infinite Wheat Paste #5 by Pidge $5
Finder Pink Year by Nou 2017 $4
Slithering Sleep by Danielle Burton $16
Orbiters Prism by Drew Miller (Neoglyphic Media) $5
Can't Breathe Without Air by Angela Chen $6
Poor Thing #1 by Drew Miller (Neoglyphic Media) $8
Humorous Faces of Funny Cases #3 by Cynthia T. Navarro (Tiny Splendor) $12
Dump by Matthew Carrigan $10
Island on Fire by Yishu Wang $8
Lingering Light: A Prequel of the Setting Sun BBB x Maki $6
Seeker #1-#5 by Liz Valasco $5 each
Loops by Alyssa Nelson $4
I'm Trying by Angela Chen $4
Ley Lines: Weird Territory by Evan Dahm $6
Beef Jams Tournament Edition $7
Millennials #1-#3 by Lorenzo Ghetti & Claudia Nuke Razzoli $5 each
Manzone by Ugo Schiesaro $8
King Cat #78 by John Porcellino $5
Ikea by Fine OK Press $5
Ooze by Ali Burke and Tara Hamilton $5
At the Top of Fuller Canyon by Andrew Alexander $5
Grievin of Mt Privado Part 1 by Andrew Alexander $10 – Teen secrets, sleuthing and reefer abound when a murdered pet rocks a small town in this expressionist noir.
Visions by Evan M. Cohen $20
Twilight of the Bat by Josh Simmons $10 – Unauthorized Batman comics by Josh Simmons and friends.
Mundane Magic by Andrew Lamb Schultz (Cold Cube Press) $15
Bursting Spicy Metal #1 by Kelly Bjork (Cold Cube Press) $15
Sticky Sweets by Ross Jackson $10
Thirty Miles of Crazy #1-#6 by Karl Christian Krumpholz $5 each
But Is It Comic Aht #1 by Domino Books $5
Graphic Novels
Nobrow 10: Studio Dreams $24 – Features a wealth of Nobrow contributors past and present as well as a glimpse into the future of comics and illustration!
The Complete Future Shocks vol 1 by Alan Moore & Peter Milligan $25 – This first volume of Tharg's Future Shocks takes us back to the earliest days of the one-off, twist ending, sci-fi thrills strip from the pages of 2000 AD, showcasing talents of Alan Moore and friends.
Instinct For Cooperation: A Graphic Novel Conversation with Noam Chomsky and Jeff Wilson, Illustrated by Eliseu Gouveia $13.95
Inside Moebius Part 2 (Dark Horse) $39.99
Marta by Alison Burke DuPey $12
Welcome to Slimecity by Jared Gattis $12
Fiction
Ayiti by Roxane Gay $16
Fight No More: Stories by Lydia Millet $24.95
Food
Superiority Burger Cookbook: The Vegetarian Hamburger Is Now Delicious by Brooks Headley $39.95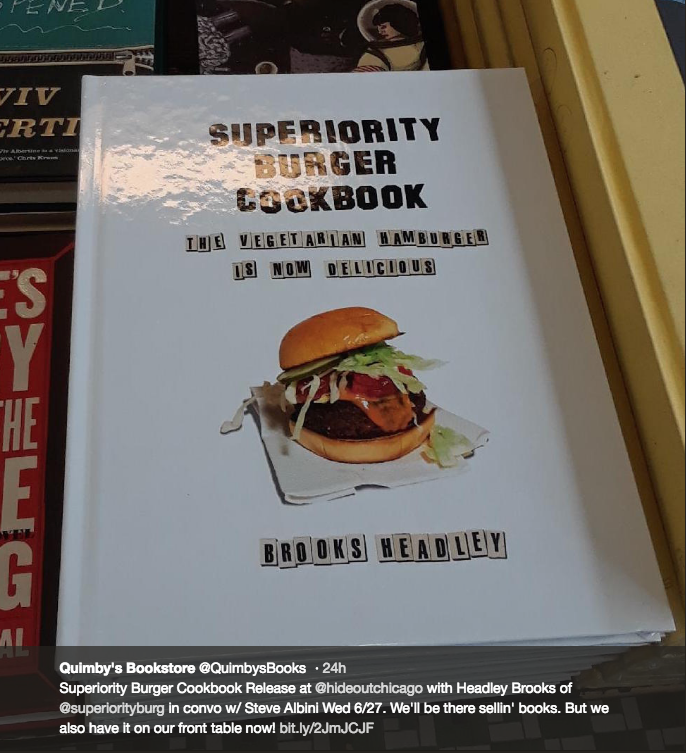 Stuff That Helps
A Quick & Easy Guide to They/Them Pronouns by Archie Bongiovanni & Tristan Jimerson $7.99
On Doing Nothing: Finding Inspiration in Idleness by Roman Muradov $12.95
How to Deal With Anxiety an Activity Book by Eugenia Viti $7
Bio, Memoirs & Media
All Gates Open: The Story of Can by Irmin Schmidt with Rob Young $29.95 – Part band bio, part symposium of the legendary german experimental rock band CAN from founding member Schmidt with journalist Young.
Ghostbuster's Daughter: Life With My Dad, Harold Ramis by Violet Ramis Stiel $28
Long Players: A Love Story in Eighteen Songs by Peter Coviello $16
Flash: The Making of Weegee the Famous by Christopher Bonanos $32 – A biography of the photographer nicknamed after the Ouija board due to his uncanny ability to arrive at a crime scene mere moments after law enforcement, reveals a man now known as an innovator, pioneer and master crime-scene photographer.
TRI-X-NOISE – Photographs 1981-2016 by Bill Daniel $20 – From master railroad and freight tag historian behind the Mostly True: The West's Most Popular Hobo Graffiti Magazine and the filmmaker of "Who is Bozo Texino?" TRI-X-NOISE includes three decades of subterranean countercultural hijinks recorded on black and white film. Beginning with early the 80s Texas skatepunk scene, the book is a sprawling visual journal of a life lived on the road and after dark. Punk shows high and low, crusty experimental cinemas, freight train adventures, Mission School graffiti, impossibly obscure house shows, and art exhibits in the shadowy margins. It's a mash up of subcultural documentation, from San Francisco to Shreveport, from Texas to Braddock Pennsylvania, a flash-lit scrapbook of an invisible vanguard, all shot on Tri-X film. Including: Butthole Surfers, Big Boys, Black Flag, City Museum, Dead Kennedys, Minor Threat, Minutemen, Misfits, David Yow and more.
Magazines
Even #10 $18
Lula #25 $15.99
Man About Town #22 $29.99
Palmss #3 by Chinwe Okona $10
Nostalgia Digest Sum 18 $4.50
Lit Journals, Chap Books & Poetry
The Believer #119 $12
The Literary Review vol 61 #1 Chemistry $15
Spent Seasons Poetry by Liza Edwards Levin $3
Year of the Dogs: Poetry and Illustrations by Anita Olivia Koester by Anita Olivia Koester $3
If You Are Unable to Help Just Say So by Jennifer Williams $15
Brick #101 $16
Gathering Views by Jack C. Buck $15
For the Kiddies
Furqan's First Flat Top, El primer corte de mesita de Furqan by Robert Liu-Trujillo $15.95
Other Stuff
Baphomet Babe sticker by Corinne Halbert $3