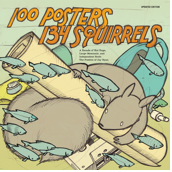 Quimby's is proud to  welcome Chicago-based poster artist Jay Ryan, celebrating the release of AN UPDATED AND REVISED GREATEST-HITS COLLECTION of Jay Ryan's first decade of compelling posters, 100 Posters/134 Squirrels. Known for his hand-drawn type, humorous animal subjects, and muted color selections, Jay Ryan has been making screen-printed concert posters in Chicago since 1995. He's worked for thousands of rock bands, as well as clients like Patagonia clothing, Converse shoes, Burton Snowboards, and the BBC.
The work in 100 Posters/134 Squirrels is framed by essays from luminaries in the music, design, and poster worlds–including Steve Albini, Art Chantry, Greg Kot, and Debra Parr. This 2005 debut collection of Jay's was praised by Chicago media and publications across the globe, including:
"Not only a gorgeous catalog of the artist's many memorable posters,  but a history of sorts of the Chicago underground rock scene in the  last 15 years."                                     –Chicago Sun-Times
"Jay Ryan takes the germ of an idea and makes it uniquely great. His genius is in knowing what matters and what doesn't . . . His genius is in having the image matter."                        –Steve Albini
Since the release of that book, he has honed his craft continuing without the use of computers, and screen-printing the work in his shop called the Bird Machine for bands such as the Melvins, the Shins, Modest Mouse, Andrew Bird, Shellac, My Morning Jacket, and hundreds of others. His book, Animals and Objects In and Out of Water, features 120 of Jay Ryan's favorite pieces of art from the last three years, including text about each of the prints, detail photos (shot at the  MCA in Chicago), and original drawings.
For more info: thebirdmachine.com
akashicbooks.com/100posters_reissue.htm