Yeah yeah, New Stuff is getting posted a day earlier than usual. Now you can plan your weekend early, around what you're going to come in and buy.
One thing's for sure, tomorrow night (Sat 4/23) Dr. Chris Smit, who wrote the book The Exile of Britney Spears: A Tale of 21st Century Consumption (Intellect/University of Chicago Press), will be here at 7pm. Just in time for Britney Spears' new album, Dr. Smit's book illustrates the American popular culture's thirst for—and complicity in—celebrity disgrace. And oh yeah, how we consume culture and puke it out when we're done. Click here for more info about this event.
Among other new things we received this week are The Point #4, Spr 11. Click here or the image below to see the feature about Chris Ware's Acme Novelty Library. Some of the other features include: • White Boys, Hip Hop, Jay Electronica • Steroids, Baseball, America • Porn as a Way of Life • Sarah Palin's Alaska • J.M. Coetzee's Problem With Authority • Chicago's Political Theater • What is Sport For?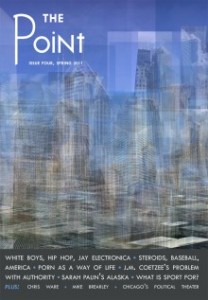 So here's this week's new stuff:
ZINES & ZINE-RELATED BOOKS!
Famous Forgeries by Eric William Pierson (Drippy Bone Books) $5.00
PopNihil #3 Stop Me If You Think That You've Heard This One Before by Matthew Moyer and Jason Brown $2.00
Because We Can't Fight the Bulldozer Alone by Dan Sully Sullivan $6.00
Memories – Darkwater Press Memorized Enforced $4.00
Prince Zine by Joshua James Amberson and Carman Rachel Lee $5.00
Readin and Fightin #2 Insisting on Literature by Women of Color by Camille $1.50
COMICS & MINI COMIX!
Hate Annual #9 by Peter Baggue (Fantagraphics) $4.95
Seasonal #1 by Bobbi Parry and Sarah Morton $7.00 – Seasonal #1 is a roundabout romance in a Utah megastore….all emotional-cleanup-in-aisle-9-style. -EF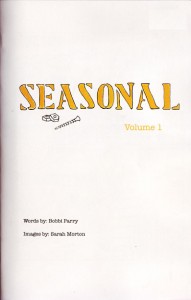 BAM Big Apple Monsters #1 by Jon and Dan Cottle $4.00
Scenic Byways Welcome to Falling Rock National Park by Josh Shalek $9.00
Freaks by Tony Rabit $1.00
Time: An Anthology of Comics About Food (Trees and Hills) $5.00 – Includes a Free Calendar!
ART & DESIGN BOOKS!
The New Gypsies by Iain McKell (Prestel) $39.95 – As in for real, young folks doing the nomadic thing.
New Club Kids: London Party Fashion in the Noughties by Oggy Yordanov (Prestel) $24.95 – As in for real, young folks doing the club kid thing.
Boutique London: A History Kings Road to Carnaby Street by Richard Lester (ACC) $49.95 – One of our customers suggested we get this. Here it is!
What's Weird by David Barnes $50.00Hyperacticitypography From A to Z (DGV) $29.90
GRAPHIC NOVELS & TRADE PAPERBACKS!
Klondike by Zach Worton (Fantagraphics) $24.95
Sweet Tooth TPB vol 2 In Captivity by Jeff Lemire (Vertigo) $12.99
Orc Stain TPB vol 1 by James Stokoe (Image) $17.99
FICTION!
Particular Sadness of Lemon Cake by Aimee Bender (Anchor) $15.00 – Short stories, now in soft cover.
CHAP BOOKS, POETRY & LIT JOURNALS
Spoken Nerd Revolution by Shappy Seasholtz (Penmanship) $15.00 – Collecting Shappy's work from the past gazillion years, finally in one nice volume! Hilarious of course. What would you expect from a former Quimby's and Chicago Comics employee? Only the best.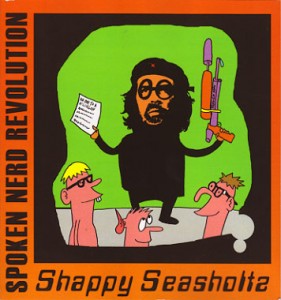 Verse vol 27 #1 $7.00
Pain Needs To Remember by Stevie Edwards $12.00
MAGAZINES!
Tiki Magazine vol 7 #1 Spr 11 $5.99
Fortean Times #274 Jun 11 $11.99
True Detective Apr 11 $4.99
Passenger Magazine #1 $5.00
Make vol 26 $14.99 – As in the craft mag, not the lit journal.
Dot Connector #13 2011 Double Issue $7.95
Skeptical Inquirer May Jun 11 vol 35 #3 $4.95
Wallpaper May 11 $10.00
Dwell May 11 $5.99
Modern Drunkard #56 $4.95
Treats Magazine #1 $20.00
Fangoria #303 $8.99
Wire #326 Apr11 $10.99
Black Velvet #68 $6.25
Maximumrocknroll #336 May 11 $4.00
XLR8R #138 $6.99
Harpers Magazine May 11 $6.99
Race & Class vol 52 #4 $18.00
Earth First vol 31 #2 30th Anniversary $6.50 – Happy Earth Day!
Urban Ink #19 $8.99
Bound By Ink vol 1 #5 $7.99
MUCKRACKING, MEMOIRS, MAYHEM, MISCREANTS & MISCELLENOUSNESSESESNESS!
The Wilder Life: My Adventures In the Lost World of Little House On the Prairie by Wendy McClure
MUSIC BOOKS OR BOOKS WRITTEN BY MUSIC PEOPLE!
33 1/3 Series: Nine Inch Nails' Pretty Hate Machine By Daphne Carr (Continumm) $12.95 – In ten raw, heartbreaking oral histories woven through the book, fans living in the post-industrial Midwest discuss the successes and failures of the American dream as they are articulated in Nine Inch Nails' music. Read an excerpt at the 33third blog.
33 1/3 Series: Fleetwood Mac's Tusk by Rob Trucks (Continuum) $12.95
SEX & SEXY & SEX CULTURE!
Blow Job vol 3 an Erotic Collection by Johnny Murdoc $8.00 – Home grown erotica! With sexy pictures too.
Big Penis Book 3D by Dian Hanson (Taschen) $39.99 – Comes with 3D glasses!
Big Book of Breasts 3D by Dian Hanson (Taschen) $39.99 – Also with 3D glasses.
Handbook vol 5 #2 2011 by Darren Ankenbauer $6.00 – The sensitive side of Trevor Wayne , the business side of Ty, Will and Mike and some nice articles about sexual versatility and "post-gay."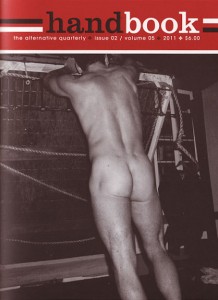 Sweets Magazine vol 4 #16 $5.99 – Ooo la la! Sweet!
OTHER STUFF!
I Love To Floss Blank Notebook by Blaire Miltenberger $12.00