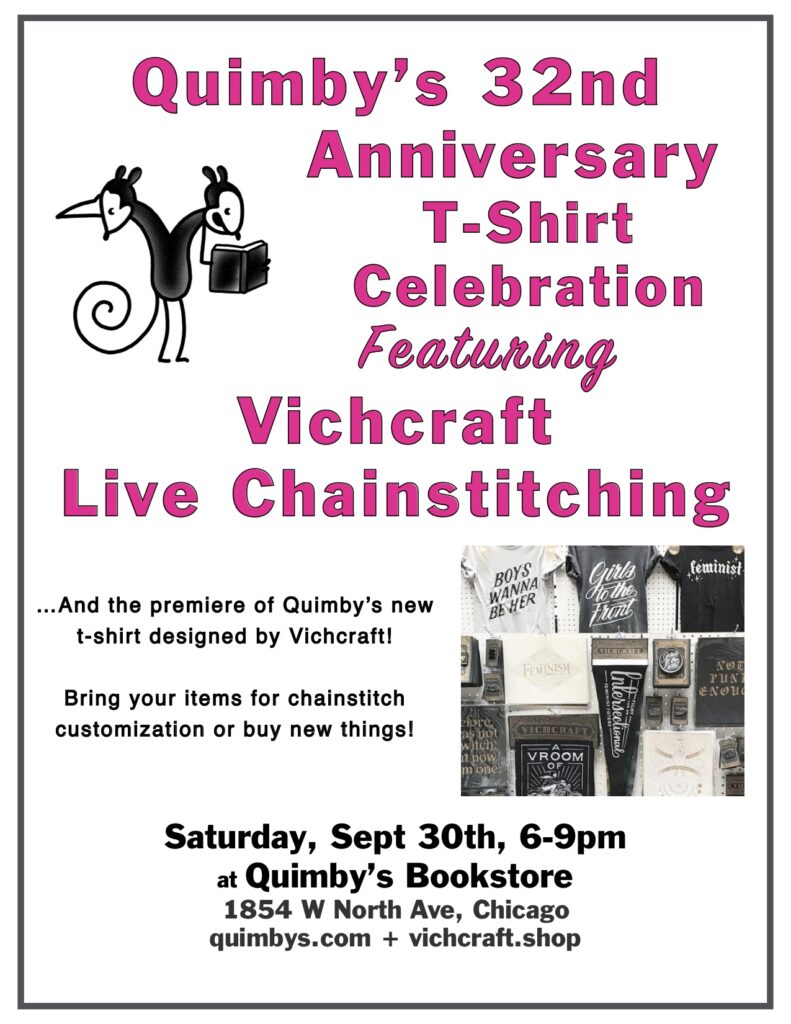 Wahoo! Quimby's is turning 32!*
To help us celebrate Chicago gem of a printer and chainstitcher Vichcraft (aka Jenna Blazevich) has designed some new merch for us to premiere at A LIVE CHAINSTITCHING EVENT HERE AT QUIMBY'S ON SATURDAY, SEPT 30TH from 6-9pm! She designed a spanking new Quimby's t-shirt that is BEAUTIFUL (trust us) we'll be debuting at this event. And we'll be unveiling some other unexpected merch too — but we don't want to spoil the surprise!
Vichcraft will be on hand with her 80-year-old Cornely machine to chainstitch a variety of items, including felt pennants and other things for sale. For a fee, she can customize items, so bring your stuff you want to have personalized.*
Vichcraft is the multi-disciplinary design studio run by Jenna Blazevich in Chicago, Illinois since 2015. Find her at https://vichcraft.shop/ and on IG: @vichcraft
View this post on Instagram
View this post on Instagram
Here's the Facebook event invite if you want it!
*Our actual anniversary is September 15th! This event is not actually on the 15th! But you should buy us a birthday cake on that day anyway. Happy birthday, us!
*Here are helpful hints about what materials are ideal for your customized chainstitched item!:
Ideal items:
Woven fabrics: Canvas, Denim, linen
Crewnecks or sweatshirt type knits
Beanies
Bandanas
Materials to avoid:
Thin knit fabrics (tee shirts)
Loosely knit fabrics (sweaters, scarves)
Items with sherpa linings or excessive batting
View this post on Instagram
View this post on Instagram