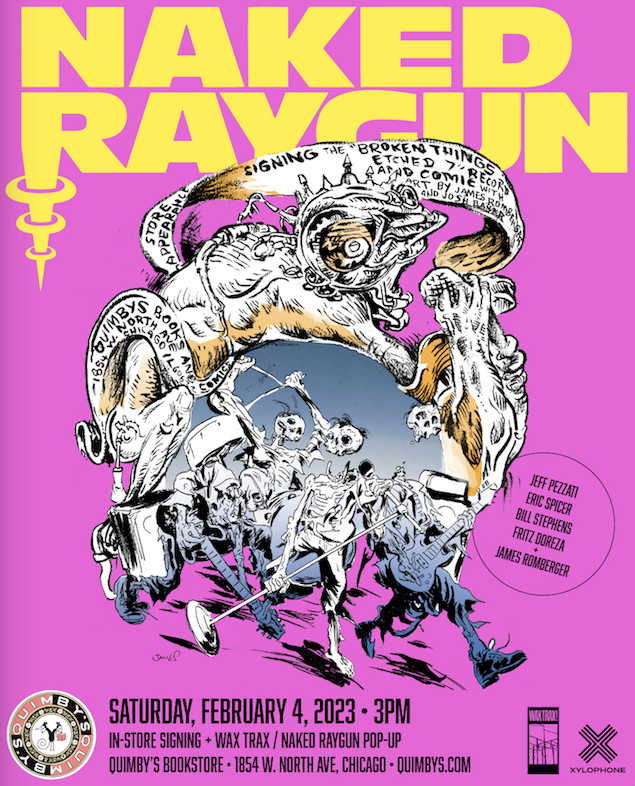 Naked Raygun Signs Broken Things 7″ With Comic
+
WAX TRAX! Naked Raygun Pop-Up on Feb 4th
at Quimby's Bookstore
Saturday, Feb 4th, 3pm
Quimby's welcomes Chicago punk legends Naked Raygun for an in-store signing of their limited edition 7″ Broken Things that comes with a comic insert (and etched B side) by indie comics artists James Romberger (who will also be joining us!) & Josh Bayer.
In addition to the band's attendance, famed vinyl titans WAX TRAX! will be on hand to offer additional NR merch in a pop-up store that fits right in with Quimby's.
Broken Things is from NR's first album in 30 years, Over the Overlords. This 7″ is brought to you courtesy of Xylophone, and Quimby's is the only store in Chicago / Illinois / The Midwest / the 49 states (that are not New York) that has this!
Excited to see you at our free event!
Want to buy Broken Things in advance so it doesn't run out before you get here? Get it at quimbys.com here.
Dig that flyer! Art by James Romberger and Josh Bayer, with art direction by Jason Mojica.
**** **** **** ****
And!
•There may be some FREE SHIT.
•There will be silkscreened event posters for sale featuring new James Romberger & Josh Bayers art.
•We will have a limited amount of blue vinyl of the comic + 7″ that you can only get AT THE EVENT!
•There is an official unofficial afterparty in the works.
•We should add that the date of this event is also the birthday of Quimby's manager Liz.
•You have no excuse not to attend.
**** **** **** ****
P.S. You saw Quimby's in the background of the NR documentary, right?
P.P.S. Can you count how many past and present Quimby's employees are in the NR video for "Living the Good Times"?
**** **** **** ****
***The Fine Print That You Should Most Positively, Definitely, Indubitably Read***
Please adhere to these rules and don't drive Quimby's employees bananas:
Due to small print run, purchase of this item is limited to 2 per customer at both quimbys.com and in store.
Band will only be signing copies at our event on 2/4/23. Customer must be present at event to get their item signed.
Quimby's will not get this item signed for you, nor will we hold or ship signed copies.
Due to time constraints, we respectfully customers to limit signing requests to 3 items or less per person.
No swimming without lifeguard on duty.