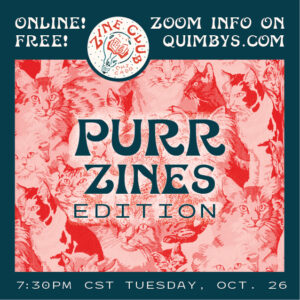 Zine Club Chicago Online: PURRzines Edition
7:30 p.m. CT Tuesday, October 26 on Zoom
Free!
Last month, Zine Club Chicago discussed perzines … this month, they're welcoming the spooky season with a celebration of PURRzines!
Cats of all stripes have slunk across the pages of countless zines and into our hearts.  In October, Zine Club Chicago will be discussing zines about our feline friends and other mysterious creatures (both real and imaginary)! This also will be the group's annual Hallowzine celebration, so costumes — for humans and #zinepets alike — are highly encouraged.
Grab your fave zines about cats, BYOT(ricks)&T(reats), and join in on Zoom for Zine Club Chicago Online: PURRzines Edition at 7:30 p.m. CT Tuesday, October 26!
** Zoom info ** Zine Club Chicago wants to make sure that its events are a safe space, so the Zoom link won't be released publicly. If you'd like to attend, please email zineclubchicago@gmail.com to RSVP by 9 p.m. CT Monday, October 25 (the day before the event). You'll receive the Zoom link by 11 p.m. CT that evening.
Zine newbies and longtime enthusiasts alike are always welcome at Zine Club Chicago, the city's only book club-style event for people who read zines. This free monthly series is produced by Chicago Zine Fest/Midwest Perzine Fest organizer Cynthia E. Hanifin and sponsored by Quimby's Bookstore. Anna Jo Beck designs the club's monthly flyers, created its logo, and made the Zine Club Chicago Shout-Outs site, where folks can peruse and recommend zines.
More info on the Zine Club Chicago social media channels: @zineclubchicago. Facebook event is here.