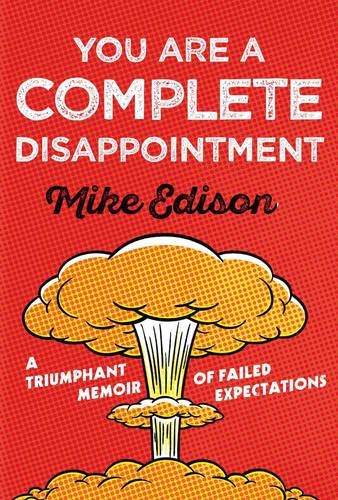 Author, musician, and raconteur Mike Edison brings his unique blend of mayhem to Quimby's to read and perform from his new book You Are a Complete Disappointment: A Triumphant Memoir of Failed Expectations. Joining him will be "World's Greatest Piano Player" Mickey Finn, and his own Rocket Tone Theremin!
For anyone who has ever suffered from parental bullying, this often-hilarious yet intensely heartbreaking memoir from the former High Times publisher will provide both solace and laughter.
YOU ARE A COMPLETE DISAPPOINTMENT is a warped suburban odyssey that pulls no punches when it comes to the adversity and adventures of growing up in the 1970s. His story is a potent, positive lesson in growing up to be the person you want to be, not the person you were told to be.
SUBURBAN DYSFUNCTION! THRILLS! FREE ATOMIC FIREBALLS!! 
An excerpt is available here:
http://www.largeheartedboy.com/blog/archive/2016/04/excerpt_mike_ed.html
"Smart, filthy, and funny, Mike Edison is no ordinary author… Edison brings the stories from his book to life with the performance chops of a seasoned rock'n'roller." — Spin Magazine
The COMPLETELY DISAPPOINTING AFTER PARTY will be at Dimo's Pizza. Edison and Finn will perform a very special set of dirty blues and stories featuring very special guests and lots of surprises. MIKE EDISON DIRTY PIZZA – named after Edison's book Dirty! Dirty! Dirty! — will be on the menu.
MIKE EDISON is the former editor and publisher of High Times magazine. His books include the celebrated memoir I Have Fun Everywhere I Go, the sprawling social history of sex on the newsstand, Dirty! Dirty! Dirty! and the deliciously filthy political satire Bye, Bye, Miss American Pie. More recently he collaborated with Joe Bastianich on his New York Times bestselling memoir, Restaurant Man, of which writer Bret Easton Ellis has said, "The directness and energy have a cinematic rush . . . not a single boring sentence."
Edison has worked as a foreign correspondent for Hustler and was a high-paid gun-for-hire of the legendary Penthouse letters. He has contributed to numerous magazines and websites, including Huffington Post, the Daily Beast, the New York Observer, Spin, Interview, and New York Press, for which he covered classical music and professional wrestling. In addition, he is an internationally known musician and ferociously dedicated storyteller, and can be heard every Sunday on his show Arts & Seizures on the Heritage Radio Network. Edison lives and works in Brooklyn.
Invite your friends! Here's the Facebook invite: https://www.facebook.com/events/1020491838032105/