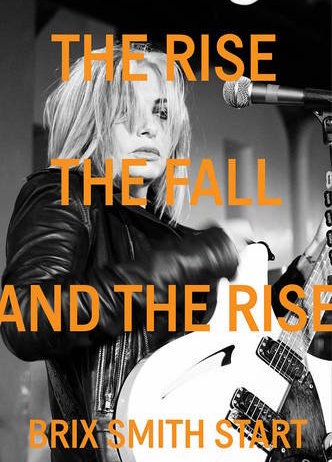 The Rise, The Fall, and The Rise by Brix Smith Start $18.95 – American Brix Smith Start spent ten years in The Fall with Mark E. Smith while being married to him, which ended in a violent disintegration. Growing up in the Hollywood Hills in the '60s in a dilapidated pink mansion her life has taken her from luxury to destitution, from the cover of the NME to waitressing in California, via the industrial wasteland of Manchester in the 1980s.
*ZINES*
The Difference Between #5 How Some Things are Similar Yet Different by Billy McCall, with illustrations by Jaime Tillotson $2.00
Soon Everyone Will Know $15.00
See You at the Buck by Rob Brulinski $10.00
Just Make Pictures Zine #8 Memories of a Dream by Michael Jarecki $4.00
Good Riddance: A Zine About Stuff by Megan Kirby and Rosamund Lannin $3.00
Sub/Verse #6 by Chloe Graham $5.00
zines by George Porteus $7.00 each
Naked Mole Rats Drawings
Mountain Lies
Dreams in Cryogenic Fugue by Chris Johnson $10.00
*COMICS & MINIS*
Stockholme Is Sauceome by Sarah Becan $10.00
Corpus Distorta by Grant Reynolds $7.00
Enter to Exit by George Porteus $7.00
Comics by Amara Leipzig:
Night Blanket $6.00
Fifth Window $7.00
Other Side by Amara Leipzig 2015 $2.00
Dream of Dobermans Sprinting Across the Asphalt by Yewon Kwon $7.00
Succinct Scary Stories by Jonas and Rebecca Peloquin $3.00
*GRAPHIC NOVELS*
Story of My Tits by Jennifer Hayden (Top Shelf) $29.99
Northlanders vol 1 The Anglo Saxon Saga by Brian Wood and friends $29.99
18 Days TPB vol 2 Heroes and Legends by Grant Morrison & friends $14.99
Tiny Splendor zines, comics & graphic novels:
Anime Fan Club by Kenneth Srivijitiakar & Max Stadnik $12.00
Catabunga #2 $4.00
Land Around Us by Bijou Karman, Juliette Toma & Vivian Shih $10.00
Ugly Girl Gang #2 & #3 by Tuesday Bassen(Tiny Splendor) $7.00 each
Die Homer by Tyler J. Hutchison (Tiny Splendor) $10.00
Many Ways of the Potato by Sanaa Khan $2.00
Urge to Regurge by Sanaa Khan $2.00
*ART BOOKS*
Understanding the Sky by Dave Eggers (McSweeneys) $24.00 – Mr. Eggers rode a lightweight plane. Here's a poem-essay-photo book thingy about it.
*MUSIC BOOKS*
A Lover Sings: Selected Lyrics by Billy Bragg $18.95
*FICTION*
Bye Bye Blondie by Virgine Despentes (Feminst Press) $17.95
Unnoticeables by Robert Brockway $14.99
*ESSAYS*
Bukowski in A Sundress: Confessions from A Writing Life by Kim Addonzio $16.00
*SCIENCE!*
Being a Beast: Adventures Across the Species Divide by Charles Foster $28.00
*FOOD BOOKS*
Famous Nathan: A Family Saga of Coney Island, the American Dream, and the Search for the Perfect Hot Dog by Lloyd Handwerker $26.99
*MAGAZINES*
Mojo #272 July 2016 Prince and Bob Dylan $10.99
Hi Fructose #40 New Contemporary Art Magazine $7.95
RFD #166 Sum 16 $9.95
Paper Sum 16 $10.00
*CHAP BOOKS & LIT JOURNALS*
Plastic Pajaros by Melissa Lozada Olivia $7.00
One Day I will be Louder Than all the Bruises on Your Knees by Elaine Hsiang & Tiffany Mallery $5.00
The First Line vol 18 #2 Sum 16 $4.00
*FOR THE KIDDIES*
Anna and Froga Out and About by Anouk Ricard (D&Q) $15.95
various issues of childrens mag Brain Bug $10.00 each