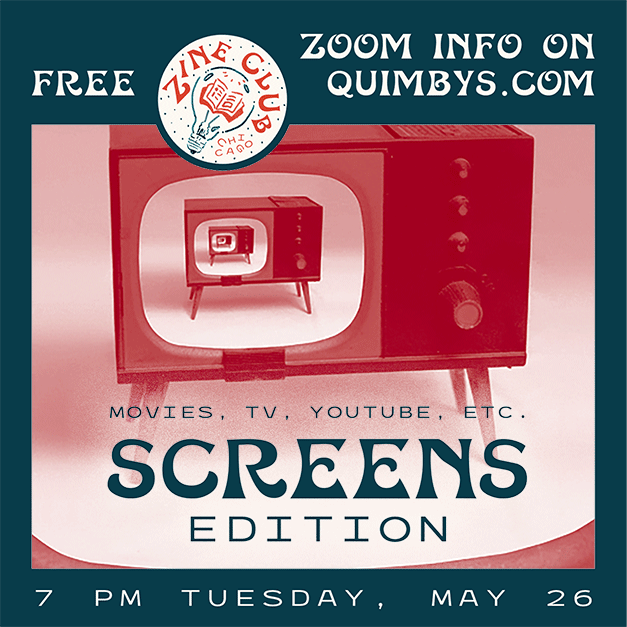 7 p.m. Tuesday, May 26 Central Time.
Free! On Zoom!
Movies, television shows, YouTube videos, Instagram Live, and oh so many Zoom events … we all like to watch, and we've all been looking at screens a lot more than usual since the coronavirus crisis began. We miss seeing your faces and sharing the zines we love, so in May we're taking Zine Club Chicago ONLINE!
This month, we'll be discussing self-published works about the moving images that keep us riveted to big and small screens alike. Grab your favorite zines, BYOS(nacks), and join us on Zoom for a fun conversation!
Email at zineclubchicago@gmail.com about the Zoom link (which will be available soon).
Zine newbies and longtime enthusiasts alike are always welcome at Zine Club Chicago, the city's only book club-style event for people who read zines. This free monthly series is produced by Chicago Zine Fest/Midwest Perzine Fest organizer Cynthia E. Hanifin and hosted by Quimby's Bookstore.
* Zoom link info * We want to make sure that our online Zine Club events are a safe space, so we won't be releasing the Zoom link and password publicly. If you'd like to attend, please email zineclubchicago@gmail.com to RSVP by 5 p.m. Tuesday, May 26. We'll email you the Zoom link and password one hour before the event begins.
Thank you to Zine Club member Anna Jo Beck for designing our flyer this month!
Facebook event: https://www.facebook.com/events/949559022140588/
p.s. need a jpg because you're posting this somewhere that only takes that format? Here ya go!