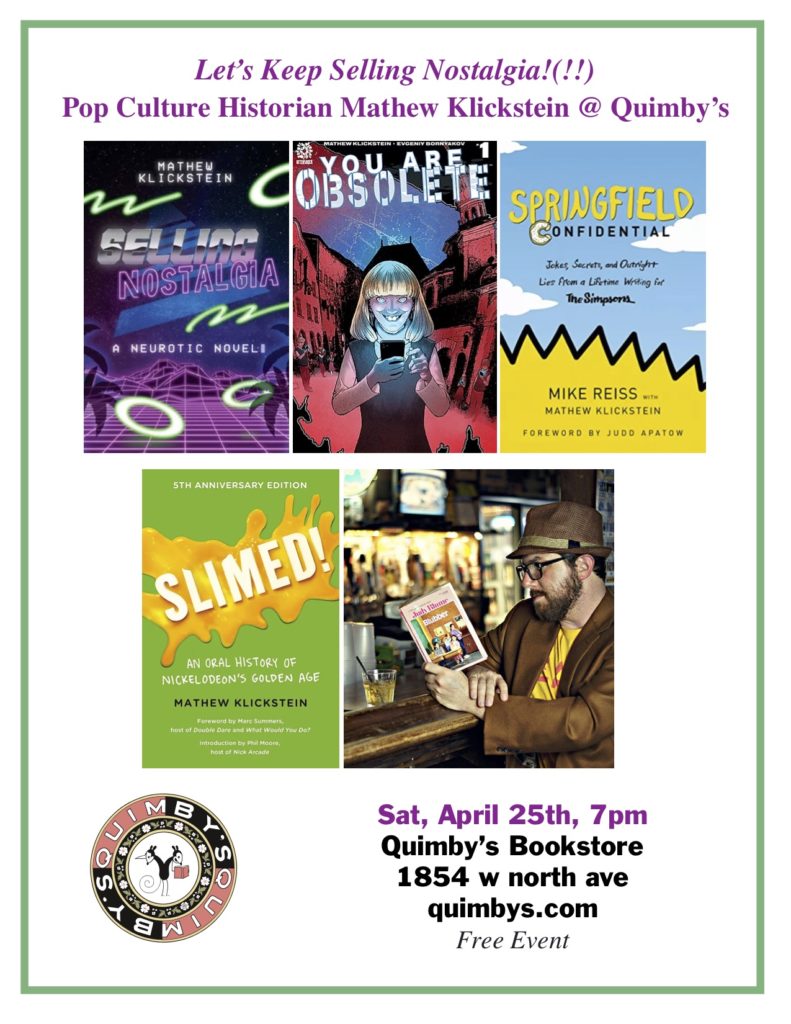 Mathew Klickstein has spent the past two decades chronicling and (for good or ill?) helping to kick-start the 80s/90s Nostalgia Industry via his prolific spate of books, documentaries, articles, podcasts, and live events across the country. SLIMED! An Oral History of Nickelodeon's Golden Age (Penguin Random House) presented the first exhaustive history of the "First Kids Network," has become the ultimate resource for those following in Klickstein's footsteps, and was re-released as an updated "Fifth Anniversary Edition" for Nick's recent 40th anniversary. Springfield Confidential: Jokes, Secrets, and Outright Lies from a Lifetime Writing for The Simpsons (w/ series writer Mike Reiss; Harper Collins) remains the only long-form "insider" story of the most beloved (and beforehand guarded) cartoon series of all time. Selling Nostalgia: A Neurotic Novel (Simon & Schuster) is an absurdist Fear & Loathing-esque coda to the now-waning "Nerd/Geek Culture" to which Klickstein has been a primary contributor. And the 80s sci-fi/horror inspired comic book series You Are Obsolete (AfterShock Comics) will be released in OGN/paperback edition April 21, exploring our current generational shift in a frightening, hopefully not too prescient way that left critics and fans alike glued to their pages and e-readers during the series' initial five-issue Sept 2019-Jan 2020 run.
"Mathew Klickstein might be the geek guru of the 21st century."
– Mark Mothersbaugh
The work of Mathew Klickstein has appeared in such outlets as: Wired, NY Daily News, Vulture, The New Yorker and countless regional and online publications worldwide. His two decades-plus of multi-platform storytelling has also led to: an impressive glut of non-fiction and fiction books authored for both major and independent publishers, podcasting (including his own series running for the past five years), guest lectures at various universities and arts/culture centers, as well as television and film work in partnership with such high-profile entities as: Sony Pictures, Food Network, National Lampoon, and Alamo Drafthouse.
For more info: www.MathewKlickstein.com
Saturday, April 25th, 7pm – Free Event