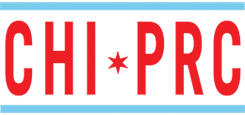 Zine ZINE Club, Thursday, 24th, 7pm.
This is our first trial at a zine book club. For the inaugural event, we will be reading the titles Doris #31 by Cindy Crabb and You Don't Get There From Here #29 by Carrie McNinch. Get both of these issues from Quimby's Bookstore, read 'em, then come share your thoughts with other folks who  read them too. As a bonus, bring in a zine of your choosing to share with others. There will be a $3 donation asked at the door. This event is NOT at Quimby's; it's at CHIPRC.
The Chicago Publishers Resource Center (CHIPRC), at 858 N. Ashland Avenue, strives to build community and foster creativity by providing access to the space, education, and resources necessary to create and self-publish literary and visual work. And of course, if you make a zine there, you can always come consign it at Quimby's! Join and support the center, and as a member you will receive discounts for using equipment, workshop registration and more. Or become a CHIPRC volunteer and give back even more. Their summer calendar features drawing activities, discussion, open studio and more! More info at chiprc.org.
July marks International Zine Month, so Quimby's is teaming up with our friends The Chicago Independent Resource Center (CHIPRC) to bring you zine-y activity.  CHIPRC will be hosting zine events during the month!