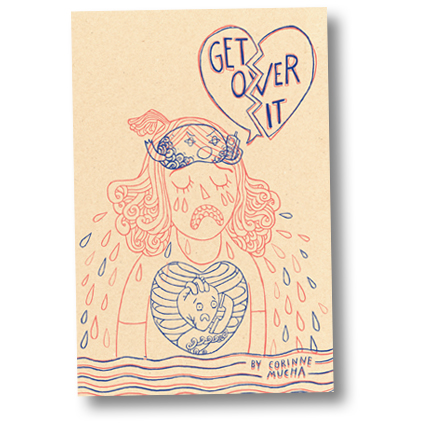 Corinne Mucha's new graphic novel, Get Over It! (Secret Acres), details the true-life story of a messy breakup.  Through a series of comic vignettes, the story follows the author as she deals with a  serious relationship's end, and eventually learns the tough lessons of letting go. "Get Over It!" is a hilarious tale about a subject every decent person can relate to: getting BURNED BY LOVE.
 "Corinne Mucha's Get Over It! is a balm for the heart broken… We're bombarded with romance all the time; rarer is the tale that gets you to root for the life-giving joys of letting go."- Kevin Tang, Buzzfeed
"(In Get Over It!) Mucha maintains the auto-biographical sweet-spot, maintaining a balance between the personal and involved, without descending into narcissism, whilst hilariously dredging through the universal impulses and emotions of the post break-up period." –Zainab Ahktar, Publisher's Weekly
Corinne Mucha is a Chicago based cartoonist, illustrator, and teaching artist. Her comics work includes the Xeric funded My Alaskan Summer, the Ignatz award winning The Monkey in the Basement and Other Delusions (Retrofit Comics) and the YA graphic novel Freshman: Tales of 9th Grade Obsessions, Revelations, and Other Nonsense. Her work has appeared in publications such as Chicago Magazine, Cicada, the Philadelphia Inquirer, and Truthout.
For more info: web or contact info: www.maidenhousefly.com
Friday,  July 25th, 7pm – Free Event