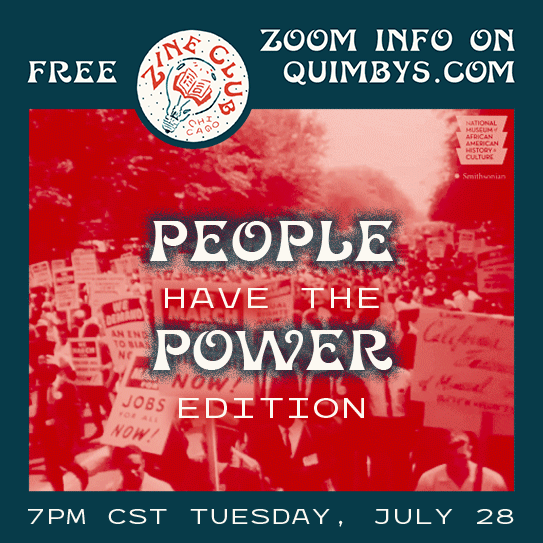 For folks who want to help transform our world into a better place for everyone, zines are a dynamic tool for sharing information, resources, and inspiration. This month at Zine Club Chicago Online: People Have the Power Edition, we'll be discussing self-published works focused on the many ways we can all support radical change in the name of justice, equality, and peace. July is International Zine Month, and we can't think of a better way to celebrate it than by focusing on this important topic. The suggested activity for #IZM2020 July 28th is about using social media to get the word out about your favorite zines, so grab your favorite titles, BYOS(nacks), and join us on Zoom for a great conversation!
** Zoom info ** We want to make sure that our online Zine Club events are a safe space, so we won't be releasing the Zoom link and password publicly. If you'd like to attend, please email zineclubchicago@gmail.com to RSVP by 5 p.m. Tuesday, July 28. We'll email you the Zoom link and password one hour before the event begins.
Zine newbies and longtime enthusiasts alike are always welcome at Zine Club Chicago, the city's only book club-style event for people who read zines. This free monthly series is produced by Chicago Zine Fest/Midwest Perzine Fest organizer Cynthia Hanifin and hosted by Quimby's Bookstore. As always, Anna Jo Beck made this month's lovely flyer.
More info:
Use #IZM2020 when writing online about International Zine Month.
Download the #IZM2020 bookmark here.