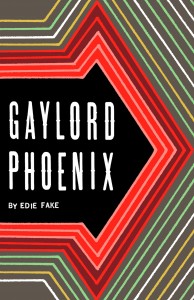 Eight years in the making ,  Gaylord Phoenix collects  all of Edie Fake's  raunchy queer comics serial in one volume. Perverse and surreal , Gaylord Phoenix follows  the  danger-fraught journeys of the Gaylord Phoenix, a creature willing to sacrifice anything for lost love and hidden memories. In an ever-shifting landscape full of ever-shifting genders,  Gaylord Phoenix plunges head-first into a realm full of murderous psychedelic smut and  intense magical beauty.
Shenanigans are planned for one fun and epic release night at Quimby's. Fake will be on hand to crack bad jokes and sign books, along with homemade penis-shaped cookies and special limited-edition mix tapes and objets-de-arte available for free with each Gaylord book and comic purchase.
Edie Fake was born in Chicagoland in 1980. He graduated from the Rhode Island School of Design in Providence in 2002 and has since clocked time in New York, Los Angeles, San Francisco and Baltimore. He's received a Critical Fierceness Grant for queer art and was one of the first recipients of Printed Matter's Awards for Artists. His drawings have been included in Hot and Cold, Creative Time Comics, and LTTR.  Gaylord is his first full-length book. Currently, he lives in Chicago where he works as a minicomics sommelier for Quimby's Books.
For more info: www.ediefake.com
Thurs, December 9th, 2010    7pm