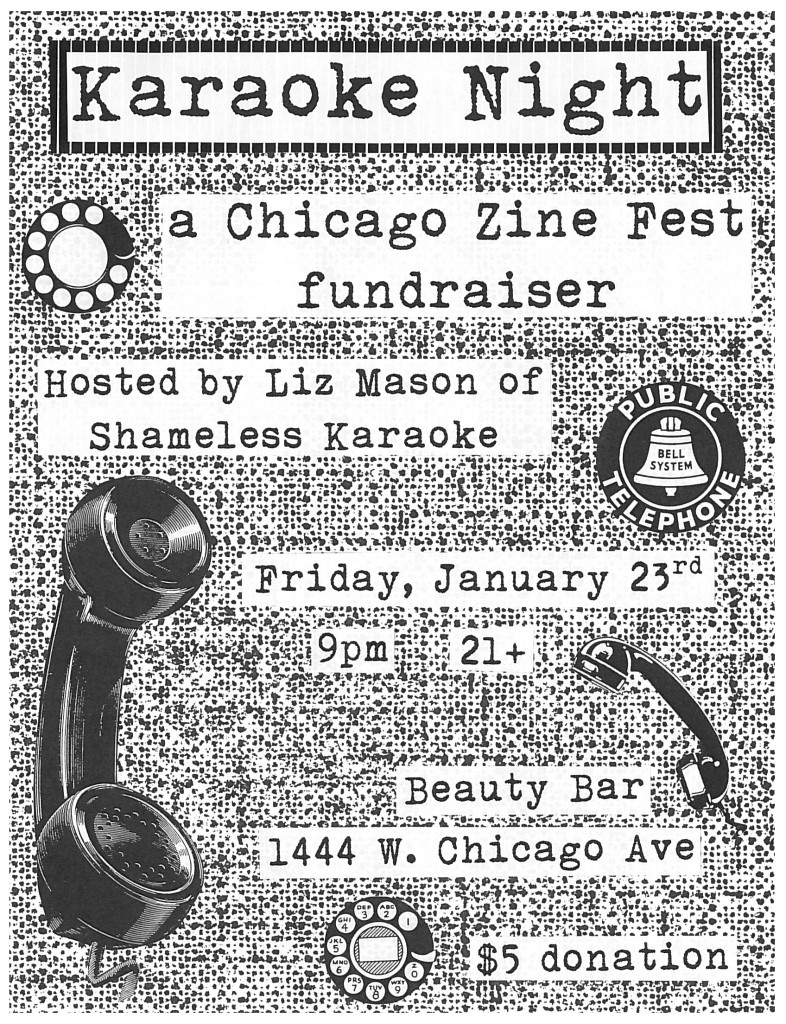 Check one, check two. Get set to sing the night away Friday, January 23rd, 9pm, at Chicago Zine Fest's annual karaoke fundraiser at Beauty Bar, 1444 W Chicago Ave.
The entertainment will be provided by Shameless Karaoke. Their diverse songbook covers all genres with selections from artists including David Bowie, Elvis Costello, Neil Diamond, Duran Duran, Erasure, Michael Jackson, the Kinks, Madonna, Motley Crue, Oasis, Ozzy Osbourne, Prince, Rolling Stones, Sir Mixalot, Britney Spears and a variety of punk and new wave classics as well.
There is a $5 admission which will benefit the 2015 Chicago Zine Fest. The event beings at 9pm and is 21+. Hosted by Shameless Karaoke KJ, Caboose zinester and Quimby's manager Liz Mason. Beauty Bar will offer drink specials all night long including a signature martini and a manicure.
Take the stage and own it. Bring friends and sing a duet. Or enjoy from the crowd. Come out and have a good time and support self-publishing in Chicago.
About CZF: The Chicago Zine Fest is an independent event creating an outlet for small press and independent publishers to showcase their work. Our goal is to make DIY zine-making accessible, highlight the talents of self-published artists, and give independent artists a chance to interact, and swap skills through tabling, community events, and workshops. Quimby's Bookstore is proud to be a sponsor of CZF. For more information visit chicagozinefest.org.
Click here for the Shameless Karaoke Song List.
Please note this event is NOT at Quimby's, it is at at Beauty Bar, 1444 W Chicago Ave.