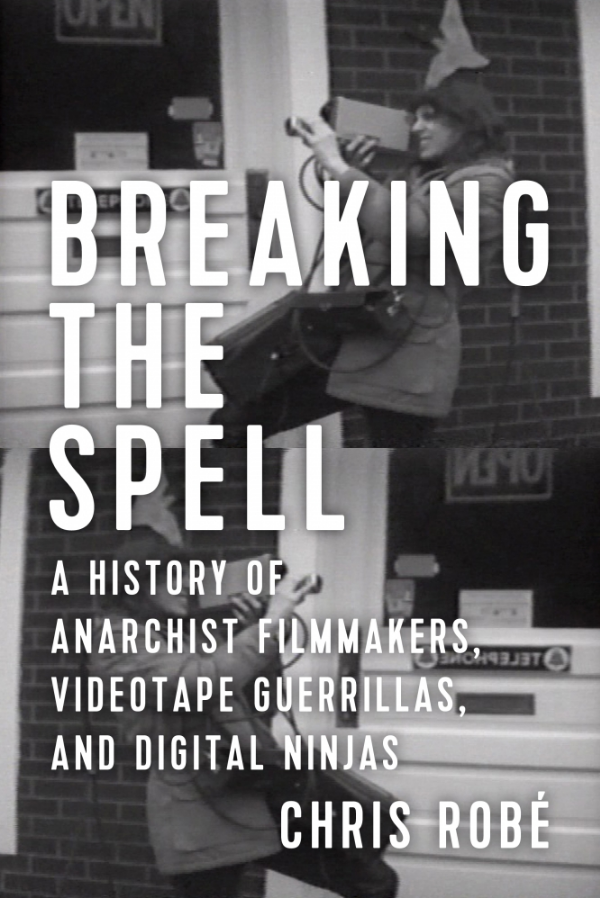 Don't miss this event! Saturday, May 12th Chris Robé presents Breaking the Spell: A History of Anarchist Filmmakers, Videotape Guerrillas, and Digital Ninjas with film clips and discussion at Quimby's.
Breaking the Spell offers the first full-length study that charts the historical trajectory of anarchist-inflected video activism from the late 1960s to the present.  Robé fills in historical gaps by bringing to light unexplored video activist groups like the Cascadia Forest Defenders, eco-video activists from Oregon; Mobile Voices, Latino day laborers; and Outta Your Backpack Media, indigenous youth from the Southwest. Chris's groundbreaking discussion deepens our understanding of more well-researched video activist movements by situating them within a longer history and wider context of radical video activism. Chris will show archival film clips and discuss their historical significance. The book is published by PM Press
"Christopher Robé's meticulously researched Breaking the Spell is an invaluable guide to the contemporary anarchist media landscape that will prove useful for activists as well as scholars." —Richard Porton, author of Film and the Anarchist Imagination
"Breaking the Spell is a highly readable history of U.S. activism against neoliberal capitalism from the perspective of "Anarchist Filmmakers, Videotape Guerrillas, and Digital Ninjas," the subtitle of the book.
—Dorothy Kidd. Professor and Chair, Department of Media Studies, University of San Francisco
Chris Robé is an associate professor in Film and Media Studies at Florida Atlantic University. He has published essays on radical media in journals like Jump Cut, Rethinking Marxism, and Journal of Film and Video and written a monograph titled Left of Hollywood: Cinema, Modernism, and the Emergence of U.S. Radical Film Culture. He is also a frequent contributor to the online journal PopMatters.
For more info:
Facebook Event Invite for this event.
on Chris Robe and the book: http://www.pmpress.org/content/article.php/ChrisRobe
Contact the author at  crobe@fau.edu or Steven at PM Press steven@pmpress.org
Free event.